Click here to get this post in PDF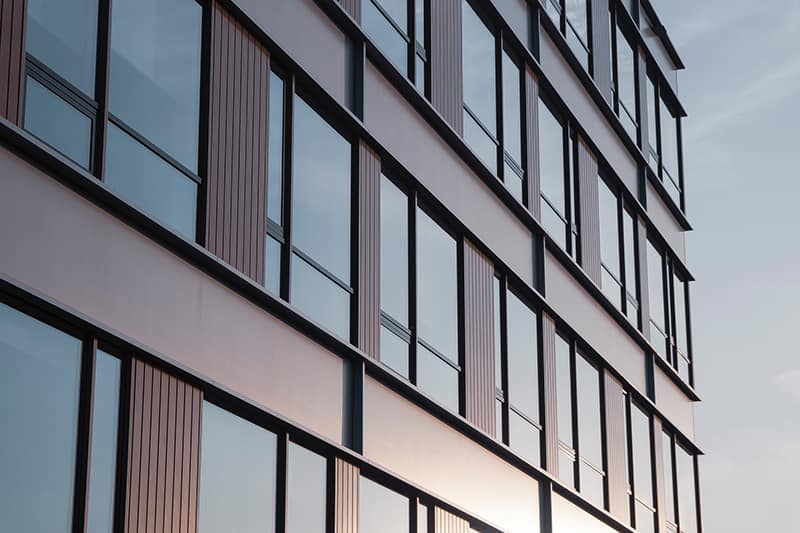 Millions of people around the UK work in offices and large business establishments. Out of an entire workday, 75% of their time is spent indoors inhaling recycled air from forced ventilation systems. Unfortunately, indoor air quality suffers significantly due to pollutants such as chemicals, dust, and microorganisms. As such, both the health and productivity of these people are compromised. To solve this problem, building ventilation should be adequately designed.
Nowadays, architects maximise natural ventilation and sometimes combine it with mechanical systems to meet individual building design requirements. Let's compare the differences and advantages of natural, mechanical, and hybrid ventilation systems.
Natural ventilation
Natural ventilation relies on forces of wind and outdoor temperature to extract and supply air in a building. Openings such as windows and vents are strategically located to facilitate optimum airflow. For example, cross-ventilation allows cool wind to enter in low-lying openings so that it will push warm air up and out vents in the roof. It's ideal for business establishments to have electric window openers that will facilitate convenient control over these openings.
The effectiveness of a natural ventilation system also depends on external conditions. It's also critical to consider the building's layout and design, especially the orientation of every opening. Since the differences in wind pressure affect airflow, choosing the right location for windows will facilitate better air movement.
Natural ventilation is the most cost-effective among the three options. Additionally, it's sustainable and environment-friendly. Nowadays, maximising natural ventilation is also being promoted to improve indoor air quality and enhance building safety in case of emergencies such as fires. Nevertheless, it's still vital to consider other factors that may affect natural ventilation's suitability for business establishments.
Mechanical ventilation
A mechanical system uses fans that force air in and out of a building. Most large establishments rely on forced ventilation to keep the building envelope closed and secure. These systems are often integrated with artificial heating or cooling appliances to maintain an ideal indoor temperature. One of the many advantages of this type of system is how flexible and adaptable it is depending on the requirements of the building design. However, there are many downsides to a forced or mechanical ventilation system. First, it requires substantial installation capital. Second, the maintenance and cost of energy can skyrocket depending on the season. Lastly, forced air is typically recycled, which means that it's also likely to contain all kinds of pollutants harmful to health.
---
Considerations When Installing a Projector on the Ceiling
---
Hybrid ventilation system
As the name implies, a hybrid system combines both natural and mechanical ventilation. The advantage here is the option to switch from one or the other according to the season. For example, you can rely on natural ventilation with electric window openers and manual window openers during milder months. At the same time, you can turn on mechanical ventilation when it's too cold or too hot. Having the option to use natural ventilation is another way to cut energy costs. Establishments can also improve indoor air by allowing outdoor air to naturally flow in and out at different times of the week. By combining the two types of ventilation systems, you can take full advantage of the features and benefits of both.
Image Source: Unsplash.com