Click here to get this post in PDF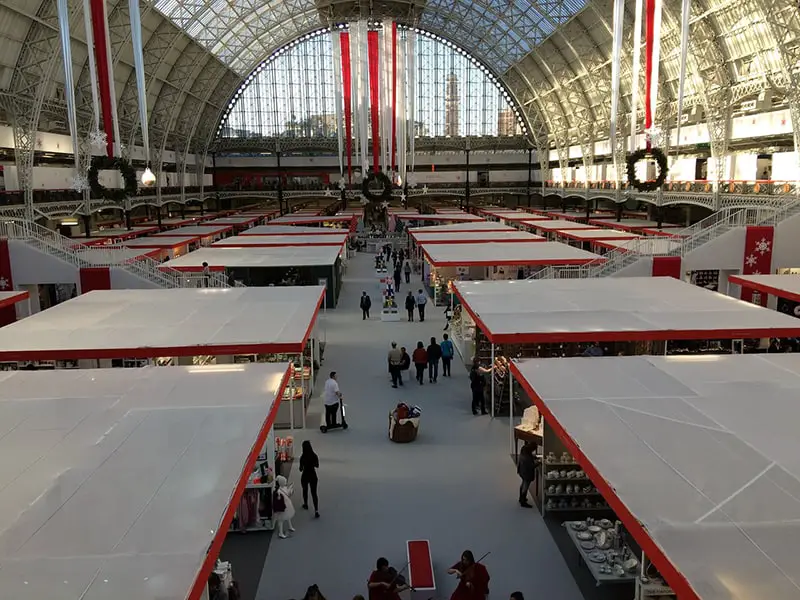 Trade shows are the perfect opportunity to not only showcase your latest products, but also expand your brand awareness as well. Companies who are concerned with their brand don't want to settle for second best. They want to be industry leaders and to do that, you have to continuously build your identity. Exhibitors are looking for ways to associate their brand with both innovation and quality to establish a reputable image.
The question is, how do you take advantage of this opportunity? These 10 tips will help you build your leadership position when attending trade shows.
1. Get a bigger exhibit.
A bigger exhibit demands attention from everyone in the event. There's a reason why people love seeing the Grand Canyon because it's so huge! Similarly to your booth, the more space you have, the more people will be attracted to it. If your target audience doesn't have a large presence at a single trade show, you can set up smaller booths at various industry shows.
2. Create visually appealing images and texts.
A large exhibit is useless if it isn't filled with eye-catching details. You don't want attendees to ignore your booth because it looks dull and lifeless. Use bright and bold colours to capture their attention and follow it up with easy to read messages to get them hooked. The key here is to create a graphic impact that will attract attendees to your exhibit. Be careful of adding too many elements as this can appear confusing to the eye.
3. Implement 3-dimensional designs.
For all public-facing sides of your booth, it's crucial that you create designs and messaging that are visible from every angle. This works well for island exhibits that attendees can view at all four corners. Create the most appealing design on the exhibit side where it receives the most traffic. Eye-catching exhibits often use 3-dimensional designs of their company logo to ensure they're seen in all angles.
4. Establish a hierarchy of messages.
Your exhibit will do better if you can provide a clear message of what your brand is all about. Think about a hierarchy of messages starting from who you are, what you do, and what you can provide for all the attendees. Larger companies will benefit from sub-levels of messaging for multiple product divisions in their exhibit. Your message should be pretty straightforward and attendees should be able to understand what your company offers.
5. Be consistent with your other marketing efforts.
Your exhibit and trade show promotions should match what your marketing says on your advertisements, brochures, and your website. Delivering a consistent message is what helps build your brand image and the last thing you want is to create confusion between your exhibit and your marketing efforts.
6. Your brand is more than just a logo.
Don't treat your brand as just a mere graphic shape. Your brand is what defines your position in the industry you're in and you want it to be associated with quality and reliability. When designing your exhibit, don't just slap your logo and call it a day. Show the attendees what value you can give and how your company can help provide a solution to what they're looking for. The overall trade show experience should provide visitors with a feeling of trustworthiness when encountering your brand.
7. Enhance the brand experience.
Trade shows offer an immersive experience that occurs for several days. This means you have plenty of opportunities to activate your brand in the minds of your booth visitors. Continue to enhance the brand experience as the days progress so the attendees can understand your brand at a deeper level. A high-tech brand should focus on giving their visitors a futuristic experience while a service-oriented company should have an effective host to reflect their best intentions.
8. Expand your exhibit.
If the budget permits, consider expanding your show schedule to further reach your intended audience, especially if you're building your brand in a new vertical market. This can also prove effective if you've introduced a new product that could appeal to a whole new group of buyers, giving you more opportunities to expand your brand's reach.
9. Promotions, promotions, promotions.
Pre-show and at-show promotions can give you that much-needed lift when building your brand. Be creative with your promotions and consider sponsorships, show book ads, and other ways to reach the visitors in the trade show. Better yet, you can make use of promotionalmerchandise to remind attendees of your brand after the show is over.
10. Meet the press.
The last step in building your brand at trade-shows is to meet face-to-face with the key influencers that will share your brand once the event is finished. This includes social media personalities, analysts, bloggers, and the industry press. Doing so will help you build on the success you've already created by reinforcing your brand message through other people.
You may also like: An Essential Part of Every Successful Business: 6 Strategies for Effective Brand Building
Image source: Pixabay