Click here to get this post in PDF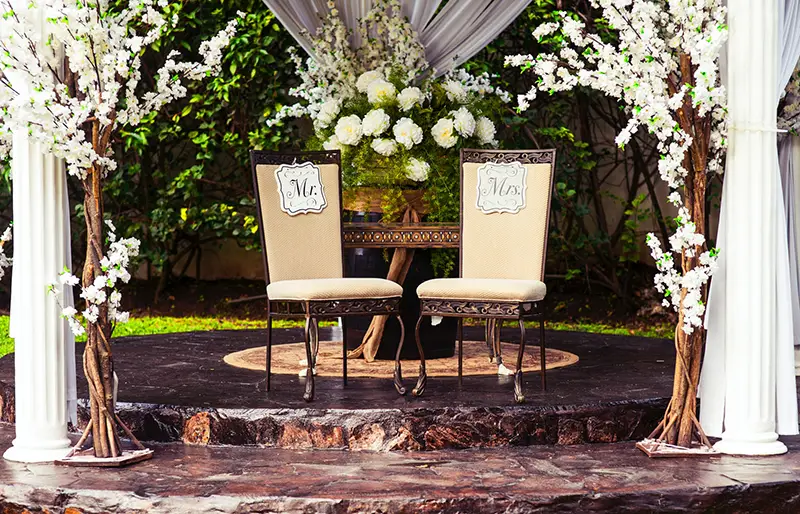 While many brides find the wedding planning process a challenging and stressful task, rest assured that it doesn't have to be! You only need to find the root of all those worries and that is the wedding budget. Bridal celebrations might be costly, at times that means spending even a whole fortune; but we are here to provide insight for all budget brides who want to play this on the cost-efficient side and hold on to the essentials. Choosing only the key things for your special day doesn't mean it will be less impressive, in fact, you can achieve grandeur by using your options like floral backdrops and broadening your imagination! Below we enlist the 6 things you will need to have your dream budget wedding.
Wedding Attire & Styling
As the wedding market is flexing its limits and continues to amaze us with low-cost designs that encompass quality and creativity, you will be able to find your breathtaking dress in no time. Besides, there are online stores that make this process even more approachable and effective. On the other hand, you will also have to think about certain accessories to complete the look and naturally, bridal shoes! As an additional option, you can include a stylish or traditional veil and undergarments to flatter your feminine silhouette. Here is an interesting article about why do wedding dresses have trains. Dig in and learn its significance after going through this post. For your partner, the attire will feature a suit or tux combined with a chic pair of shoes for a sleek finish. Furthermore, depending on your preferences, you might need additional party attire for more comfort and chic. If you are organizing a bachelorette party, consider rental service for your clothing choice, DIY print some plain bridal squad t-shirts, or simply borrow from that friend that always has a stylish piece in their wardrobe!
Wedding Venue
Booking the venue has been closely associated with receptions but lately, there are more and more venues that provide the whole package – ceremony included! For a budget wedding, it is essential to find a venue that offers plenty of options, like additional rentals – chairs, tables, decorative tabletops, etc; dance floor, parking place, and most importantly to include bar & catering. If food and drinks aren't available, communicate to find a caterer that collaborates with the venue and can offer more affordable options.
To cut the costs even more, if you choose a weekday date for your celebration, everything will be even more affordable! If they don't have a ceremony spot, you can communicate with the management and offer to install a simple yet gorgeous setting to serve as your ceremony backdrop. If they have that option, you can do it yourself by adding flowy high-quality drapes to cover any walls. You can opt for pipe and drape wedding rentals and easily install them to achieve an effortlessly romantic atmosphere for the tying of the knot! Why pay great ceremony installation fees when you can create an ethereal setting for a fraction of the cost?
Flowers and Decor
Flowers are a necessity without budget brides cannot do without, besides we all love the graceful and gorgeous effect they have! You will need them for your wedding bouquet, bridesmaids' florals, boutonnieres, ceremony adornment for arrangements, lovely table centerpieces, and of course any additional cake florals. Some of these are optional but you can get away with budget-friendly options by sourcing locally. In that way, you won't need to pay any additional costs for transport. Another tip is to choose seasonal flowers that are more affordable than any off-season ones. As for the decor, we have another amazing tip – wedding light! Instead of putting aside a large part of your budget for excessive florals, expensive lights, and installations; you can simply transform any event space by renting a wedding light projector. Dim the lights and create an enchanting celestial atmosphere for your romantic reception and dance floor ambiance.
Music
Music and entertainment are the core essentials to add a flair to the iconic moments and simply provide your guests an amazing time on your wedding day! Furthermore, you will need microphone equipment for your ceremony and reception speeches. Instead of booking everything separately, we recommend booking one resourceful vendor for all of these responsibilities. Usually deciding on a DJ will be a better solution for your budget wedding because DJs have a whole day program including your ceremony, cocktail hour, reception and party, and usually microphone equipment. If your heart is set on a band, we would suggest a smaller one that would be available to perform according to your needs.
Photography
One cannot imagine a wedding day without any means to be portrayed by the art of photography, right? There are a number of options for budget brides concerning documenting your precious day and luckily prices for any pocket. But what has to be taken into account are the additional costs for wedding albums or maybe even an engagement session. If you want to save on this, the safest option is to book a semi-professional photographer with full-day coverage. Depending on your preferences, set aside a small percent for the wedding album because there is nothing like having tangible memories of your special days that will serve as a treasured heirloom for decades to come! Get some quotes, for example, if you are based in Rhode Island, you can search terms like Rhode Island wedding photography or Rhode Island wedding photographer to bring up search results for local photographers.
Invitations
Yes, when you envision everything you will need a way to invite all of your beloved guests to attend your nuptials. The costs can vary but for budget brides, the best option is to buy affordable gorgeous printables or choose digital customizable invites and save both on RSVP costs and time. We are seeing a rising trend of stationery designers who create free printables during these uncertain times to help brides with their planning process. If you are a bit tight on your budget, this is a wonderful opportunity to have stunning invitations for your wedding with a basic cost for printing!
We hope that our blog about budget brides' essentials has shed light on the subject and will help you prioritize your needs and allocate your finances. It is your wedding and no matter how you plan to realize your vision, we are sure that it will be stellar!
You may also like: Step up your wedding planning business in Sacramento
Image source: Unsplash.com