Click here to get this post in PDF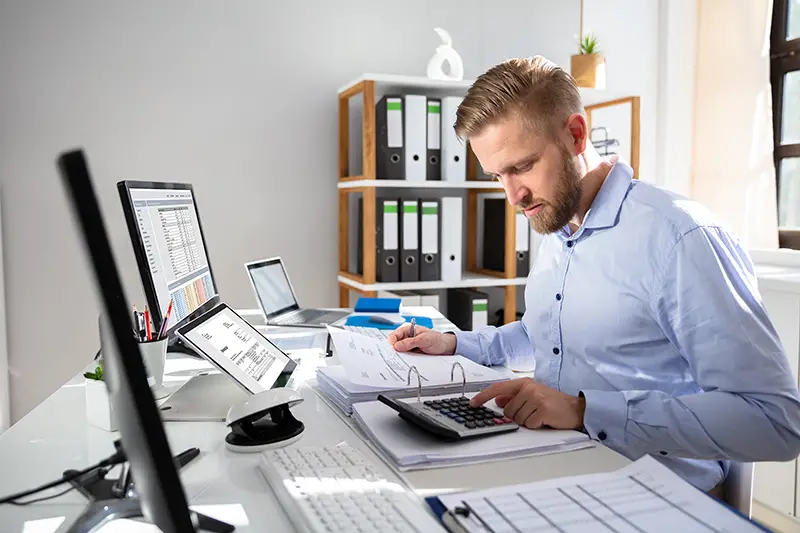 Keeping track of your business finances is critical; good bookkeeping is the first key. Bookkeeping services assist you in staying on the right financial track. Every aspect of running a business should be thoroughly understood to focus on the most important aspect, i.e., earning more profits for your company. Chances are you don't know how your current books of accounts will affect your future finances. When running a business, getting distracted from the financial numbers is easy. However, it also affects business decision-making capacity and process. Therefore, tracking every little transaction and keeping a record on the ledger is important. Now, doing this on your own is hectic and difficult; thus, it is best to choose a good bookkeeping services provider, in-house or outsourced. Business bookkeeping services help you focus on what matters the most – running your business and expanding it in extraordinary ways.
If you want to expand and develop your business, seek out a suitable bookkeeping service provider. Finding the right bookkeeping services provider can help you monitor your accounting and bookkeeping process, record transactions, and help you learn how to keep your finances in check as you grow your business. Let us see how bookkeeping services help your business in detail. 
What is a business bookkeeping service?
A professional service that helps you keep track of your finances is referred to as a business bookkeeping service. You may choose to work with a full-time or part-time business bookkeeping services provider. You can also choose between in-house or outsourced service providers. There are many accounting and bookkeeping service providers who don't only focus on bookkeeping and accounting but also offer other financial services. The most popular services provided by this kind of service provider are as follows:
Industry-specific bookkeeping services 
Accounting services
Financial advisor services
Tax preparation services
Investment advisor services
Other related services
How does a business bookkeeping service work?
Usually, you will enter your business's financial data into accounting software, which is shared with the service provider. It records every financial aspect of your business, from assets, liabilities, income, and expenses to shareholders' equity. Your bookkeeping services provider will closely watch your accounts to ensure you do not experience cash flow issues or miss a payment. Financial accounting and bookkeeping services can help you keep track of your business's finances and balance them properly. In addition, they can assist you in comprehending your financials more efficiently to make better-informed business decisions.
Benefits of using business bookkeeping services
Bookkeeping services help businesses track their finances, monitor their current financial health and status, and plan for their short-term and long-term financial goals. Besides these, there are some more benefits of using business bookkeeping services, including: 
1. Reduces stress: Bookkeeping services reduce accounting and bookkeeping stress from your shoulders by taking the responsibility to keep your books of accounts accurate and reliable. 
2. Timely tax filing: Delayed or inaccurate tax filing leads to hefty business fines and penalties. Thus, it is important to take care of the process on time. Bookkeeping services providers help businesses calculate and file taxes on time.
3. Real-time data: The bookkeeping services provider hired by you ensure that your business data is always up-to-date to get real-time financial numbers. Real-time information helps make the right business decisions at the right time. 
4. Streamlines business processes: A business involves numerous processes, including accounts receivable, accounts payable, payroll, and other functions such as bill payments. Bookkeeping services help you streamline these processes and make it easy to manage them efficiently. 
5. Saves cost: If you outsource your bookkeeping process, it helps you save the extra costs of having a full-time bookkeeper or accountant. Such expenses include office expenses, equipment costs, software costs, etc. Bookkeeping services providers usually work off-site and bring their personnel and accounting software, thus saving your costs.
How to choose the right Business Bookkeeping Service
When choosing a business bookkeeping services provider for your business, it is important to keep a few things in mind. First, you must determine whether you should use an accrual or cash accounting system. Though some businesses use the cash accounting system, most companies in America and other countries choose an accrual accounting system. Thus, it is best to check and confirm the accounting system in which the bookkeeping services provider excels. Next, you will need to choose whether you want to do basic financial reports for ten years or more. A basic financial report is necessary for almost every company, but new companies should use a ten-year financial report. 
Next, you will need to decide whether to keep your accounting and bookkeeping in-house or outsource it to an expert third party. Outsourcing your accounting needs is a better option for businesses, but it is even more beneficial for small businesses. It helps small businesses focus on their growth and expansion instead of worrying about their financial management.
Conclusion
Accounting and bookkeeping are important functions but play the biggest part in distracting businesses from their core activities. You can manage these functions independently or hire an in-house bookkeeping team to manage them for you. However, managing accounting and bookkeeping in-house consumes too much time, resources, and costs that can otherwise be used for other important functions. You can outsource your bookkeeping to a third party with expertise and experience in managing accounting and bookkeeping for different businesses. Outsourcing helps you overcome the shortcomings of in-house bookkeeping. You can reduce stress and focus on growth as the outsourcing partner will care for the finances. Outsourcing the accounting and bookkeeping service is cheaper than hiring an in-house team, resulting in a positive business impact. However, irrespective of how you manage the process, in-house or outsourcing, it is important to have the service provider that best suits your business requirements and budgets. You can best achieve your business goals by hiring a good business bookkeeping services provider.
You may also like: How a Professional Accounting Service Can Help your Business
Image source: Shutterstock.com