Click here to get this post in PDF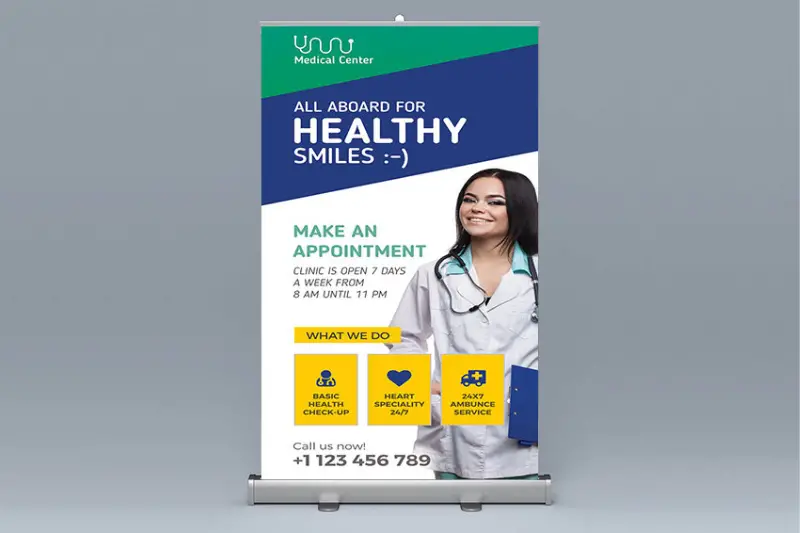 Whether setting up a display at a trade show or advertising your company's new product, custom pull up banners are great for drawing attention without being too cliche about it.
This banner is ideal for large-scale events such as trade shows and conventions. Pull-up banners are usually made from durable materials like vinyl or PVC and are easy to display, making them an excellent choice for attracting attention.
They're also easy to set up — most personalised pull up banners come with adjustable stands.
What Makes Pull-Up Banners So Attractive?
Pull-up banners are the most effective means of reaching your target audience and getting them to engage with your brand. The best part is that pull-up banners can be used in just about any environment – a sports field or a busy office corridor. Here are two of the biggest things that make them great:
1. They're easy to install: You don't need special skills or tools to install them, which means there's less disruption from moving equipment around during installation compared to other forms of display media.
2. They're unique and memorable: Unlike static billboards or static signs, which thousands could view at once, pull-up banners can only be seen by a few people. This means that when someone sees one of these displays, they'll remember it – which means they'll be more likely to look at your site again.
Below, we're going to be discussing some of the best ways you can customise your custom printed pull up banners for the best ROI on your investment.
A little simpler? That means we'll show you how to best use your attractive pull-up banners!
The Best Pull-Up Banners Ideas for Businesses
1. Pull Up Banners for Restaurants
Pull-up banners offer cost-effective traditional advertising, and in the restaurant business, that's solid gold. Pictures play an important part in customer appeal, which means you have the freedom to use different pictures of the dishes you're offering on your banners. The banner's template can even combine images of multiple dishes to create a cuisine appeal or a picture of your signature dish (if you have one).
It's also essential to have some text in there. Here, you'll want to use friendly language to explain your offers simply. Things like happy hour timings and early bird specials are typical examples of what restaurant owners put up on their banners.
2. Sports Meets and Events Pull-Up Banners
Another great place to use pull-up banners is sports meets and other types of sports events. For one, these banners are great for drawing a crowd without months of online advertising and can even help you attract athletes to your sports events. The idea here is to get the information out without being cliche, and with a classy font and a couple of pictures of athletes in sporty events, that's a done deal.
You'll need to watch your colour scheme to ensure your athletes and your audience can identify with it. Or, take the burden off your shoulders by getting banners made with club logos instead, which is excellent for decoration and shows that you support the representing athletes equally.
3. Banners for Trade Shows and Exhibitions
Trade expos and exhibitions are every day in places like the auto industry and several tech fields. A pull-up banner will offer great ROI on your initial investment when you're attending these to represent your company or product. You can even get different types of banners: double-sided pull-up banners are great for different advertising banners, while an A3/A4 desk banner can hold the details and info your main, standard-sized banner didn't have space for.
Remember that if you don't want to get lost in the crowd, your banner has to be unique. That means a catchy way of giving out your information combined with a rich, vibrant background that's sure to draw eyes. 
4. Advertising In-Store Promotions and Sales on a Pull-Up Banner
Adding some text on top of or underneath your artwork can impact how people perceive your brand's message when they look at it from far away or up close! You could add text such as "We're hiring!", "Get in here!" or even something like "Visit us today!", or details about your product will tell people about the critical information you're trying to get out there. This is a cost-effective and convenient way of finding new employees for your store too!
5. Storefront Banners
If you're opening a new store or expanding your chain to a new location, it's not enough to just pop it open. You also have to invest in advertising. In a world where physical advertising is going out of style, people have forgotten how helpful storefront advertising can be. Your store's windows and storefront are prime areas to set up advertising and tell people about the exciting new things you're offering and any positions you might open. 
This is another tip focused on getting as much diversity as you can. You don't have to use every typeface out there, but it's a proven benefit if your text font fits the mood of the place. 
6. Creating A Custom Design for Corporate Event Banners
This is vital: don't just use your company logo on a colorful background for corporate Custom pull up banners. Instead, hire a designer to create a custom design for your banner in-house, or just get one commissioned on the internet. You need to make your guests feel welcome while also elaborating on different parts and sections of the event.
The easiest way to find a design is by searching online, but don't just pick the first one. Look for reviews and ratings on the website you're using and customer feedback. Once you've picked out a few designs, ask your designer to mock them up in real life so you can see which ones would work best for your business.
Conclusion
At the end of it all, getting the best design for your personalised pull up banners isn't that hard after all. You can have an in-house designer make it for you, or choose one of the many online templates to create your banner. These cheap, effective banners are a great way to get information about your product, company, or website without investing thousands in marketing services.
You may also like: Customized Version Of Metal Frames For Your Business Banners