Click here to get this post in PDF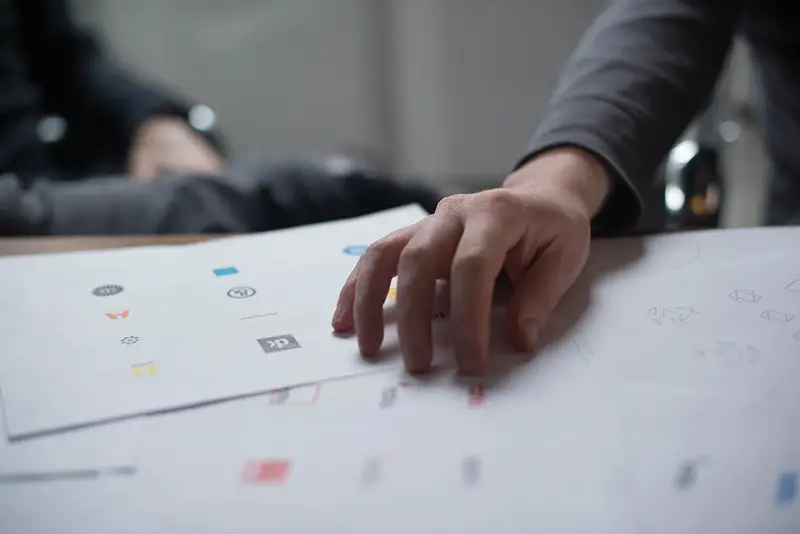 This article contains affiliate links. For more info, see disclosure.
Designing logos might seem like a difficult task, but there's no need to be overwhelmed. There are so many logo design tutorials available on the web in 2021 that make the whole logo design process simple and easy.
Whether you are a total beginner, or you have previous experience with logo design, there are many different tutorials available that are aimed at people with different levels of skills and knowledge. So you will definitely find a tutorial that will tell you everything you need to know to get started.
Since there are so many tutorials available, it becomes a challenge in itself to figure out which one is going to be the best for you. Not to worry though, this article will talk about the best logo design tutorials on the web, so you know which ones you should invest time into.
What Beginners Need To Know About Logo Design
If you have no previous experience with logo design, you should try to gain a basic understanding of the different aspects involved in logo design such as the software you will need to use. This will make the logo design process much easier and also more enjoyable. The most common software used to design logos is Adobe Illustrator, this is a powerful tool that offers many features that make logo design a smooth process. However, you can use other vector-based software as well to design logos if you prefer.
With that said, let's look at some of the best logo design tutorials for beginners.
What Make A Truly Great Logo
If you are looking for a short video that tells you what makes a great logo then look no further. This quick video will tell you everything you need when designing a strong logo. You will not need to invest much time, only a couple of minutes, and you will have strengthened your understanding of what is required of a truly great logo.
This is a great start to learning about the logo design process. Do not overlook this great video introduction.
How Not To Design A Logo
Learning what you shouldn't do when designing a logo is just as helpful, if not even more helpful as knowing what you should do. If you want to avoid making mistakes that could ruin your logo, then use this tutorial to help you.
In this tutorial, John McWade will take you through a case study of the Apple logo. There are many great tips that you will gain from this tutorial, so don't skip past it. This video is aimed at beginners and even intermediate-skilled logo designers. You can view this video for free and you will not need to invest a lot of time in it to learn valuable information.
How To Create A Logo In Adobe Illustrator CC – Start To Finish
This tutorial is especially great for beginners. Terry White will show you how to create a logo in Adobe Illustrator CC from scratch. Here you will learn everything you need to know to get started with creating logos.
This video is just over 10 minutes in duration and it's completely free to watch. After watching this great video, you will have a strong understanding of what is needed to create a logo and how to do it.
Logo Design Techniques
After looking at the above beginner-friendly logo design tutorials, you should have a great understanding of what goes into the logo designing process. Now, let's go even further and look at tutorials for different logo design techniques. If you want to provide the best branding logo design services, or are looking for them, going through these tutorials will be of great help.
Using Grids For NEXT-LEVEL Logo Designs (Crucial Tips)
Using grids when designing logos is a helpful and great way to visualise the different parts of the logo and how they connect with each other. Without using grids, you will be starting at a blank canvas and this can be overwhelming, especially for a beginner logo designer. Using grids will help in the beginning stages of logo design and help you create a better logo.
This video tutorial is free to watch and is aimed at beginner and intermediate designers. This is a must-watch tutorial as you will be using what you are taught here in every logo you design.
For those looking to remove backgrounds from logos, this can be done with a few steps using Clickmajic.
Mastering Logo Design: Gridding With The Golden Ratio
The golden ratio is a powerful technique that helps designers create visually stunning and flawless logo designs. This tutorial is a must for anyone looking to seriously learn about logo design and start designing logos themselves.
This is a 45-minute tutorial, so it's definitely on the longer side, but it is well worth it. It is aimed at intermediate-level logo designers and can be viewed for free using the Udemy free trial. This is a great tutorial that you should take advantage of and learn everything it has to teach you.
How To Create A Stylish Single Weight Line Art Logo In Adobe Illustrator
This is a top company logo trend so learning what it takes to create it will benefit you greatly. This tutorial will go through many different techniques and tools that you can learn and apply to other logo designs and not just ones in this particular style.
This is a great tutorial to learn a lot about useful logo design techniques and tools that you can add to your arsenal for future projects. What makes it even better, is that it is completely free to watch and it doesn't require much time investment as it is only 10 minutes long.
Start Designing Today
There are so many tutorials available on the web to teach people about logo design. Now you know about some of the most useful ones that can help anyone start designing logos and then go on to provide logo designing services. You just need to keep working on your design skills and you will be offering professional logo designing services in no time and making a name for yourself.
You may also like: Why Businesses Must Invest in a Professional Logo Designer
Image source: Pexels.com