Click here to get this post in PDF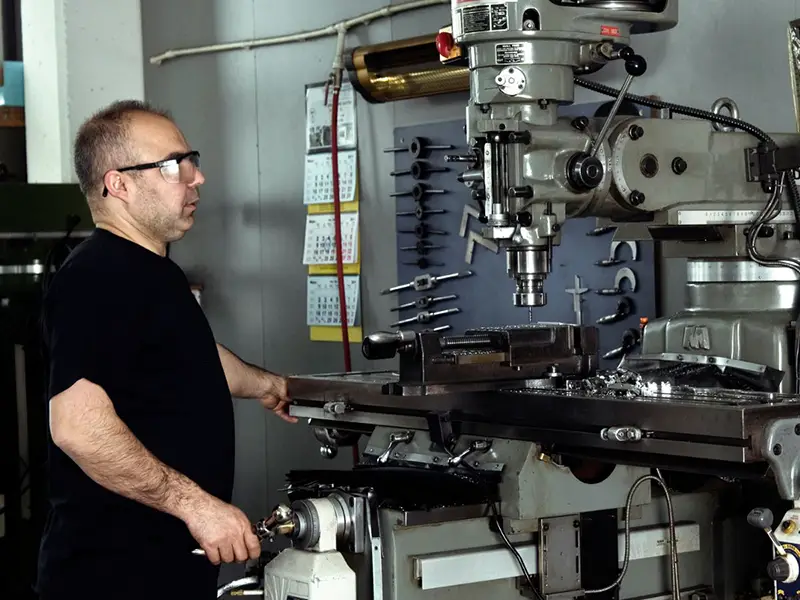 Fitters and turners are constantly in demand across Australia. Heavily involved with assembling and maintaining heavy machinery, a fitter and turner apprenticeship can give you access to lucrative roles in any industry. Similar to a boilermaker apprenticeship, fitting and turning is an incredibly varied career field with opportunities that aren't available anywhere else. To help you figure out if it's the right career pathway for you, we'll discuss the role in more detail and what it takes to succeed as a fitter and turner.
What Is a Fitter and Turner?
A fitter and turner is a skilled tradesman specialising in fitting, assembling, grinding and shaping metal parts. These metal parts may take the form of subassemblies, components for engines or custom-fabricated pieces. Fitters and turners work on all types of production machines, engines and other equipment. Like a mechanic, a fitter and turner may work on diesel engines and equipment, but they are also widely involved in fabricating and maintaining other types of machinery.
Fitters and turners work throughout Australia. They use their skills to fabricate, repair, assemble and maintain all types of machinery. If you obtain your certification to work as a fitter and turner, you could find employment in a wide range of industries, such as:
Mining and minerals processing
Construction and engineering
Defence
Manufacturing
Fabrication
Industrial and chemicals processing
Oil and gas
What Can a Fitter and Turner Specialise In?
If you want to increase your earning potential and explore exciting careers in new industries, specialising is a great way to achieve that. A qualified fitter and turner can undergo additional training to specialise as a:
Diesel fitter mechanic – A diesel fitter mechanic primarily works on diesel engines and equipment (such as trucks and earthmoving machines).
Fitter machinist – A fitter machinist is involved with fitting and assembling fabricated metal parts. They are also involved with setting up and using machining equipment and production tools.
Mechanical fitter – Mechanical fitters are responsible for fitting, assembling and maintaining production machines and other industrial equipment.
Fitter welder – Fitter welders are specialists in the use of all types of welders. Fitter welders typically focus on fitting and assembling parts that require welding.
Armament fitter – Armament fitters are specifically employed by the Defence industry. While an armament fitter will work on many of the same tasks as other specialisations, they're often required to pass security checks that enable them to work on defence technologies.
Taking on a specialty role allows you to access opportunities across the country. With many of Australia's largest and most lucrative industries requiring fitters and turners, building your skills is an excellent way to improve your long-term career prospects and earning potential.
Fitter and Turner Apprenticeship Requirements
Working as a fitter and turner is a highly skilled role that includes operating complex and potentially dangerous equipment. It also involves reading technical schematics and completing work to high tolerances. For those reasons, becoming qualified as a fitter and turner requires a 4-year apprenticeship that combines classroom study and on-the-job training with a qualified tradesman. During your apprenticeship, you'll be exposed to hundreds of daily tasks and trained to use the tools of the trade, such as machining tools, sheet metal shapers, hand tools and more.
Beyond the technical qualifications, becoming a fitter and turner requires certain physical attributes. First and foremost is a familiarity with maths and engineering principles. While you won't be required to perform complex engineering calculations on your own, your daily work will involve a certain degree of problem-solving. Being effective as a fitter and turner require that you have the general capacity to make logical decisions and resolve design issues as you work. Additionally, a fitter and turner require a high degree of attention to detail, patience and focus. Especially since the role frequently requires long hours of physical work and heavy lifting, maintaining your focus during a long shift in a noisy environment is key.
Fitter and Turner Salary
Becoming a fitter and turner apprentice in Australia can open doors in many industries. You'll have access to highly skilled roles consistently in demand across the country. Their earning potential matches the demand for fitters and turners. On average, a qualified fitter and turner could expect to earn about $75,000 per year. Your earning potential could be significantly higher depending on where you find employment, your specialisation and how skilled you are. For example, mechanical fitters may earn up to $105,000, while diesel fitters commonly earn up to $145,000. Pursuing a specialisation is the best way to increase your earnings and get more from your career.
You may also like: Skill Slump: Getting The Right Talent Into Your Business