Click here to get this post in PDF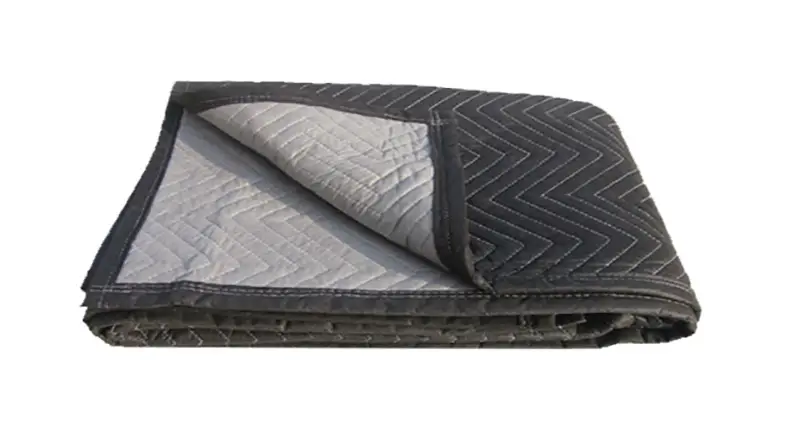 Some items come in handy for everyday activities, while others save the day at, sometimes rare, but special moments – an example being a moving blanket. Of course, there are other basic moving supplies, like packing papers and moving boxes. But these items are almost impractical when it comes to protecting heavy furniture, large appliances, and other related household products.
A moving blanket isn't only effective in securing large or fragile items; it also protects surfaces from nicks and scratches that might surface when moving a heavy or sharp-cornered item across the room. These include wood floor panels and walls. Purchasing this moving supply for a DIY move decreases the chances of household items getting damaged in the process.
What Is A Moving Blanket?
Simply put, a moving blanket is a piece of clothing that is used to cover up items, mostly when moving them from one place to another. Also known as furniture paddings, this heavy-duty blanket doesn't only serve as a type of "shock absorber" to cushion the effects of an impact during movement, thanks to its thickness, it also protects the item being moved from dust, mites, and germs.
The fabric from the furniture pads comprises either cotton or polyester, or both. Some are padded with extra cushioning layers to increase the safety of the item transported. As a result, they are useful not only for safely transporting items but also for dampening sound, among other purposes. Moving blankets come in a standard size of 72×54 inches.
Other dimensions are available to cater to varying item sizes, whether large or small, with the biggest being 72×80 inches.
Factors to Consider When Shopping for Moving Blankets
Shopping for the right moving blanket for a DIY move might be tricky. Not only does the type of padding need to be tough enough to resist the stress of moving, but it needs to fit around the various pieces of furniture, too. Otherwise, one could wind up with an unsightly indentation in a new couch, or worse, a few heavy ones in the wrong place, resulting in a DIY disaster.
Homeowners who need furniture paddings for their DIY moves may find themselves in the "too many options" predicament. In such situations, it is wise to narrow the search to a handful of cautionary guidelines, some of which are discussed herewith:
Choose the Right Size for the Coverage Area
While there is a lot of debate about how big the right size moving blanket is, the ideal size for a moving blanket should offer a balance between manoeuvrability and protection. To determine the size required, match a bedroom with a dozen (12) moving blankets — although, note that this is relative to the dimension of the items to be moved as well. So, if there are 3 or 4 bedrooms, the ideal number of blankets would be either 36 or 48.
There is another way to figure out how many furniture pads will come in handy for a DIY relocation. There should be one pad for every 5 square feet. If this also appears too difficult, simply multiply the number of objects to be covered by 1.5. If there are larger items in the group, this measurement will allow for better coverage and protection. Any of these methods can help a mover determine the right blanket size for household items. 
Choose the Right Material
People who want to relocate the DIY way don't have to choose too many different moving blankets. It makes the process difficult, time-consuming, and ultimately unsatisfying. While it's ideal to have the heaviest blanket possible, it's also necessary to ensure that it is breathable enough to avoid trapping moisture within, which could ruin items being transported.
If the blanket of choice is composed of synthetic fibres, consider one with a cotton interior underlay. According to some experienced movers, the ideal moving blanket contains 20-30% polyester and 70-80% cotton. It should, of course, be heavy-duty, with organic or recycled cotton as the fabric.
Ensure It's of Great Quality and Affordable
When looking for the finest moving blanket, keep in mind that a high-quality moving product will not rip easily. In other words, it should be designed to withstand a moving experience. Top-quality furniture paddings won't fade and wear out quickly as they are manufactured with high durability in mind.
What's more, they conveniently meet people's budgets and are available in a variety of customized designs. The colour of the moving blanket should be appealing as well. While some individuals may prefer one that stands out, another focal point is to ensure that it is not too bright or too dull to avoid an eye-catching appearance that would look awkward in a space.
Go for Materials That Ease Cleaning
This may be a silly thing to care about but having to clean up after a move may end up being a lot of work. But with the right moving blanket, owners don't have to worry about the hassles of cleaning. An ideal furniture padding should clean up easily. It should work best with a variety of cleaning solutions.
How About Old Blankets?
"Can old blankets be used to transport household items?" This is a question that most homeowners with an interest in DIY moving ask. Yes, it is a simple solution. However, why use old, filthy materials to wrap a TV, sofa, or mattress when moving blankets are a better option?
Apart from ensuring that such household belongings are protected from damage, movers must also guarantee that they remain clean during the moving procedure. Hence, moving blankets are an excellent choice of DIY moving supplies.
Dusty or unclean garage and outdoor items, like lawnmowers, bicycles, and toolkits, can still be wrapped in old to provide additional safety.
In Conclusion
The DIY approach to moving is more convenient when there is a moving blanket to protect transported items. Still, not every homeowner will consider this option, especially when handling large or heavy items. Hence, hiring a professional mover will ease the process.
Moving companies have more experience, a larger workforce, and better materials than give the average homeowner. For those who don't move very often, hiring these professionals would be a smart choice. They shorten the process at affordable rates.
You may also like: How to Make Commercial Moving Cheaper