Click here to get this post in PDF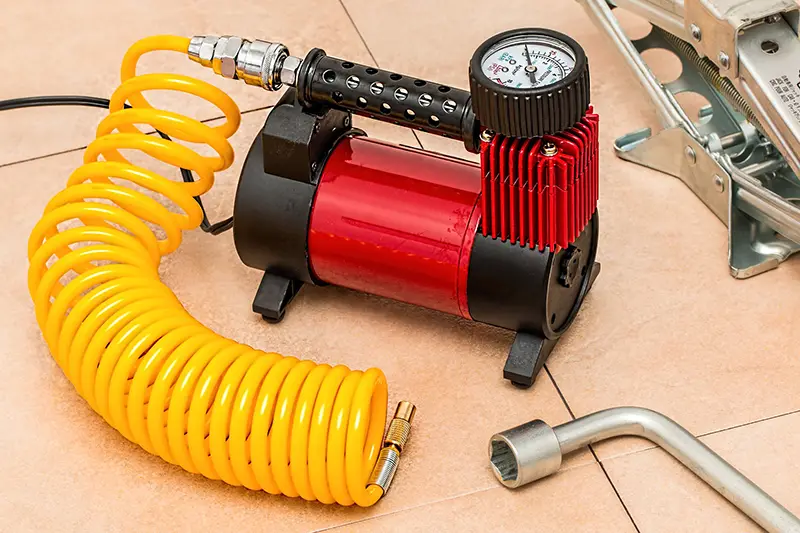 Today, air compressors have a wide range of applications. The new and advanced technology in this field is beneficial in improving the efficiency of different kinds of work. 
Air compressors can get used as per their requirement in homes and industries.
It is important for commercial and residential purposes. Some of the popular applications of air compressors in the present world include:
1. Tire Inflation
Before starting the vehicle, it becomes necessary to check tire pressure. If the air pressure is low in the tires, they will wear out soon. Under-inflated tires pose a serious threat during driving. 
Checking and maintaining proper tire pressure is essential for the safety of life and property. Air compressors that serve this purpose are available in the market.
2. Painting and Spraying
It is necessary to have a clean and smooth surface while painting or spraying. For this purpose, an air compressor help in blowing off the dust and other particles from the surface. That helps in achieving a neat finish.
3. Carpet Cleaning
You can effectively clean carpets with the help of air compressors. The high-pressure air coming out of the compressor removes the dirt and dust from the carpets. It is a convenient and time-saving method for cleaning the carpets.
4. Cleaning of Computer Peripherals
Air compressors can clean computer peripherals such as keyboards and mice. The dust particles accumulate on these devices when they're not stored properly.
By blowing compressed air through the keyboard or mouse, all the dirt will get expelled, and you can achieve a clean and perfect working surface.
5. Drying Clothes
In the monsoons, it may happen that you do not get sufficient sunlight to dry clothes or bed sheets.
In such a situation, an air compressor can prove helpful as it is a portable device. By placing this device in front of a fan in the room, you can dry your clothes quickly.
6. Cleaning of Boats and Cars
For a smooth finish, it is necessary to clean the surface properly before applying a polish or wax on it. You can do this by using an air compressor to remove the dirt from the surfaces. This will help achieve a good finish, and the polish or wax will last longer.
7. Gardening
An air compressor can help with gardening purposes. If you have to inflate a balloon or blow off the dirt from a flower pot, an air compressor can come in handy. It is a handy device to have in your garden shed.
8. Sports Balls
Air compressors can blow up sports balls such as basketballs, volleyballs, and footballs. They can help in achieving the desired pressure of the balls, so they remain inflated for a longer time
9. Other Applications
Apart from the applications mentioned above, air compressors are also applicable for various purposes such as sandblasting, plastic media blasting, powering tools, etc. It is a versatile device suitable for a wide range of tasks. Air compressors have come a long way since their invention, and they are now part of many different applications. They help inflate tires, clean computer devices, dry clothes, etc. People are also using air compressors to power tools and sandblast. The new technology improves the efficiency of the air compressor, making them even more helpful than before.
You may also like: A Brief Walkthrough of The Different Types of Air Compressors
Image source: Pixabay.com