Click here to get this post in PDF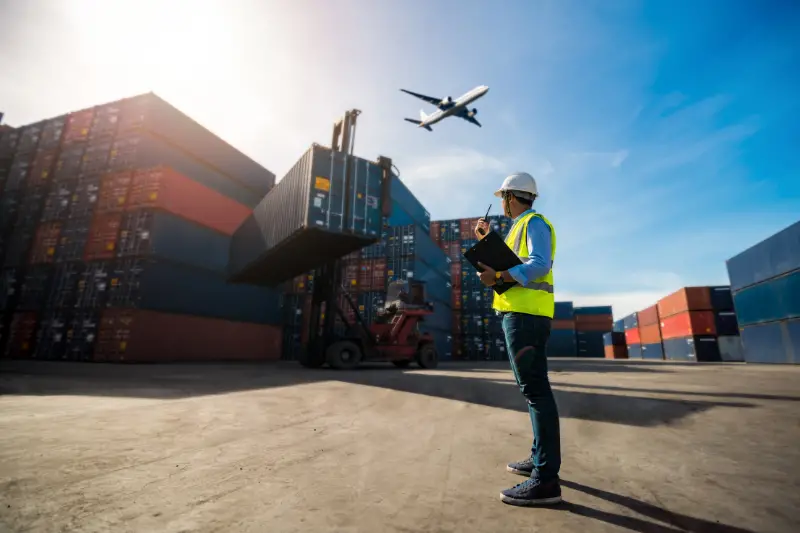 Images source: Shutterstock.com
At some point, every trader must decide whether to go for a plane or ship for their logistics. Is there one universal answer to this? Practically, no – it depends much on your product, its characteristics, and its quantity. How to know when it is better to take our goods by air or sea? It's always a smart choice to make for anyone since the distance, cost, safety, and many other factors come into play.
The first thoughts that come to mind are that sea freight is cheaper, takes longer time, and is better when transporting large or bulky goods. But is that true? Let's find out.
HOW DOES SHIPPING BY SEA WORK?
In general, ocean freight means the transportation of goods by ship. The goods are either piece goods, bulk goods, or transport units on board a vessel. The supplier can offer the goods as FOB (Free on Board), a classic delivery clause in conventional shipping. The seller must deliver goods alongside dealing with all export-related matters. The buyer concludes the transport contract at his own expense. In a real FOB business, costs include ship brokerage fees, freight costs, and reloading costs or commission in the ship. In practice, however, this is often quite different for international freight forwarders. In addition to the FOB clause, the best known is the CIF clause. It stands for Cost, Insurance, and Freight. This clause is roughly equivalent to the FOB plus regular freight plus insurance costs.
ADVANTAGES
1.      COST MARGIN
While air freight is the most expensive transportation model, ocean freight takes the opposite direction in terms of price. It is the most cost-effective way of delivering goods from one point to another, so many companies prefer this particular type of transport. It is convenient to find space on a cargo ship. More importantly, the cost of moving a vessel from the port of departure to the port of destination splits among the many other cargoes that sail on the same ship. Therefore, in a situation where delivery times are not fundamentally necessary, this is the best choice. It's because in this way you will save a lot of money.
2.      LIFTING CAPACITY
It is a parameter where sea transport has an edge. At the same time, cargo ships, on the contrary, can transport huge volumes of cargo. One of the most important advantages is that it works for every type and size of the goods. Virtually everyone can find the right kind of container – standard, refrigerated, open-top, or even a container-type tank for liquid cargo. The ships can take on board almost any type of equipment, heavy engineering products, vehicles, and many other oversized shipments—companies even transport parts of drilling rigs and power plants. At the same time, large consignments of goods or equipment will not split into smaller ones. We can deliver them all at once. It is an excellent option in terms of profitability if you need to transport a large consignment of goods in one lot.
DISADVANTAGES
1.      RELIABILITY
Any distributor will tell you that it is imperative for the end customer to be happy with everything. One of the factors affecting customer satisfaction is adherence to delivery times. That could have a business cost to it. For instance, when a customer places an order, he expects the item to arrive at his warehouse within the agreed time frame. Choosing sea transport means that it sacrifices at least part of the customer's satisfaction. In terms of delivery times, it is impossible to rely on seagoing vessels entirely. As a rule, they leave the port once a week. If something goes wrong, it can cause significant delivery delays. Some common problems include the cargo's late transportation to the sea line and the ship's late departure. Even if everything is in order with the product itself, the buyer will most likely be dissatisfied with the delivery delay. Nonetheless, sea transportation is highly safe.
2.      SPEED
Ships are hopelessly inferior to aircraft in terms of speed. If the goods need transportation from one continent to another, sea transport must cover vast distances. Naturally, at a relatively low pace, this takes quite a long time. While an airplane can deliver cargo in 1 or 2 days, it can take a ship (even without delays) about a month or more to cover the same distance. Someone might say that science does not stand still, and humans are creating more technologically advanced vessels. Progressive sea lines are purchasing new generation vessels. These are mostly with higher travel speeds.
HOW DOES AIR TRANSPORT WORK?
Civil air freight has increased sharply since the 1960s. Around half of the world's air freight travel in the lower decks of passenger aircraft and the other half in cargo aircraft. Airfreight offers both advantages and disadvantages.
ADVANTAGES:
Speed: Airplanes have a clear advantage on medium and long-haul routes for transporting goods
Independence from natural influences and vibrations
Reliability-based on meticulously planned and strict flight plans
Storage costs and waiting times are minimized or do not arise at all
DISADVANTAGES:
Airfreight is more expensive than sea freight or ground transport
Aircraft that transport air freight cause more pollutant emissions than other modes of transport
In contrast to transport by truck, air freight transport is tied to airports and is, therefore, less flexible
Not all goods are suitable for air freight transport
CONCLUSION
Air freight and ocean freight both have certain direct and indirect cost advantages. From the advantages and disadvantages of air freight mentioned above, it becomes clear that it is suitable when goods must travel from A to B and overseas quickly. Also, air freight is ideal for shipping light and small quantities. For bulky goods or goods with a large volume, sea freight is the cheaper and recommended alternative. When choosing one or another type of intercontinental transportation, everything depends on the specific situation. If speed is more important than cost, choose air, but remember that you should profit from delivering goods, not a loss. If the timing does not matter, select sea transportation. In this way, you will bring the cargo much cheaper.
Also read: What Freight Forwarding Is and How to Find the Right Service in Hawaii