Click here to get this post in PDF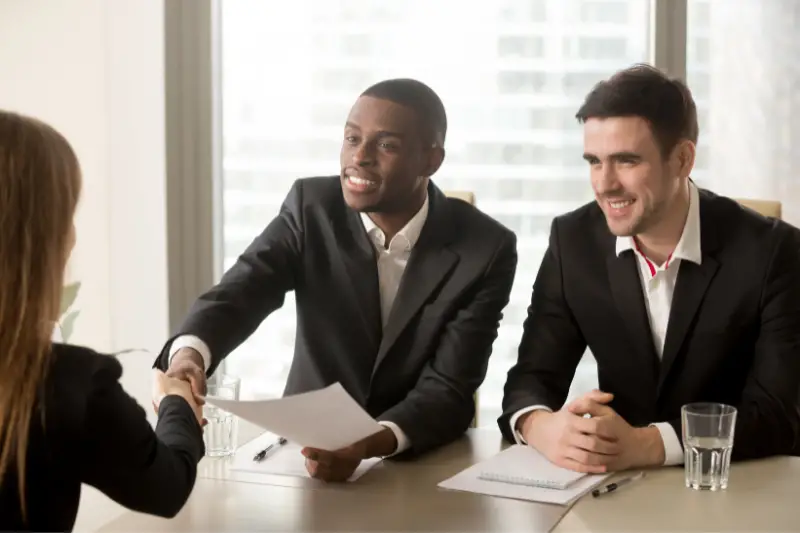 The primary purpose of a recruitment agency is to help firms find the perfect person for their open positions. Unfortunately, few entrepreneurs realize the other significant advantages of using a staffing agency today.
Partnering with recruiters can be highly beneficial not only to company recruiters but also to the company. Here are five crucial advantages you can expect if you seek expert advice and services to address your firm's hiring challenges.
1. Enables Faster Recruitment Process
A recruitment agency can help shorten the time it takes for firms to fill vacant roles. With a professional recruiter, you will have someone who can find top talent much faster than you can.
Specialist recruiters use technology and business intelligence to source a firm's dream candidates faster and more efficiently. The agencies have a network of connections, a massive talent pool database, and access to expensive systems that help companies locate employees with the skills they need.
This benefit means that the only applicants a recruiter agency recommends fit your executive search criteria and expectations. This advantage can help shorten your hiring process.
2. Serves as a Source of Market Knowledge
Working with a staffing agency will let you tap into specialist knowledge your company's in-house recruiters might not possess. 
Your recruitment manager usually has to be knowledgeable about a wide range of different roles your firm might need. In contrast, some recruitment agencies are specialized in hiring for a particular industry, role, or level. 
This advantage means they have a deeper understanding and better knowledge of their niche in the job market. As a result, the agencies can offer valuable insight and advice to help you hire and retain top talent.
3. Recommends High-Quality Candidates
Working with a professional recruiter increases your chances of meeting high-quality candidates with the right skill and expertise. Staffing agencies have access to a large talent pool of referenced and pre-screened candidates. With this advantage, you will only meet with applicants who have already been assessed and interviewed.
Recruitment agencies talk to candidates daily, making them experts at interviewing, screening, and analyzing the suitability of people for roles across various businesses. They can also offer consultancy and recruitment support services to provide specialist advice and assistance to ensure your hiring process runs smoothly.
4. Provides Service Beyond Recruitment
A good recruitment agency invests all of its time, money, and energy in recruitment. Because of this investment makes giving out relevant data and overall consultancy about the industry second nature.
It is almost impossible for employers to get the same services when they hire without professional help. 
5. Saves Time and Money
With someone else managing recruitment processes, an employer will have more time to do other crucial business tasks. 
A candidate applies for work to be able to develop their career, while an employer hires employees to keep the business running. This means recruitment itself must not take up a significant portion of their effort, time, and other resources because it is not their end goal in the first place. 
By tapping a good recruitment services provider, an employer will have someone who can deal with the recruitment's intricacies while focusing on other more crucial matters.
IQ Partners is an example of a recruitment agency that can help companies save time and money on hiring. With their help, entrepreneurs can hire better, hire less, and retain more employees without spending too much time on recruiting.
You may also like: 5 Steps to Improve Your Employee Hiring Program
Image source: Shutterstock.com