Click here to get this post in PDF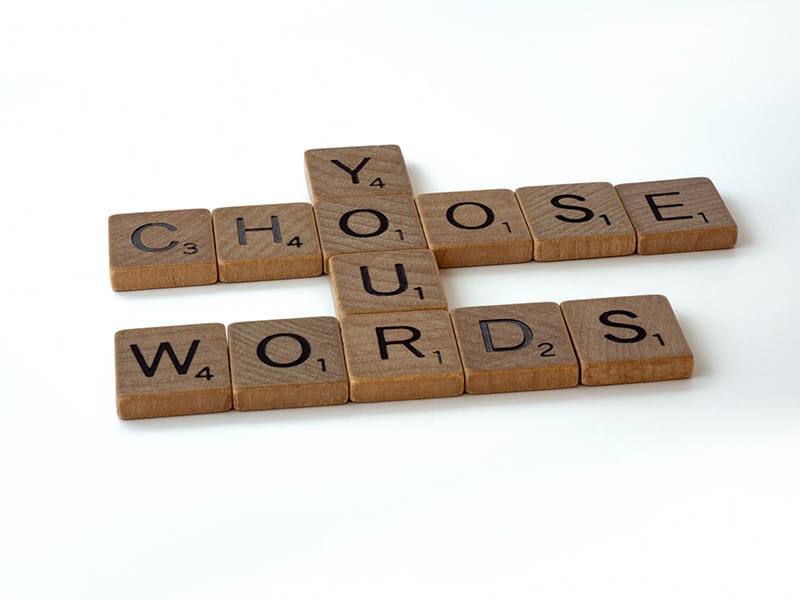 Just what are the magic words? These so-called "power sales words" can lead to seamless closing and growth. Words are very powerful. They can incite meaning and give way to a range of emotions, and this emotion sells. "Successful people ask better questions, and as a result, they get better answers." -Tony Robbins, self-help entrepreneur and life coach.
Use the right words, give the right answers, and you will win your market. Whether you are rethinking your sales strategy or working up a new campaign, words matter. Pay close attention to language. Let's explore some power words proven to amp your sales.
1. "Thank you."
A simple "thank you" can have big impact on expressing gratitude. Even more, explicit thanks versus "I appreciate" has proven to incite a bigger feeling of gratitude for recipients. These words can go a long way among customers.
2. "Because"
In 2012 a study by Ellen Langer, social psychologist, found that following a question with "because" saw a greater response from the test group. Presenting reasoning behind your words is shown to solicit greater compliance from your audience. Again, here is a time where being explicit is best practice. Your prospects have a problem; you have the solution.
3. "Yes, and"
"Yes, and" versus "Yes, but" is another power phrase. "Yes, and" lends itself to customer validation. Common knowledge would say we all want to be heard.  "Yes, but" can leave its recipient feeling patronized. Studies show the usage of "yes, and" allows for ideas and conversations to build and grow.
4. "Solution"
We all want solutions to our problems. When you give prospects a way to solve their problems, you become more valuable. This is when it is important to consider buyers' persona and journey. Identifying who and where your customer is can pinpoint solutions to their problems. When clients witness firsthand how efficient you are at solving their specific problems, they will come back for years to come.
5. "Exclusive"
Exclusivity is associated with preferential treatment. This automatically makes your offer irresistible. When you then deliver on this feeling of exclusivity, you are well on your way to a meaningful relationship with your customer.
6. "Imagine"
Painting a picture for someone brings the prospect of your product to life. Remember, words are powerful, and a good story teller will be able to close the deal more often. Try to use words that will make your offer relate to real-life situations. Your customer is the main character.
7. "Risk-Free"
Commitment can be daunting at times, especially with a sizeable purchase. Giving your customers peace of mind knowing they aren't taking a risk will speak volumes. This can also place more value on your good or service. It demonstrates you have enough confidence in your product that you will guarantee its high quality at essentially your cost.
8. "I don't know."
Never underestimate the power of honesty. Clients will appreciate you saying, "I don't know" if you don't have the answer to a question. Just be sure to follow up immediately with, "I will find out for you." When you later deliver the correct information, you will build trust with your customer.
9. Customer Name
Call back to mind how it feels to hear your own name. It likely creates a feeling that you are being heard or noticed. Your prospects feel the same way. Try to use their name multiple times in conversation, or include it in an email or on a direct mail flyer. Your sales pitch is ultimately not about you, it's about providing a solution to your customer's problem. Using their name makes them feel the focus is on them.
Words matter, but so does listening.
Spend time in practice using these words. However, also remember to make them feel natural. Try using them in context with your niche market and unique demographic.
Also, understand that customer rapport is won by relating to people where they are, and making them feel comfortable to talk to you. Using the right words is important, but so is listening. First, listen to your prospect's words for their problem, then close the deal with power words they want to hear.
Are there other power words that have helped you in your sales? Share some in the comments below.
About the Author
Jessica Carr – Content and Social Media Manager
twitter handle: @boss_leads
Jessica Carr previously served as an educator. Her interaction with students and parents gave her insight into how communication and language develop. She is now Communications Consultant and Content Manager for Direct Sales Marketing Leads. Here, she leverages her experience to manage consumer-facing informational websites. Jessica manages journalists in three countries.
You may also like: How to Form a Deeper Connection with Your Customers
Image source: Unsplash.com