Click here to get this post in PDF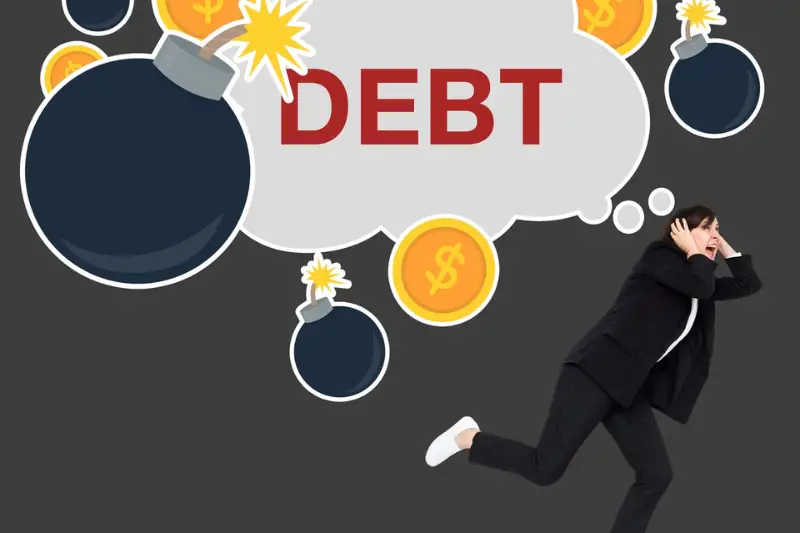 Landing in debt isn't uncommon. The average American is around $52,940 in debt. This could be a combination of a mortgage, a car loan, credit cards, and other forms of debt. 
Living debt-free allows more money in your pockets, which you can then use for more important things such as creating savings, traveling, or living the lifestyle you want. To live debt-free, however, you must first know all the best ways to get out of debt. What steps should you take to properly free yourself of debt?
Luckily, there are many ways you can begin freeing yourself of debt. In the guide below, you'll discover several tips on debt management and how to start paying it off. Are you ready to live a debt-free life? 
Continue reading below to get started!
1. Write a List of Debt Where Visible
A great first step is to write down all of your debt and keep it in a place where it's visible every single day. A good idea is to use a small whiteboard with magnets. Attach it to your refrigerator and write down the name of each debt (car loan, credit card, and so on).
You should also write down the date for when it's due each month and how much. You can even list them in order of priority of which ones need to be paid off first.
2. Start Paying It Off by Priority
Now you can begin paying off your debt by priority. How do you know which debt should be paid off first? Take a look at the interest rates.
The debt with the highest interest rate should be the one you focus on first. You still need to continue paying all of your debt on time, but when possible, put any extra money towards the priority debt. Even if you can only pay an extra $5 or $10, do so. 
This will help you pay it off quicker. 
3. Consider Consolidating Debt
Now it's time to consider consolidating your debts. Debt consolidation is when you combine all your debt into one loan with a low-interest rate. It can also mean taking out another loan with a lower interest rate to pay off a current loan with a higher interest rate. 
When you consolidate your debt the right way, it can make a big difference. The most important part is ensuring you take the money to pay off your current debt and then make payments on the loan with a lower interest rate. 
4. Stop Using Credit Cards
When we say stop using credit cards, we don't mean close out your accounts. Closing your credit cards can actually have a negative impact on your credit score. Instead, stop using your credit cards until you have them paid off in full. 
Once you've paid them off, you can then start using them again but only when you have the money to back it in your bank account. For example, consider only using your credit cards to purchase gas. Then, transfer the money from your bank account onto the credit card to replace it immediately. 
This builds your credit quickly and keeps you out of debt. 
5. Create a Monthly Budget 
Everyone should have a monthly budget. Without a budget to stick by, it's difficult to stay on top of your finances. To create a budget for yourself, sit down and go over all your personal finances. 
Compare your income with your expenses. Then factor in monthly essentials such as groceries and gas. How much money are you left with each month after paying all expenses, necessities, and debt? 
With the money left over, can you place some in savings, pay more towards that high-interest debt, or build emergency savings?
6. Make Spending Cuts Where Possible
Something else to consider is where you can cut back. Start tracking all of your spending and realize where you might be spending unnecessary money. For example, after tracking your spending have you realized you spend money on food delivery multiple times a week? 
Do you pay for cable, which is more a luxury than a necessity? Where can you start cutting back to ultimately put more money in your pocket? Start making these spending cuts now. 
7. Change Your Lifestyle
A change of lifestyle might help you get out of debt as well. If you're someone who eats out a lot or goes out on weekends quite frequently, then it might be time to make a few lifestyle changes. This isn't to say you can never go out and have fun or enjoy a meal at a restaurant, but try to do these things less often and only as a special treat to yourself.
Until you've gotten yourself out of debt, your main focus should be placing any extra money you have towards loans, credit cards, and bills.
8. Pick up a Side Hustle
Don't hesitate to start a new side hustle if needed. When you realize you owe more than what you're bringing in, it might be time to start looking into another source of income. It's also a great idea to have multiple streams of income at all times.
There are plenty of great side hustles to consider. For starters, you can consider turning a favorite hobby into a source of income. For example, selling artwork or dabbling in photography are great ways to make money on the side. 
You can also consider dog walking or sitting. Babysitting and tutoring are other great options. Find something that you enjoy and make some good money from it during your free time. 
Learn the Ways to Get Out of Debt Today
Debt doesn't have to be a weight on your shoulders that you carry for a lifetime. There are ways to get out of debt listed right here in this guide. Consider trying each method if not all methods to start climbing out of debt today. 
For other lifestyle topics, business topics, and more, don't forget to visit us on a regular basis. 
You may also like: 5 Emotional Benefits of Becoming Debt-Free