Click here to get this post in PDF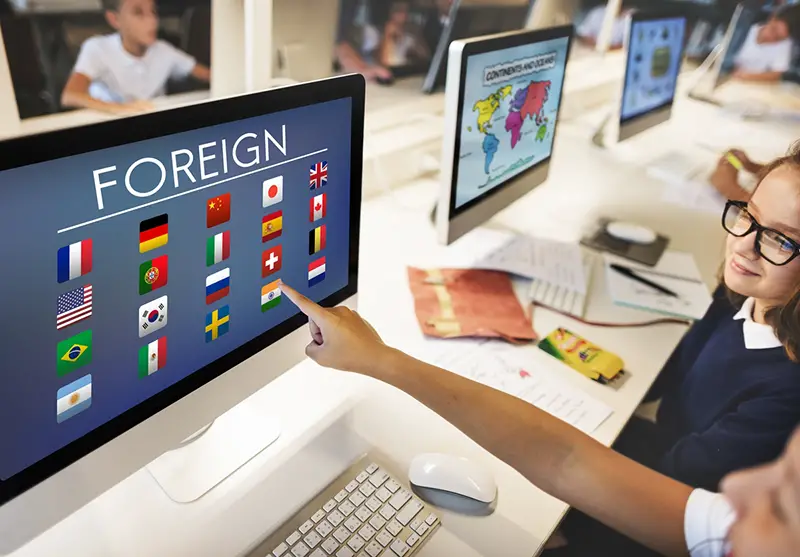 There was a time when learning was bound to the classrooms. Modern technology has revolutionized the learning process for students. The latest gadgets, equipment, and apps are of great help for learners and teachers.
Technology is similar to convenience, accessibility, and readiness in every aspect. It has made learning a language easier in and out of the classrooms. It makes learners viable and comfortable to learn with their desired pace and time availability.
Moreover, the availability of digital material such as exercises, videos, and tutorials is quick, easy, and handy all the time. If you also want to learn the language efficiently, you must know how these tech tools will work before starting your language learning journey.
How to Make the Most of Technology to Learn a Language?
1. Communication
In a previous post, we claimed that one of the most common flaws in school curricula is that they never prioritized communication-based activities in language classes. Technology-enabled classroom systems allow the seamless integration of speaking-related duties. Furthermore, they utilize instruments and procedures that students are already familiar with, such as instant messaging, presentation tools, and others.
Technology can aid in developing an interactive learning environment in which regular contact in the second language is encouraged rather than restricted to oral tests.
2. Virtual Learning Environment
Students can easily use these technologies to create an immersive learning environment in which students engage with a virtual environment in addition to teacher explanations. It is feasible to encourage the active use of the second language in virtual learning environments for problem-solving and information discovery activities.
Some learning software is perfect for building socializing skills, logical reasoning, and dialogue practice. That is why it is a valuable tool for critical thinking as well as internalizing the second language. Students are encouraged to absorb grammar rules by practicing rather than simply memorizing them.
3. Assessment Software for Teachers
One of the most time-consuming jobs that teachers must undertake is the correction of tests. Automated assessment checking makes these time-consuming tasks easier and faster, allowing instructors to devote more time to enjoyable and engaging instructional activities and projects in the classroom.
Their goal is to make the language learning process more manageable and increase the time dedicated to teaching. This goal, however, would be impossible to achieve without the presence of a teacher who can rely on concrete support of technology every day at work.
Language software is an amazing tool for a fun language learning experience and a productive, high-performing teaching activity.
4. Collaboration
Collaboration and group work are critical in encouraging learners to utilize the second language actively. As a result, the most incredible language software offers online collaboration platforms where students may work together on exercises.
The educational community is increasingly appreciating these apps and software. Some solutions are especially well suited for integrating language instruction. It also aids in accomplishing the project work they come up with for practice.
5. Online Accessibility
Technology provides language learning tools to audiences worldwide, which they can use anywhere and whenever they want. Students no longer need to follow face-to-face learning paths because they can acquire what they need online.
Then they can practice in person to improve their skills. It provides a lot of conveniences, and as a result, more people are learning a language in your free time. Online resources also included those help offered by native language speakers, enabling proper language immersion for language learners.
6. Apps for learning languages
Because consistency is so important when learning a foreign language, language-learning apps like Ling are handy tools to aid with the process.
 Babbel, for example, is an excellent tool for learning a foreign language since it encourages daily practice and presents users with activities that mimic real-life conversation. Most mobile devices are compatible with the app, which has a user-friendly UI.
7. Websites and Video Tutorials
Students can download practice exercises and use learning resources such as digital flashcards on instructional websites. If a learner is having trouble with certain verb conjugation, for example, he or she can look up 'X exercises' online to see a number of ways to apply the grammar topic.
Students can improve their comprehension abilities by watching online videos, such as structured language learning videos available for free on YouTube or just anything that interests them. Keep an eye out for videos created by native language speakers, and with a short dedication of time, learners can efficiently achieve their goals.
You may also like: Is Corporate Language Training for You?
Image source: Rawpixel.com