Click here to get this post in PDF
The health and safety of employees are some of the most important things to consider when running a business. With all the time and effort put into making companies successful, it's easy to forget that everyone needs a break from time to time. One way of ensuring that this happens is by using specialist cleaning companies for some or all office cleaning tasks. Let's take a look at six reasons why outsourcing will benefit business owners and their staff!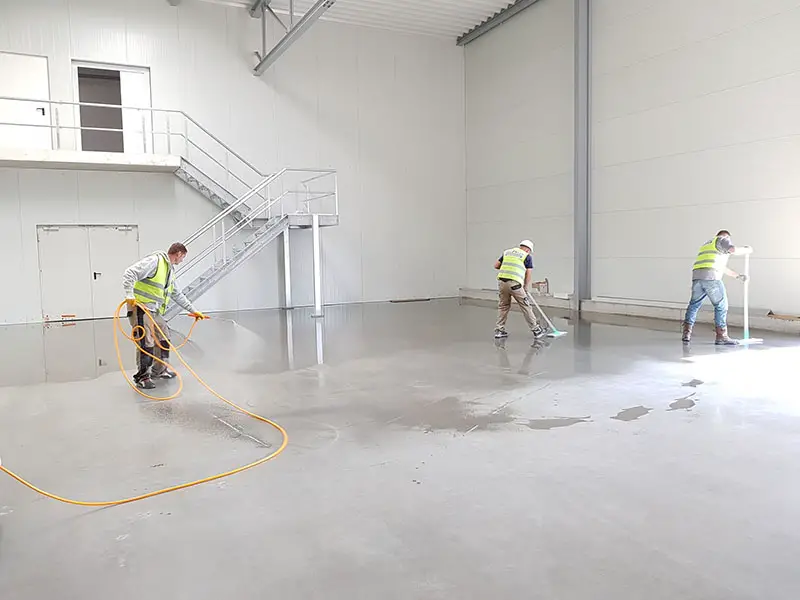 Improved Cleanliness Of Your Premises
Ensuring that the office or commercial premises are clean and in a good state is essential for hygiene purposes. And to ensure that visitors feel welcome. Whatever kind of business, there's nothing worse than stepping into an untidy building; it gives the impression of carelessness on the part of those who work within its walls! Moreover, suppose the business is struggling with staff sickness due to poor air quality caused by grime and dirt. In that case, outsourcing cleaning will help eliminate these problems while giving their employees peace of mind knowing their workplace is clean. Another advantage of outsourcing cleaning functions of a business is that specialist cleaning companies have the correct equipment to get the job done. For example, industrial floor cleaning requires high-quality pressure washing equipment and chemicals. 
Less Time Spent Cleaning And More Time With Clients Or On Other Tasks
Many businesses spend evenings getting everything ready for the next day (or dreading having to do it all over again the following day). In that case, they'll appreciate the difference that outsourcing your office cleaning will make. Since external companies specialise in this, there's no need for internal employees to take on these duties; it frees up time and energy that can be put into other tasks such as studying new markets and developing business plans!
Increased Staff Morale And Productivity
When people feel like they're valued members of a company, they work harder while being more productive at what they do. There are few things worse than having an untidy working environment with poor air quality, which leads to sickness among staff; it makes everyone grumpy! If businesses experience problems along these lines, then look into specialist commercial cleaning today. It doesn't take long to see the difference it makes!
Improved Health And Safety Standards For All Employees
Many business owners don't know that there are specific standards of cleanliness that business is legally required to adhere to? Although they might not think about it, these requirements can be challenging for employees with allergies or other health problems. By outsourcing cleaning, businesses can ensure everyone benefits from better air quality and a healthier environment overall. 
Specialist Cleaning Companies Train Their Employees To The Highest Standards
When business managers hire a specialist cleaning company, they're not just getting their services for an agreed-upon fee. Instead, they're also hiring the people who will carry out your office or commercial premises clean. This means they must be trained in all aspects of hygiene and environmental health. When companies choose to outsource rather than do it themselves, they can rest assured that everyone involved with these tasks is fully qualified, so they don't need to worry about legal issues! If any problems crop up, specialist cleaning companies will know what steps should be taken next. When tragedy or accidents strike, leave it to the experts to take care of biohazard and trauma scene cleanup Phoenix.
Move Liability To The Cleaning Company
Suppose businesses are unsure about what to do in the event of an accident or mistake whilst cleaning their premises. In that case, they'll be glad to know that many companies will take total liability for any errors or accidents in most cases. This means if something goes wrong, the cleaning company is responsible, not the business! 
When customers see an office or commercial building looking pristine from top to bottom, they're going to assume that those who work within it take hygiene seriously. Businesses who want potential clients and other visitors thinking this way should consider outsourcing their cleaning work to a specialist. 
You may also like: When To Use Specialist Cleaning Services?
Image source: Pexels.com