Click here to get this post in PDF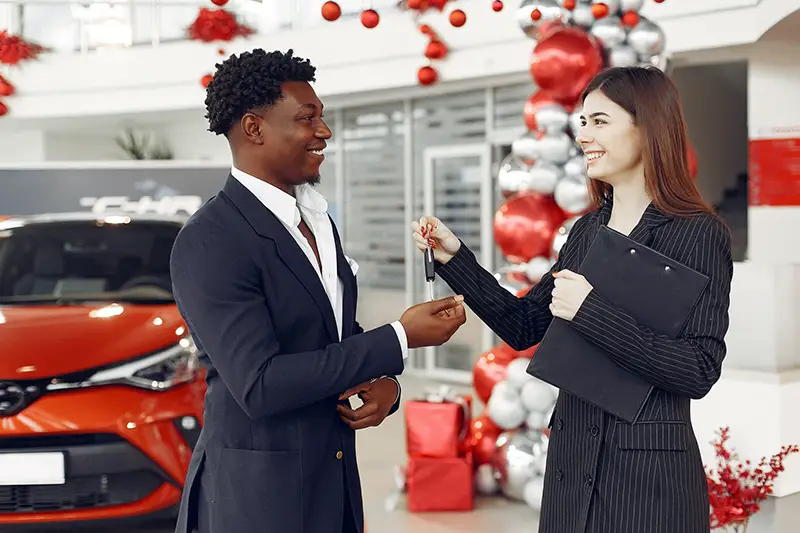 Getting a car loan is not as easy as bank advertisements make it seem. While the procedure itself may not be that lengthy, it is still a bit complicated. And if you do not get it right, you might not be able to get that loan for your car.
Hence, to help you out here is a quick discussion on 6 of the most important things you should consider before applying for a car loan.
#1 Buying a new car or a used one
A brand new car from a dealership will always cost you more than a used one. If you are not financially well off or your car loan does not get through to you, you cannot afford a car at such high prices. In this situation, you need to opt for a cheaper one, which in most cases is a used or pre-owned car. 
Before signing the papers for your car loan, you need to decide whether you are buying a new one or a used one. Based on this decision, you can move forward with the rest of the procedure.
#2 Checking the interest rates
Checking the interest rates is arguably the most crucial step while seeking a car loan. Different banks have different rates of interest; there is no standard rate for car loans. Hence, you need to compare these rates and find a deal that is suitable for you.
While checking the interest rates, be sure to do a net calculation of the total amount you will be paying. Even a marginal difference in the rate can affect the total amount of money you will need to pay. There's even the option of going for pink slip loans, which are very similar to a typical car loan.
#3 Working with a broker
There are many reasons why you should consider working with a car finance broker while getting an auto loan. For starters, they make the whole process of car financing a lot easier. Not only can they help you save time and money, but they can also take care of all your paperwork, and keep you safe from potential scams and risks. Getting a personal loan to buy a car can get problematic from time to time, especially with a bad credit score. Bad Credit Car Finance lenders are the only option in this situation. A broker can help you out in this regard as well. They'll also do their research on multiple lenders to help you get the best deal on your car loan.
#4 Knowing where you stand on your credit score
There are two possible scenarios that you might have to face depending on your credit score. 
If you have a poor credit score, there is a high chance that you are not going to get a good loan. On top of that, the bank or lender might charge a much higher interest rate from you. Sometimes, if the score is way lower than the desirable number, the bank might not even sanction the loan. On the other hand, a good credit score can make everything go in your favor, and also land you in the good books of your lender.
#5 Having your documents in order
Since you are applying for a loan, you need to have all your legal and financial documents in order. Apart from proof of identity, address, and income, you'll also need to present various other documents.
Some of these documents include your credit score, monthly expenses, purpose (for a personal loan), financial/bank statements, rent history, etc. The banks will start working on your loan request only after you've presented these documents.
If you fail to provide the required documents, the bank won't consider going through your request, let alone sanction you the loan. You should also remember that presenting fake or forged documents will lead to serious penalties. Hence, avoid doing so at all costs. 
#6 Looking through the quotations
Every car dealership works with a different bank, and they want their customers to get a car loan from that specific bank. The dealerships quote different rates based on the bank you choose. Usually, if you are opting for the dealership's bank, they are likely to charge you a bit less than for other banks.
However, that is not necessarily the best option for you. In such cases, the cost of the car itself may seem less, but you probably have to pay a lot more interest against your loan.
Hence, it is important to do your research so that you can find the best deal out there. Visit as many dealerships as you can and ask for their quotations. Be sure to ask them about other charges associated with the car and loan. 
After you are done considering all these points, you can get started with the application procedure for the car loan. And do not worry, because if you have everything in the correct order, nothing can stop you from getting that loan.
You may also like: 6 Car Loan Application Tips for Fast Approval
Image source: Pexels.com