Click here to get this post in PDF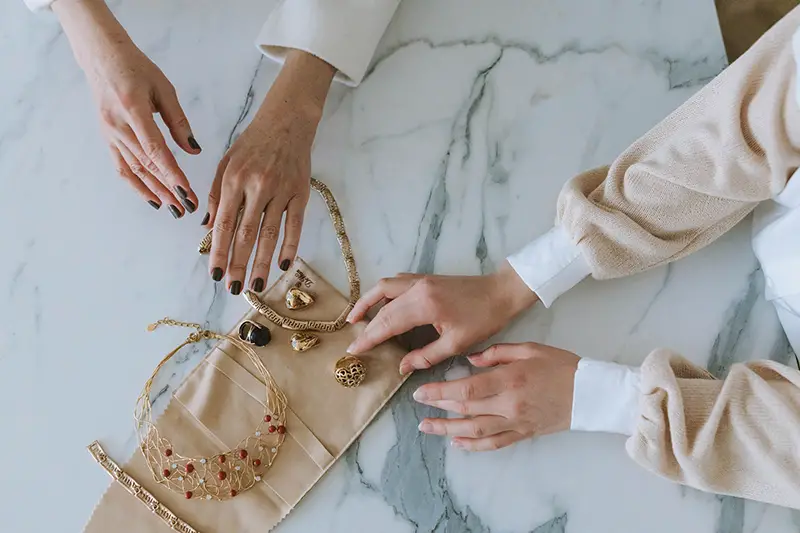 The online jewelry business is one with a relatively low barrier to entry. Sites like Esty allow users to sell their wares without a storefront and with a small budget. But, if you want to get serious, the best way to go about it is to start your own online jewelry store. 
GS Diamonds Brisbane Jewellers run a highly successful jewellery business in Brisbane and across Australia and they've told us that having a jewellery store is about more than building a website; however, you might find out that you have to deal with much more work than you imagine. Let's take a look at some of the biggest challenges online jewelry businesses have to face in their first year and how to overcome them.
Marketing
Marketing is one of the things people who enter this business struggle with the most. One of the reasons for this is that they didn't bother to learn about it before they go into the field. Ironically, this could be the single most important part of running a successful online jewelry business.
Online marketing is something that you'll have to master if you want to make it in this industry. You don't have to know everything there is to know, but you have to get familiar with things such as PPC marketing, SEO, and social media ads. You will need to know what proper social media marketing etiquette is if you want to see results. You should also get familiar with things like email marketing as it will be one of your best ways to build a core audience.
Manufacturing
Another major issue new jewelry companies have to deal with is bad manufacturing. Sometimes, the quality of the items is not consistent. If the manufacturer is also responsible for fulfillment, there could be many issues there as well. They might also treat clients differently depending on how much profit they generate. This means that you may not get responses as fast when you have inquiries, or you may not get answers at all.
This can be an issue when you're trying to trace someone's returns, for instance. You need to be able to tell them exactly at what stage of the process their return is, at all times, or you may start dealing with chargebacks. Therefore, it is essential to find a jewelry manufacturer that you can rely on.
Payment Processing Issues
Speaking of chargebacks, they and other payment processing issues are another common challenge online jewelry stores have to deal with. Fraud is rampant online, and a lot of people will charge fraudulent chargebacks so they can keep the items without paying. The worst part is that credit card and payment processing services tend to privilege the buyer over the seller, so you'll have to be prepared to lose some of your cases and deal with the loss.
This also means that you need to use a robust payment processing service and use a tough verification process. We would also suggest that you require a sign-up before people can buy. This will give you a better idea of who's buying and can deter some would-be fraudsters.
Website Conversions
There's nothing that can be more puzzling for a website owner to see tons of traffic, but no sales. Low conversion rates are something many struggling with, and the tough part is that it can be difficult to know what's causing it. But, in many cases, it has to do with how you present your product.
Something like 3D renderings could help your pieces stand out so much more and boost sales. If you want some tips on how to use 3D imaging to better market your creations, we suggest you check out this guide on how to sell jewelry by Apviz. This guide will teach you not only how to sell jewelry, but also nuances about the online jewelry market. They give you ways that you can use different imaging techniques to get your clients to buy.
There are many possible reasons for a website to not be converting as much as you want it to, however. Sometimes, it has to do with design elements on the page. Maybe the page loads too slow when people get in, for instance. This might seem like a small detail to you, but research shows that 47% of customers will expect a website to load in 2 seconds or less while a whopping 40% will abandon it and never come back if it takes more than 3. 
This is a lot of visitors to lose for something that could be so easily fixed. One of the simplest ways that you could do so would be to compress your static images. You should also switch your hosting if you're using a shared server. This is because you are sharing the server's bandwidth with other websites, and a surge on another website could end up slowing down your connection. So, spend a few extra pounds on a dedicated server if you can. You don't need to hold and manage your own servers, however. There are virtual dedicated servers that will give you the same advantages without the cost.
Online jewelry shoppers rely on product images for up to 78% of their decisions. The best way to increase the value of your jewelry is to take high-quality photography when you sell it online. This guide will help you make quality jewelry photos with a smartphone without having to hire a professional photographer.
The only way to truly know why a site is not converting is by doing some A/B testing. That is something that should be left to professionals even if you have some web design experience. A professional will be better able to tell what to test for. They will also know how to make small incremental changes so they can pinpoint the issue exactly.
Building a Brand
Another big challenge for people in the jewelry industry is building a brand. Since jewelry isn't as brandable as something like watches or handbags, you can't rely on brand recognition only. You will have to get a bit more active. Most successful jewelry businesses create connections between the jewelry and the owner or the creator of the piece. Another way to build your brand is to gain a reputation for quality. One of the ways to do so is to get out there and go to special events and trade shows so that people can see your items in person. You could even set up a small kiosk in a mall or in multiple malls so that people can interact directly with your products. These outlets can then be used to advertise your online business and encourage people to shop there.
Scaling Issues
One of the biggest tragedies in this business is when brands become victims of their own success. They might suddenly get a big break and start seeing orders flowing left and right. Sometimes, it's their manufacturing and fulfillment that cracks, but it's not always the case.
They might get overwhelmed with customer service requests, for instance, or they may have trouble staying on top of their returns and shipments. The only way to prepare for this is to speak with an expert at the very beginning to make sure that you are prepared for scaling up. A consultant will be able to tell you which solutions you should have in place, and how you should set up your team and business for a sudden surge.
These are only some of the challenges new jewelry stores have to deal with. By knowing what these are, you'll have a chance to prepare better and have a plan B in case anything happens.
You may also like: Things That Jewelers Don't Tell You About Jewelry
Image source: Pexels.com