Click here to get this post in PDF
Running a small business can be a tricky affair with the focus on maximizing profits while reducing costs. In the internet age, online presence has a big impact. A good website and well-made social media pages help boost clientele. Better outreach to potential customers has a positive impact on the bottom line.
While well-written content is essential for websites and social media posts to gain traction, images also add emphasis to the message. Taking high-quality snaps for all posts can be a very daunting task for a business owner. It is also expensive to hire a professional photographer for your projects every time. 
Small businesses can benefit from the stock photo websites. Some of these websites offer free stock photos, while others may charge per picture or offer monthly plans. There are stock photo websites that offer some portion of their library for free while charging for the premium content.  
This article contains affiliate links. For more info, see disclosure.
In this post, we will look into some of the best online resources for small businesses to obtain stock photos. The list will include both paid and free stock photo websites that offer great value to their users. 
The website has a gallery of over 2.2 million high-quality stock images, videos, and music, all free of cost. Small businesses need different kinds of images, vectors and graphics for creating different business posts. Pixabay has a large variety of all of them.
The best part of Pixabay is that all images and clips can be reproduced commercially without seeking the website's permission. They appreciate a shout-out to the site and the content creator, but it is not necessary. Businesses can use these images and clips for their various campaigns without any copyright issues.  
2. Pexels
It is a similar stock images website that offers a wide range of high-quality photos and videos free of cost. These can be used in any project, and attribution is unnecessary, though the website prefers one. 
The only restrictions are you cannot sell unaltered images and videos. You can also not redistribute images to other photo websites. The website offers some excellent backgrounds that can be used for a variety of projects.
3. Shutterstock
It is one of the largest collections of images, videos, and music clips available online. The website charges for the stock on offer though you can also benefit from a trial period. You can download up to 10 photos in the 30-day trial with the website. 
While the small businesses have to pay for the images, they still cost significantly less than a pro photographer's services. Besides, the photographs are available for instant use. There are several package options when it comes to purchasing pictures and videos based on your business needs. 
Annual subscriptions generally offer the best bang for your buck. However, be sure to pick a package based on your business needs and not the package's apparent attractiveness. There may also be some license restrictions with some packages, so be sure to have everything clear before you get an account.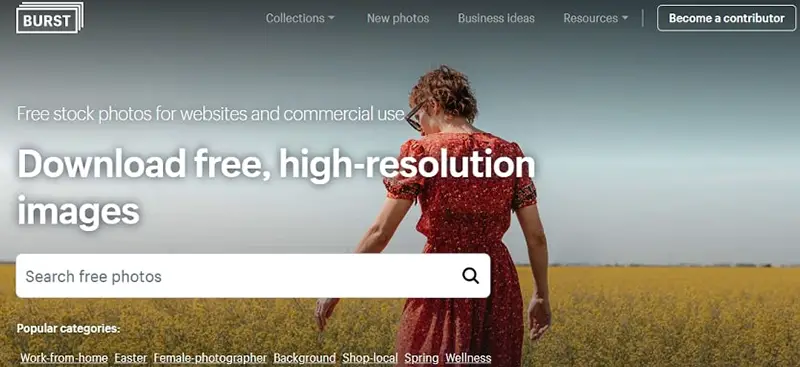 Burst offers high-quality images without any charges. The variety of the collection is quite impressive. The photos are available in two options, high resolution and low key. There are no licensing issues with the website, which makes it great for small businesses.
A couple of minor issues are there, though. The resolution options, for example, are limited, with competitors offering greater flexibility there. The search is a bit difficult as well since not all images have been broken down into their respective industries. 
5. Adobe Stock
Adobe Stock is somewhat expensive but offers excellent value for your money. There are various packages available, and a business can select one as per their needs. The packages offer the best bang for your buck with annual subscriptions. Unused assets can carry forward to the next month. 
An essential factor is that all of these images can be used on different adobe platforms. This function allows making different kinds of promotions easy. Adobe platforms make it easy to create any posts that you need in a quick time. A license is available for the images under the package. You should also consider using PhotoShop overlays to customise your images.
It is essential to keep in mind that the premium assets may not be available under your package, and you may need to purchase them separately. The prices are generally reasonable. It is also a good idea to ensure that your selected assets are not used in other similar campaigns to maintain individuality.    
6. Yay Images
The Norway-based website has an extensive collection of high-resolution images, graphics, and vectors. They offer several packages, including a free trial for a month. There are image packs available as well, with a specific number of downloads available. 
There is a monthly download limit for subscriptions, but unused ones roll over to the next month. They have a massive HD and 4K video library that members can access. A license for the images is also available. Anyone looking for crisp, high-quality photos can benefit from this resource. 
We can conclude that there are many valuable resources for getting stock photos for small business campaigns. While some of these websites offer photos for free, others charge for their services. For some small businesses, free resources are enough to get the job done, while other companies are willing to pay for better images. 
There is no one perfect solution, and it varies with the requirements of a given business. As long as the business is benefitting from its subscription, there is no reason not to spend a little extra on the photos. After all, social media posts, websites, and posters say a lot about any business. 
You may also like: 6 Colors to Add to Your Web Page to Boost Your Sales
This article contains affiliate links. For more info, see disclosure.