Click here to get this post in PDF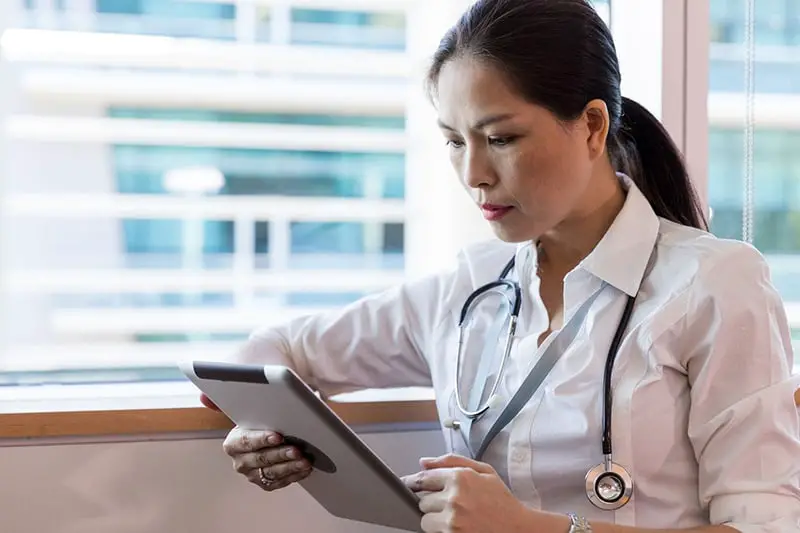 Well-designed technology makes life more efficient. Technology automates an action or a process that used to be done manually so that it can be accomplished in a shorter amount of time with less effort. In certain industries you can easily see the increased efficiency that technology provides. The healthcare industry is one of the industries in which you can most easily see the improvements technology brings.
 Hospitals and healthcare networks have long relied on the latest technology to provide more efficient and effective services to patients and to deliver better patient outcomes. In 2020, we are seeing technology revolutionize how this industry operates, making it much more efficient. Here are five technologies aiding hospital efficiency.
1. Telemedicine
Telemedicine was already starting to change the way hospitals and healthcare networks do business by the start of 2020, but when the global COVID-19 pandemic hit, the rate at which this technology was adopted and utilized was supercharged. This took telemedicine from a technology that was starting to make hospitals more efficient, to one of the top technologies on this list.
In normal circumstances, telemedicine makes hospitals and healthcare networks more efficient by limiting the number of people who need to physically visit a hospital. This saves time and money for patients who don't need an in-person visit for simple diagnoses or checkups. It also saves time and money for hospitals because they do not need as many staff on-site and can deal with more cases faster.
In addition to these normal efficiency benefits, the technology provided even more benefits when the coronavirus struck and became especially useful. Interacting with patients via telemedicine first during the outbreak helped healthcare professionals flatten the curve by pre-qualifying patients so that only those who truly needed in-person services visited hospitals and doctors' offices were seen on site.  Other patients could be diagnosed without a visit to the hospital. This kept both patients and healthcare professionals safer and put less strain on hospitals' much needed in-house resources.
2. Artificial Intelligence
Artificial intelligence (AI) is the next wave of technology changing the way hospitals operate. This machine learning technology that allows hospitals to process mountains of data, have machines analyze it and make decisions in a way similar to humans has an incredible number of applications in the healthcare industry.
AI helps hospitals and healthcare networks run more efficiently in many ways. It can help doctors present more accurate diagnoses and reduce human error when treating patients. It can detect disease earlier with fewer symptoms so treatment can begin sooner. It can streamline everything about the patient experience, from how appointments are booked to how insurance and patients are billed.
So many tasks that used to take healthcare professionals much time and effort can now be performed with AI. This doesn't mean humans will be replaced in the healthcare industry. It means they will be freed up to perform different and equally important work so the entire system will run more efficiently.
3. Cloud-based Remote Monitoring
In hospitals, a number of sensitive areas exist where precise environmental conditions must be kept. Operating rooms, drug storage places, and wings where certain delicate conditions are treated need to be held within a certain temperature, humidity, and pressure range to ensure safety and allow for the most effective treatment.
Prior to the technology of cloud-based remote monitoring systems, these areas were monitored by thermometers and thermostats that had to be visited, checked on, and adjusted by staff. Now, hospitals have remote, cloud-based systems that monitor environmental conditions for these areas and report them to a central hub where they can all be monitored by a single person or small team of people.
In these systems, wireless data loggers are tracked by central cloud-based remote monitoring software. Some companies, such as Dickson for example, provide both the data loggers and the monitoring software. This makes for more precise control of conditions in these sensitive areas with less manpower required to do it.
4. Software as a Medical Device
Software as a medical device (SaMD) is standalone software that works as a medical product on its own. Some examples of SaMD include an app that helps diabetics calculate the correct insulin dosages, a smartwatch that works as an electrocardiogram, software that can analyze MRIs to find irregularities or a program that works with your phone's microphone to detect sleep apnea.
In hospitals, SaMD is making treatment more effective and efficient by employing technology to assist doctors in finding issues and determining appropriate treatments to make the diagnosis process faster and improve long-run patient outcomes. It also puts more medical data in the palm of doctors' hands to minimize the number of locations doctors need to visit on a given day when checking on patients' statuses.
This technology is also helping to make hospitals more efficient outside of a building's four walls. These devices give patients more ownership and control of their own healthcare and treatments save trips to physical locations. SaMD can also provide doctors with real-time health info, so when patients do come in, less time is spent getting up to speed on a patient's medical data.
5. Internet of Things
The Internet of Things (IoT), the network of internet-connected devices, is being integrated into the healthcare system and making many aspects of the industry more efficient. Of the technologies above, cloud-based remote monitoring and SaMD can be considered part of the IoT. This technology has even more applications to make hospitals run better.
IoT sensors affixed to patients and medical equipment within the hospital have been a huge boon for hospitals. Sensors on patients allow healthcare providers to monitor vials and other health info in real-time to better prioritize who needs to be seen in-person and how often. Sensors on equipment let the hospital reduce loss, theft, and always know where life-saving equipment is in an emergency.
---
How to Use Tablets in the Healthcare Industry
---
Conclusion
Not many industries get as much of an efficiency boost from technology as the healthcare industry does. New tech such as telemedicine, AI, cloud-based remote monitoring, SaMD, and IoT are just some of the innovations helping shape this industry. As tech continues to change and grow, hospitals and healthcare networks will only get more efficient.  That is good news for both the industry and all the patients who participate in it.
Image source: Pixabay.com