Click here to get this post in PDF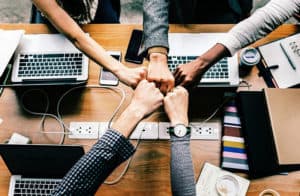 An institute is only successful if employees are dedicated and hardworking. In today's world, corporations are running, excelling or failing on the basis of the quality of their workforce. Extra importance and stress is positioned on the matters regarding workforce which were not at all considered pressing or remotely relevant for an achievement-oriented business.
Trends have changed and the focus is on making the workplace a better environment for the workforce to enhance productivity. Research and clear evidences have shown that a better workforce leads to better performance.
All the high-end companies are turning employee-oriented and hence, securing more profits than ever. It has become so important that it is one of the most significant requirements for a business to fulfill if it wants to excel.
This article is going to highlight 5 main ways that can be used to make your workforce most productive, mainly through efficient performance management.
1. Employee Empowerment
One of the most important ways to make sure your employees work on their optimal productivity is to empower them in all the rightful ways. You need to realize that the people working for you are not robots but humans with feelings. Involve them in policies or strategies and actually consider their opinion when you are working on something. This will make them feel appreciated and wanted in your organization.
Giving feedback to how their input helped gives them dedication and makes them feel their opinions matter. Ample amount of autonomy should be given to employees as well to let them know that your organization trusts them to make the right choices without hovering over them.
Micromanagement may get annoying and result in less productivity for the long term. You will lose their loyalty as well which will eventually lead to high turnover. Hence, it is important to empower your employees and let them know that their efforts actually contribute to the organization's better performance, is valued and welcomed. However, it must be assured that the autonomy allocated does not go in the wrong direction and leads to chaos.
2. Interact!
Most organizations fail or are undergo a span of less productivity because there exists a gap between top management (like CEOs, CFOs) and the lower management (like first-line managers or supervisors). They fail to understand that communication between these levels is paramount for betterment of the company.
The top management can tell the lower management what is expected of them and the lower management can communicate the problems or concerns they face while being in direct contact with their clients or customers. There is no harm in adapting a little decentralized system where the hierarchy is not very rigid and can be flexible when needed, to avoid lack of communication or miscommunication between departments as well. This ensures a considerably smooth system for the office affairs.
3. Appreciate and Reward
Your employees put ceaseless efforts in the matters of your organization and work with quiet dedication. It is only fair to reward them for the contribution they make. You should observe which employee is doing what and place your rewards accordingly. Also, you need to know your workforce well and understand which employee appreciates what kind of reward.
Some like acknowledgment and being credited while some only like bonuses or trips. Some may like to head a project as a reward or some may like private or public appreciation. All of these factors should be kept in mind before rewarding them. This system can motivate them to work better.
However, it must be made sure that the rewards are just and rational. You cannot go about handing out rewards to every other person. This will normalize the system and defy the whole purpose of rewards. A substantial effort should back the decision of a reward. Furthermore, make sure that you do not give out rewards to free-riders. Non-rational rewarding will affect your funds negatively as well.
4. Bid Farewell to Biases
One of the most detrimental management behaviors to company's productivity is bias. More often than not, it happens that you find people who are from the same background as you are or owing to some sentimental reasons, you are more inclined towards one set of people than the others. It is fine because that is how human emotions are but you should make sure to set aside your personal prejudices when dealing with the workforce.
Favoritism may lead to failure because the one being favored may be too relaxed thinking they can get away with any mistake they may make. The ones with less favors will begin to resent you, the organization and the favored employee all in all, a very awkward and unpleasant situation will follow. So, be just and rational. Everyone deserves to be treated fairly and equally.
5. Coherence Between Tasks and Skills
Being a manager, you should know your employee's nature. Which employee has a particular set of skills and what kind of tasks they successfully perform. This will delegate the relevant task to the relevant person without any stress of uncertainty.
Of course, the employees can be trained further to make them learn advanced ways and practices. They can be trained to work in cross-functional teams for better performance, but their aptitude and capabilities should not be overlooked.
Also, their interest should be kept in mind or asked as well. You should let them know exactly what is expected of them so that they bring their best and your company does not suffer. This avoid several problems as companies may not be able to afford that.
To conclude, how you manage your workforce determines how your organization is going to perform. If you manage them well, you will have augmented productivity with multiple profits. If not, you will lose quite a big deal. In order to keep ahead in this competitive market, you need to pay attention to your workforce for enhanced output and productivity.
You may also like: A Simplified Guide To Coaching Your Employees – 5 Rules To Always Remember