Click here to get this post in PDF
No doubt you're familiar with how useful duct tape is. Are you interested in finding more practical uses for it? Check out our article to learn more!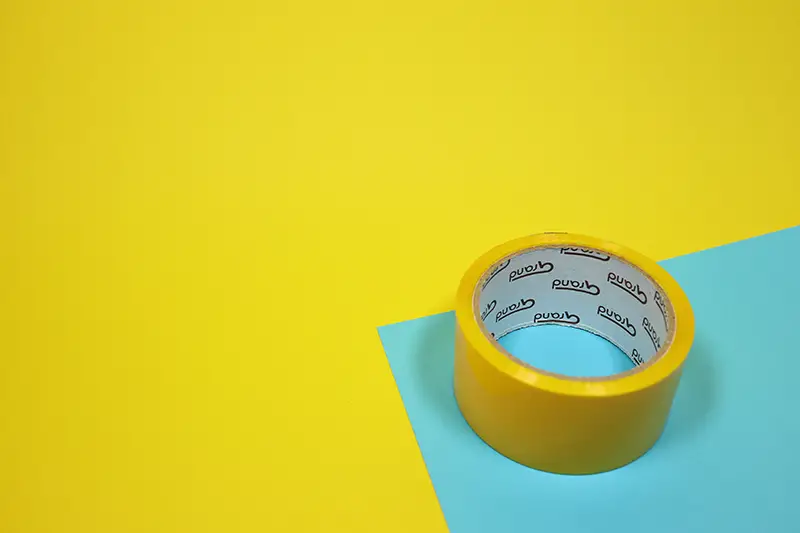 There's no question in mind when it comes to how useful a tool duct tape can be in your house. Not only does it stick to everything, but it also resists tearing and is flexible. 
Many of us are already familiar with using duct tape to make or fix things since forever. It's very likely that you might already know a few tricks yourself. So, are you interested in learning a few more? 
Look no further because this is where we step in with our 9 practical ways to use duct tape. We're positive that by the end of this article, you'll never underestimate the power of duct tape ever again. 
Let's get straight to it!
1. HVAC Business
Duct tape is the most well-known product connected with the HVAC business. However, it is also, in many instances, unfit for its intended function. Duct tape is another term that is misinterpreted. The product started life as a waterproof fabric tape, which was given the name "duct tape" to emphasize its capacity to resist wetness.
When it comes to sealing HVAC ducts, heat-resistant duct tape is required. To use to seal and connect rigid ductwork, tapes must meet or exceed the prerequisites standards. Flame resistance, temperature, mold growth and humidity, static load, collapse,  impact pressure, tension, torsion, and leakage are just a few of the tests that tapes must pass in order to get the UL (tape measuring standards) listing.
Aluminum foil duct tape provides flame-retardant and can withstand temperatures up to 248 degrees Fahrenheit, making it ideal for heat-sensitive applications. A minimum of 2.5 inches in width must be provided by the tape, which must be constructed of either aluminum alloy or aluminum foil.
2. Handy During Camping Trips
The tent got damaged? Unable to light a fire? Duct tape can do it all! Those who are into camping will find this exceptionally useful. 
In the case of a damaged tent, use a few pieces of duct tape to repair the tears visible in the fabric. This way, you can temporarily fix a tent until you can get around to buying a replacement. 
Other than fixing your tent, duct tape can be used in several ways to survive in the wild. One of the popular uses of duct tape is kindling a fire. Yes, duct tape is actually flammable! 
You can even shred the tape into pieces or strips and combine them into a makeshift nest. Then you just need to light it up, and that's it. Pretty handy right? 
3. Say Goodbye to Splinters
One of the best things about duct tape is that it's so sticky. In fact, it's so sticky that you can even use it to remove splinters. 
That's right, gone are the days of using a tweezer and torturing yourself in getting a splinter out. Now, there are two ways you can do this. 
First, cut off a small piece of tape and stick it on the area where the splinter is. Next, slowly start to peel the tape off. This will take a few tries to get it out, but it's possible. 
The second way is probably the best way to go about it when it comes to splinters. Start by cleaning the area thoroughly and then cover it up with duct tape. Wait for half an hour and then pull it off. 
The splinter will come off sticking to the tape and out of your body in a jiffy! 
4. Patch Up the Holes in Your Hose
It can be very annoying when it's time to water your plants but you find out that your hose is full of holes. But, fret not, here too, you can use duct tape to solve your problem temporarily. 
Just cut out a piece of duct tape and patch up the holes. You can use it on vacuum hoses too. As we said, it's a temporary fix, but it'll survive long enough for you to get your job done.
5. DIY Lint Roller
Do you have a pet? Are you always trying to brush off their hair from your clothes? All out of lint rollers? Well, thanks to duct tape, you can create your own lint roller right at home! 
First, cut out a strip of duct tape and wrap it around itself. Make sure the sticky side is facing out. Next, just roll the tape across your clothes to remove those annoying pet hair and lint! It's that easy, and it's great for when you're in a rush to head out. 
6. Cozy Feet
Duct tape can also help to retain heat. You can use it on your winter boots to help make them extra warm. 
All you need to do is wrap the duct tape around the insoles of your boots, or you can get yourself some cheap insoles to try it on first if you're not sure. 
The way this works is that the reflective side of the tape helps to reflect heat back into the soles of your feet. This helps to keep your feet all nice and toasty all through the cold. 
7. Protect Your Floors
When you're moving around furniture in your home, there's bound to be some damage on your floors. Hardwood floors can easily get scratched and they don't look good with scratches. 
However, thanks to duct tape, you won't have to worry about spending money on buying leg gaps for all your furniture. Get yourself a silver roll and start applying it to the bottom of your furniture's legs. 
This will most definitely reduce their ability to scratch your floor and leave unwanted marks. You will be a proud homeowner with scratch-free floors. 
8. No More Stubborn Lids! 
Every one of us has come across a jar with a lid that just won't open no matter what we try. That moment when you need someone else's help to open a simple jar can be very frustrating. 
But, now you don't have to feel that way anymore! Just cut out a strip of duct tape about a foot long and wrap it around that stubborn lid. This helps it to hold the lid in place. 
Next, fold the rest of the tape in half to help make it sturdier. Hold the jar in one hand and pull the tape with your other hand. That's it! Your jar will be open in no time. 
9. Prevent Blisters
Blisters can ruin anyone's day. That's how painful they are. And no matter what remedy you try, nothing seems to work or bring you any relief. That is until you've used duct tape! Simply applying the tape when you first start to feel the burn can help to prevent your shoes from rubbing against your raw skin.
However, if you have a blister and are worrying about putting duct tape directly on it, then it will be all fine. All you have to do is cut out a circle of gauze or paper and attach it to the center of the tape. 
The paper helps to cover your wound with something that isn't sticky, but the duct tape helps to keep it in place.  
10. Hem Your Clothes
Knowing how to hem clothes is a very helpful skill. Unfortunately, not all of us have the time or patience to learn it. Moreover, going to a tailor is just too expensive. 
So what can you do with those jeans that are just too long for you? Use duct tape, of course. First, turn the jeans inside out, put them on, and roll them up to where you want them to be. 
After you've found the right spot, fold your pants down evenly and crisply. Cut off two-inch pieces of tape and then, without any unfolding, strongly tape the original hem to your jeans. 
This neat technique not only works for jeans but can also be used on dresses and skirts. The best part is that this duct tape hem can last for years! 
Final Thoughts 
In conclusion, we'd like to say that we hope our list of neat practical tips helps you when you're in a pinch. Duct tape can be tremendously helpful in many different ways. 
Thanks to the power of the internet, it's all just a Google search away. If you know someone who'll be interested in these neat tips, don't forget to share this with them. 
Also, let us know if you have a neat way of using duct tape in your daily life!
You may also like: 4×4 Canopies & Roof Racks: Benefits and Buying Tips
Image source: Unsplash.com