Click here to get this post in PDF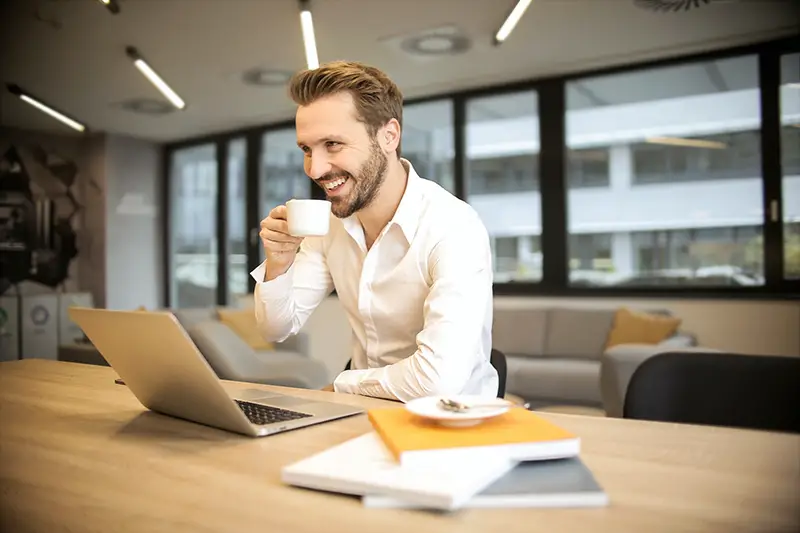 Do you take regular breaks at work, or are you among the 82 percent of employees who feel like taking breaks is a waste of time? In today's 24/7 work culture, employees are forced to train their focus and lengthen their attention spans.
It's no wonder the lunch hour is becoming a thing of the past. No one wants to be judged as the office "slacker" for taking a lunch break. According to a Glassdoor survey, 18 percent of employees said they often felt they had to work through lunch breaks, so they don't lag behind.
The big question then is, does taking breaks increase productivity? Science agrees, with 94 percent of employees saying they are happier and more productive when they can take a break. Taking breaks doesn't mean you're not shirking responsibility. It prevents burnout and is a necessity for your wellbeing and career. 
The Effects of Not Taking Breaks at Work
Sometimes it's easy to convince yourself you can't afford to take a break, especially when you're swamped with work. This is particularly true for remote workers who have a hard time switching off from work. However, doing so is detrimental to your physical and emotional health.
Failure to take breaks at work may result in:
Decision Fatigue
Your day is probably filled with hundreds of decisions to make. From writing or responding to emails, to back-to-back virtual meetings or preparing your/client's blog or social media launches, things can be overwhelming.
Eventually, you get to a point where you're so tired of making decisions, you start making the wrong ones out of sheer exhaustion.
Fatigue
Decision fatigue can be bad enough, but real fatigue is what you should be worried about. When your brain is wiped out, you can unintentionally ignore rules and make poor judgments that may negatively impact your business.
With up to 40 percent of employees operating at three times the risk due to fatigue, employers should take it more seriously. Luckily, it can be solved by integrating short regular breaks into workers' schedules.
Loss of Focus and Concentration
Regardless of the type of work you do, your brain can't be 100 percent productive throughout the day. It needs regular breaks to stay functional. If you keep working, you'll reach the end of your thinking capacity. That's when you stop being productive.
The misperception that working without breaks gets more work done is just wrong. In fact, the more you keep working on a task over an extended period, the more your performance drops. Taking brief breaks in anything you do helps you to stay focused and alert.
Stress
No one is meant to perpetually work. Failure to take breaks can be taxing to your mental health and may even lead to chronic stress. Eventually, real health problems like increased risk of heart disease and stroke can set in.
Harmful Habits
If you work without breaks over an extended period, it develops into a habit that might affect other areas of your life. For instance, since you don't have time to prepare healthy meals, you might resort to junk foods that may take a toll on your health.
Just because deadlines are looming, it doesn't mean you can't take five-minute breaks after every 45 or so minutes of deep focus work. The thing is, you can't separate breaks and productivity.
Stepping away from your desk has proven time and again to be a good work habit that also boosts productivity.
Benefits of Taking Breaks at Work
As a business owner, you should encourage workers to take breaks throughout the day if you want to create better employees. Regular breaks have several benefits, including:
Increased Productivity and Engagement
According to research by Tork, workers who take lunch breaks every day experience more job satisfaction and are more likely to continue working in the company. The same workers also say they are more likely to recommend their employer to others.
Contrary to what some people believe, taking breaks is not counterintuitive. In fact, taking regular breaks is one of the best methods to increase productivity. It helps employees regain focus and energy, hence promoting better concentration at work.
A Boost in Creativity
Stepping away from the computer for a few minutes allows the mind to focus on something else. In turn, you may come up with solutions you hadn't considered before.
Often, taking breaks helps you come back with a fresh perspective towards a problem you were struggling to resolve.
Improved well-being
Overworking not only leads to fatigue and burnout but can be a source of stress. A survey by NAMI (National Alliance on Mental Illness) shows that one in five American adults (21 percent of U.S. adults) experience mental illness every year.
Stress is a major contributor to your mental well-being, and if left unchecked, it can interfere with productivity. Taking some time away from work to exercise, walk, or nap may help reduce work-related stress, as well as improve mental health.
Healthier Habits
A sedentary lifestyle is unhealthy, and according to Mayo Clinic, may increase the risk of death from cancer and cardiovascular disease. 
Taking regular breaks at work can help promote healthier habits among employees. Apart from ensuring they move more, they can also engage in self-care activities that can boost their physical and mental health, such as yoga and meditation.
Other benefits of taking regular breaks at work include:
Reduced risk of accidents and injuries due to inattention
An increase in employee morale and motivation
How to Take Effective Breaks at Work
Remember, not all breaks are effective. For example, taking a break and spending the time doing household chores doesn't qualify as a break. It only makes you more fatigued.
Here are some top ideas to get the most out of your breaks:
Go outside and take a walk around not only to clear your mind but also to get your body moving.
Socialize with coworkers or friends. Research shows that socializing makes you both happier and productive.
Grab some brain-boosting snacks like nuts or fruits to nibble on.
Watch funny animal videos. Laughter is good for the soul and will improve your mood and increase your energy.
Take a power nap to relax, reduce fatigue, and improve mood and performance.
Head over to your favorite coffee spot for a treat.
Use the time to make some calls while walking up and down.
Do nothing for a few minutes. You can just lay on the couch and daydream. Alternatively, go to donothingfor2minutes.com where you will be forced to gaze at a beautiful image for two minutes to really clear your head. The instant you move your mouse, you fail and must start all over again!
Meditate to give your brain some quality time of silence.
Engage in stretching and other gentle exercises that can help improve your alertness and focus.
You can also take microbreaks, which are less than two-minute breaks perfect for resting a set of muscles, like the fingers from bouts of typing.
With these ideas in mind, be sure to choose an activity you actually enjoy doing. Moreover, your breaks should involve something different from your work.
Scheduling Your Breaks
People often ask how long breaks should last. There is no one-rule-fits-all approach. We all work in unique ways and possess varying concentration levels. The Pomodoro Technique, for example, proposes taking five-minute breaks every 25 minutes. After repeating this four times, you win a 30-minute break.
Another method to try is the 90-minute work blocks or ultradian rhythm, which involves practicing deep focused sessions of 90 minutes. This is followed by a 20-minute resting time before resuming the cycle again.
Now, here's the rub. Creating a routine is one thing and sticking to it is another. Luckily, you have several productivity tools for remote workers to choose from. They are not only helpful when it comes to keeping track of your work hours, some are designed to remind you to take scheduled breaks.
In return, you'll enjoy a boost in morale and productivity.
In Conclusion…
Remember, breaks and productivity go hand in hand. Skipping breaks at work may give the perception that you're dedicated, but it can be counterproductive. No matter how short, taking regular breaks is not only highly beneficial to one's mental wellbeing, it also improves work performance.
You may also like: 5 Tips For Increasing Productivity When Working Remotely
Image source: Pexels.com