Click here to get this post in PDF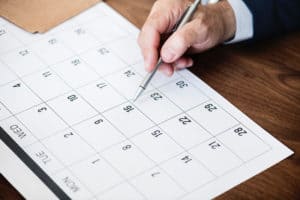 It's inevitable that at some point your employees will need to request time off for doctor's appointments, dental checkups and for other medical reasons.
But has it ever happened that two or more members of staff have asked for a few hours' leave on the same day, forcing you to either refuse requests on a first-come, first-served basis or attempt to manage the daily workload while understaffed? If so, there might be a problem with how you're managing employee leave.
Why your employee leave process matters
Not having an effective procedure in place for managing time off requests of any nature has real-world consequences for your business. You may not notice them at first or immediately realise that they're tied to your employee leave process, but they are.
Did you know that 4.5 million UK workers put off going to the dentist because they "don't have time"? You might be wondering why this is your problem. Research has shown that a lack of dental care is linked to lower productivity and more unplanned absences from work.
Government data shows that a quarter of UK adults haven't been to the dentist for at least two years, and 7% of the UK workforce, or just over 2 million people, have called in sick to work because of their oral health during that same time frame. This amounts to a £36 million loss to the UK economy because of dental health alone!
Similarly, having an inefficient system in place can discourage employees from seeking treatment for the flu or a chest infection, for example, leading to symptoms spreading across your whole staff.
How you can make improvements
Transparency is of paramount importance when it comes to managing employee leave. There's no need to plaster everyone's personal information around the office, staff should simply be able to see when their colleagues have booked mornings or afternoons off for appointments, so they can schedule their own doctors' or dentists' visits around this timetable. 
Organisation and clarity aren't the only reasons people put off booking essential medical appointments—people may also just be lazy and procrastinate doing it, particularly if your employee leave process is complicated or involves initiating an awkward conversation. Make scheduling time off as simple, effortless and straightforward as possible with a digital leave management platform.
This way, employees can request the leave they need in seconds—even perhaps when they need a quick two-minute break from their daily duties—without having to let anyone know. Meanwhile, both managers and colleagues are aware of everything they need to know without the staff member in question having to divulge any uncomfortable personal information they don't feel like sharing.
Asking for time off for healthcare reasons should never be an awkward or difficult process, whether that's for senior management or employees. Everyone should be able to go to the doctor's when they need to without feeling guilty. Don't let illness, discomfort or resentment build in your workplace, get started with the digital leave management solution of your choice today.
You may also like: Signs You Don't Value Your Employees Enough
Image source: Pexels