Click here to get this post in PDF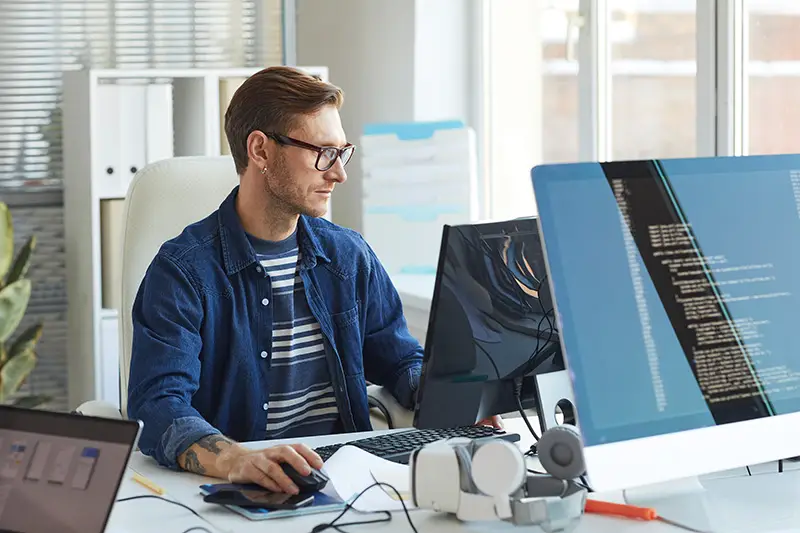 To maintain a competitive advantage in an ever-changing market, forward-thinking organizations constantly seek new ways to modernize their business processes. But a poorly planned strategy can make your brand irrelevant to customers. So organizations are embracing automation to improve operational efficiency, solve problems swiftly, and generate more revenue. 
However, automation technology adds to the IT team's workload, overburdening IT teams further. Also, an endless IT backlog, a shortage of skilled IT professionals, and rising developer salaries make it nearly impossible to successfully implement work automation at your business's pace successfully. 
The solution? Citizen development… 
61% of businesses either have active citizen development initiatives or plan on having them. With citizen developers, you can create and enforce more IT solutions quicker and at a lower cost. Citizen development also increases agility, drives innovation, motivates employees, and boosts collaboration between business and IT advancing your digital transformation projects.  
Citizen development prevents overburdening IT teams further. Due to the increasing costs, budget limitations, and talent shortages, businesses find it difficult to fill IT positions. Alongside the added pressure to accelerate digital transformation, IT teams lack talent due to skills gaps and the Great Resignation. 
Businesses can meet their growing tech needs by allowing IT teams to collaborate with citizen developers to develop custom solutions through low-code platforms.
What is Work Automation? 
Workplace automation uses systems to perform predictable, repetitive, or time-consuming tasks without direct human input. It includes basic automation, business process automation (BPA), and IT automation. Companies can use bpm software and algorithms to automate data-driven processes and accelerate processing times. 
CDG Prévoyance is a pension funds company in Morocco that delivers services through public offices in which its subscribers are employed. The company used process automation to digitize documentation and transform its operating model. It automated about 50 core business processes, and now a process that took 5 days takes 1 day.
Workplace automation involves collecting and monitoring data to digitize human resources duties like talent acquisition and hiring or sales activities like invoicing and processing orders.
Benefits of Work Automation
Work automation tools include workflow software to intuitively create workflows or the series of tasks necessary to complete a process with the business user in mind. Mobile compatibility is another essential feature of a work automation tool, allowing employees to access the system remotely and securely. 
With workflow automation, teams can communicate and collaborate based on real-time data. Work automation software's reporting and analytics feature helps in smarter decision-making by comparing processes, progress, outcomes, and other relevant business metrics. Moreover, the access control options can help managers regulate access privileges or set user permissions to all their business workflows.
Work automation brings many benefits to organizations, such as the following:
Reduces costly human error, leading to a more productive workforce. 
Increases consistency, generating higher quality products
Gives companies greater control over processes, allowing them to maximize resources and reduce waste
Frees employees from manual and repetitive tasks, letting them focus on higher-level assignments that require fine thinking
Streamlines business processes and helps employees complete them more efficiently
Increases employee accountability because everyone knows the tasks they're responsible for and when to do them
Eliminates IT bottlenecks, decreases your bpm lifecycle, and helps you stay competitive globally
The rise of citizen development
A citizen developer is a tech-savvy, non-IT employee who can leverage technology to create applications for their specific business units or consumers. They're business users and subject-matter experts familiar with the inner working of your organization. 
By 2024, non-tech professionals will generate 80% of technology products and services. Fewer, skilled IT professionals demanding higher salaries have forced companies to find alternatives. With low-code/no-code platforms, citizen developers can create apps with little to no coding experience. 
IT teams have a huge backlog of requests, which delays requests for months on end, and frustrates and demotivates employees. Citizen development initiatives increase creativity and empower business users to turn their ideas into apps, which increases their job satisfaction. 
Benefits of adopting citizen development
Citizen development is crucial to the future's work automation because of its immense contribution to how business processes and workforce will perform to meet company goals and objectives.  
Below are the benefits of citizen development:
1. Increased collaboration
Citizen developers use low-code/no-code platforms with an integrated development environment, which improves internal collaboration. A citizen development program makes app development a collaborative effort and ensures business users and IT teams build apps with new functionalities that meet users' exact needs from the get-go. 
2. Faster time to market
Previously, it took weeks or months to create new apps and launch them. However, citizen development accelerates product development and reduces wait times to deploy new apps, helping you stay ahead of competitors. Low-code/no-code platforms have pre-built templates enabling business users to create, test, and update new ideas 10-times faster. 
3. It's cost-effective
Outsourcing professional developer services, buying third-party apps, or hiring skilled IT professionals is expensive. Citizen developers can build apps faster, and with less budget. Empowering non-tech workers equips a larger pool of employees to maximize existing resources on app development, reducing the need for IT specialists and accelerating digital transformation. 
4. Reduced burden on the IT department
IT teams are overwhelmed with tasks such as modernizing IT infrastructure to driving digital transformation. With low-code/no-code platforms, business users can free IT personnel for more urgent or complex tasks. Already, citizen developers in 80% of organizations have given IT departments more breathing room. With more time, IT can oversee your citizen development program.
5. Increases innovation and employee morale
When non-tech professionals are empowered as citizen developers, their technical understanding increases, and they're more innovative. They use the drag-and-drop interfaces in low-code/no-code platforms to build robust applications. Seeing their ideas implemented boosts their morale, makes them feel appreciated, and lets them focus on more valuable work.
How do citizen developers impact organizations?
Build more user-friendly apps: citizen developers have forefront knowledge of process intricacies in specific business units and the potential process improvements needed. The apps they build solve their problems and are more aligned with your organization's specific requirements. 
Enhance operational efficiency: The proximity of employees to tasks and workflows makes them ideal candidates for streamlining the specific processes they're responsible for. Enabling them to automate daily tasks and create rich applications improves business efficiency.
Promote business agility: Citizen developers can exploit new technological innovations, helping your business respond faster and minimize the time it takes to identify issues and solve them. You'll adapt quickly to changes, overcome challenges, and remain flexible enough to meet market and customer demands. 
Launch your citizen development program
Citizen development is here to stay. Everyone benefits when business users are part of the solution. Empowering citizen developers with the right tools to solve the inefficiencies in their workflows and processes builds a better work environment for themselves and others. An effective citizen development plan can help you create business-critical apps, and stay competitive. Kick-start your citizen development plan today to reduce errors, have happier, more motivated employees, and improve creativity and productivity. 
You may also like: How Much Does It Cost To Get A Web Application Developed?
Image source: Shutterstock.com