Click here to get this post in PDF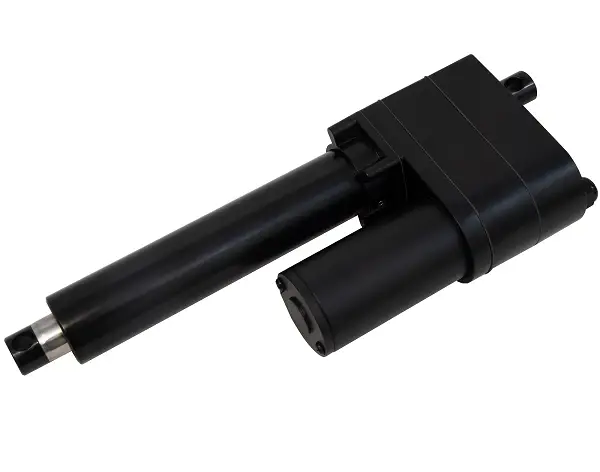 Modern industry benefits greatly from automation technology. Many automation solutions are possible thanks to linear actuators. These devices provide linear motion, which can be used for horizontal or vertical displacement. For a long time, hydraulic and pneumatic actuators dominated most industrial applications. These solutions are good for some applications. However, they also have serious drawbacks and limitations.
The invention of the electric linear actuator in 1979 favored innovation. A Danish engineer by the name of Bent Jensen had this revolutionary idea. An electric linear actuator uses the rotation of an electric motor to produce linear motion. A special mechanism performs this energy transformation. Electric actuators allowed for stronger and faster solutions. 
These solutions were ideal for several industries. Over the years, heavy-duty linear actuators have been improved. Nowadays, very advanced actuators are available for applications in harsh environments. An example of a heavy-duty actuator is the PA-17 model made by Progressive Automations.
The PA-17 comes with different options, which creates an extensive family of heavy-duty actuators. They are available for either 12V or 24V. The 12V option allows for either 850 lb or 2000 lb of dynamic force. The 24V option comes with a force of 2000 lb only. There are 15 stroke length options that go from 1" up to 40". Hence, whatever the industrial application, there will certainly be a PA-17 actuator that can be used.
But what makes the PA-17 a heavy-duty actuator? And more generally, what is a heavy-duty linear actuator? Where are these devices used? We'll answer these questions in this article.
Characteristics of Heavy-Duty Actuators
Put simply, a heavy-duty actuator is a linear actuator that can operate in the harshest of environments. For example, they can function in a wide range of ambient temperatures. The PA-17 is fully functional within -25° C and 65° C. Moreover, a heavy-duty actuator's operation is not affected by rain, snow, slush, mud, or any other element. This is why the PA-17 has a housing made of stainless steel.
However, it is not enough that the linear actuator withstands extreme conditions. It also must be able to function uninterruptedly in such conditions. Preferably, the heavy-duty actuator should have low maintenance requirements. So, heavy-duty actuators comprise the most robust type of actuator available. Other desirable characteristics are:
Durability. Ideally, heavy-duty actuators must have long operation lives;
High efficiency. This ensures the best utilization of electricity;
High speed and acceleration. For heavy-duty applications, the motor of an actuator must be able to accelerate quickly. This has to be possible without losing torque;
Shock and mechanical resistance. These devices must "survive" abuse and accidents in their place of operation. 
As seen, heavy-duty actuators are designed must be designed very carefully. They must be built to the highest standards of safety and reliability also. Now, let's list some of the most common environments in which heavy-duty actuators are used.
1. Manufacturing Industry
The most obvious place where heavy-duty actuators operate is in manufacturing lines. From automotive to forestry industries, many manufacturing processes need linear motion. In most cases, the environments are very harsh in these industries. While pneumatic and hydraulic solutions are still in use, they have disadvantages like the risk of fluid leaks. Thus, electric actuators are taking over most applications in the manufacturing industry.
Electric heavy-duty actuators are used in different machines to crimp, bend, stamp, broach, and mold metals. These tasks require great force, and electric actuators can deliver it at moderate costs. Moreover, this type of actuator seldom needs maintenance. Once installed, an electric actuator can operate for a long time uninterruptedly. 
2. Military and Aerospace Industry
The use of machines for hazardous tasks can protect the integrity of human operators. Heavy-duty actuators can help to do some tasks in environments in which high-risk motion is needed. These include military applications, for example. A linear actuator can position and load a weapon, thereby protecting military personnel from any accident.
The aerospace industry also uses many heavy-duty actuators for military and civilian aircraft. For example, these devices are used for jet blast deflection. They also operate different flight control mechanisms, cargo doors, conveyors, and more. In these applications, the operation conditions are often challenging. However, the failure of an actuator could have catastrophic consequences.
3. Hazardous and Risky Tasks
Heavy-duty actuators are good solutions to perform dangerous tasks in hazardous environments. For example, linear actuators can be used to manipulate dangerous chemicals or molted metal. They are also safe solutions to manipulate or deactivate explosives, radioactive materials, and more.
4. Maritime Industry
Ships have some of the harshest environments for any linear actuator. Moisture, salt, and other elements corrode the different components of actuators unless they are properly protected. Thus, only heavy-duty actuators can withstand this type of environment. They are used in load lifters, doors, and other mechanisms.
You may also like: Which is the Best Battery for Your New Industrial Operations?