Click here to get this post in PDF
Brass is very malleable, resistant to corrosion, and has a high tolerance to high and low temperatures, making it the best choice for plumbing professionals. Brass is very versatile and is used in several ways, especially for fittings such as valves, bibcock, and other fittings used in plumbing. In addition, the metal characteristic helps in shaping and casting the metal in desired designs and shapes comfortably.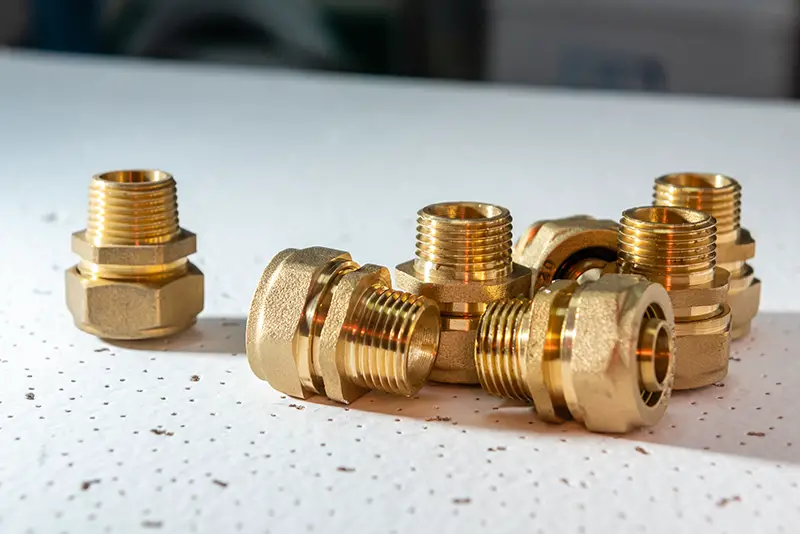 Established companies like Yuhuan Hongda Sanitary Ware co. Ltd. from china use brass as their key metals for producing high-quality brass fittings for plumbing use for industrial and residential usage. The company offers a wide variety of Brass valves, Brass bibcock and Brass Fittings to its customer base spread across most continents and countries. 
Hongda Brass Fittings are produced in China. The company holds vast experience manufacturing the products under strict ISO9001 quality management standard norms. As a result, all the products made here are of good quality and are ACS and CE certified. These certifications allow customers to purchase the products with quality assurance. Hence the company enjoys a large satisfied customer base spread across the globe.
Usually, in a typical construction of residential or commercial projects, plumbing systems are installed to carry out regular works, such as cleaning, washing, cooking, and many more daily hygiene works and cooking gas lines. In a typical residence, the plumbing systems would consist of underground water storage, overhead tanks and several pipes running up and down and into the house's rooms where a supply of water is required and not only sanitary drain pipes. Cooking gas all uses lines and requires good quality, long-lasting pipes, bibcock, valves, and fittings for a smooth running of the house. Similar things and many more are needed in an industrial setup to carry out different production or maintenance activities. 
 Some of the HONGDA Brass fittings are as follows: 
If you are looking for Threaded Brass fittings in China, then look at Hongda products. They have a complete range of Brass products to match your plumbing requirements. Some of which are being mentioned below with specifications: 
Long thread double nipple brass fittings
Brass nipples come in various lengths and can reach as long as 12″. Hongda Produces 3/8″ to 1″ sizes. These pipe nipples are a short piece of pipe with NPT or BSP threads at both ends which are then connected to two male/ female threaded pipes or fittings. It can generally bear a working pressure of PN16/ 200 Psi. Any fluid or gases, or oils, especially non-corrosive liquids, can be carried out in these pipes to sustain a working temperature of -20 degrees celsius to 120 degrees celsius. The operational durability of this model is 10000 cycles. 
Brass Hose Connector fittings
These are connectors used to join pipes. Brass connectors are the first choice of any professional plumber as brass can withstand good temperature variations and can block total fluids/ gas from leaking if they are good quality. Hongda Brass fittings are made using highly advanced latest equipment; hence the quality is well maintained over these years. The connectors produced here are available in 12mm, 16mm and 25mm. It can handle high temperatures of 120 degrees celsius and a pressure of 200 Psi. It can withstand ten thousand cycles. 
Double brass PEX fittings
Brass PEX fittings are available in 16, 20, 26, 32, 16 x 20, 20 x 26, and 26 x 32 sizes. This is a standard bore with a working pressure of PNI16, with good durability of ten thousand cycles. It comes in BSP /NPT threading. The body is completely made in brass and nickel-plated partially for better durability. This product has been manufactured in a high technology environment with great precision and care.
Chrome-plated brass bushing fitting
Bush fittings are threaded on both inside and outside as it is used to connect two pipes or other kinds of fittings of varied sizes in plumbing application. Hongda Brass Fittings, such as Bushing fittings, are available in 1: x 11/4″ size. The durability, working temperature and working pressures are 10000 cycles, -20 degrees celsius to 120 degrees celsius and PN16/ 200Psi, respectively. Both BSP and NPT threading are available.
Male Brass Elbow Fitting 
This model of elbow fitting comes in the complete brass body in 3/8″ – 2″ sizes. It will fulfill all your plumbing concerns, such as working pressure of PN16, working temperatures as -20 C to 120 C and working durability of 1000 cycles. 
The Hongda Brass Fittings have gained popularity and acceptance due to great production techniques and customer service. There are several products made in brass that can be seen on the website. To know more about the company and products, you can CLICK HERE
You may also like: The Benefits to Businesses of Metal Pre-Treatment and Powder Coating
Image source: Shutterstock.com