Click here to get this post in PDF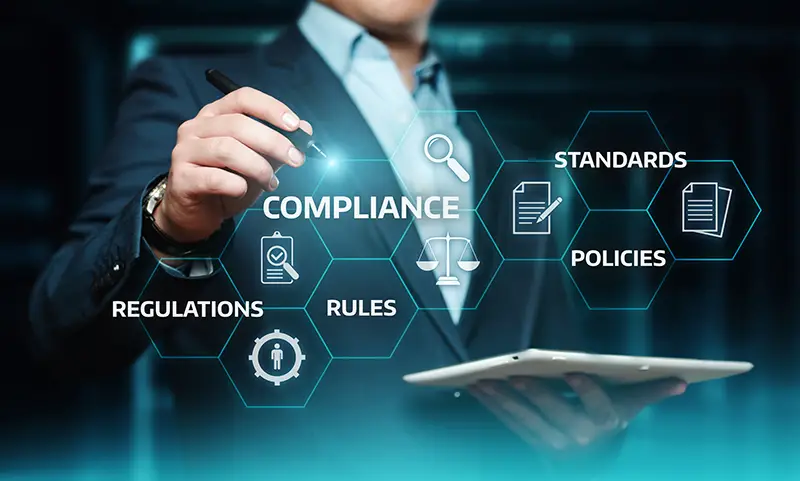 A compliance consultant can be hired by a consulting firm or on an independent basis as a compliance agent. As one of the most important roles within the consulting industry, they are responsible for ensuring the company they are working on behalf of is compliant with the regulations of the country it operates in. But aside from these basic duties and responsibilities, the role also commands a number of key skills. Continue reading to find out everything you need to know.  
Main duties and responsibilities 
The role of a compliance consultant can differ depending on the level of experience of the applicant as well as the individual company. Most positions, however, share a number of main duties and responsibilities. For example, they must analyse all compliance requirements and source relevant solutions in a timely manner, develop and maintain compliance standards and procedures, and evaluate employee licenses and participate in meetings with supervisory staff on a quarterly basis. The role of compliance consulting also requires policy audits, file assessments, training sessions, and overall business development. Finally, you must deliver regular updates on any regulatory changes within the business and how this is likely to affect the organisation as a whole.  
Role requirements 
The process of becoming a compliance consultant is one that requires a great deal of time and patience. In order to qualify, work experience can be a great way to stand out from the crowd and ensure you have practical experience of working within a consulting firm or within the financial sector. Depending on whether the role is an entry-level or senior-level position, most companies will require a minimum of five years' experience in a similar role or relevant industry. An excellent knowledge of the Money Laundering Regulations 2017, FCA regulations, and private equity can also boost your chances of securing a role as a compliance consultant. 
Career progression 
As a compliance consultant, there are several different levels of career progression. For example, an entry-level role may include working in process teams to screen customer names for banking compliance, inspecting payments sent both domestically and globally, and monitoring transactions for suspicious activity. As with any role within the compliance industry, you will be subject to extensive training and support to ensure you can carry out your duties both successfully and efficiently. A high-level role, on the other hand, may include managing processing teams, capacity planning, and managing staff performance on a company-wide scale. One of the most common high-level roles is that of a money laundering reporting officer. As well as entry-level and high-level jobs, you can also apply for a mixed role. This includes undertaking a series of roles at any one time. For example, you may be required to carry out both customer screening and payment screening or split your time between managing employees and writing policies. 
Ethical compliance 
Before you enter a career as a compliance consultant, you must be aware of the importance of compliance on a global scale. Good compliance can prevent money laundering, human trafficking, the theft of cultural artifacts, and general criminal activity. Compliance can also put a stop to threats posed by new digital technologies. A career in the compliance industry can be somewhat challenging but highly rewarding. 
A compliance consultant is responsible for a wide range of duties and responsibilities within a variety of industries and sectors including financial, healthcare, insurance, banking, or oil. As well as analysing compliance requirements, the role involves, but is not limited to, developing and maintaining compliance standards and procedures and evaluating employee licenses. If you are considering a career as a compliance consultant, it may also benefit you to research any opportunities for career progression within your chosen industry or sector ahead of time. 
You may also like: Ensuring Compliance with Privacy Regulations
Image source: Dreamstime.com