Click here to get this post in PDF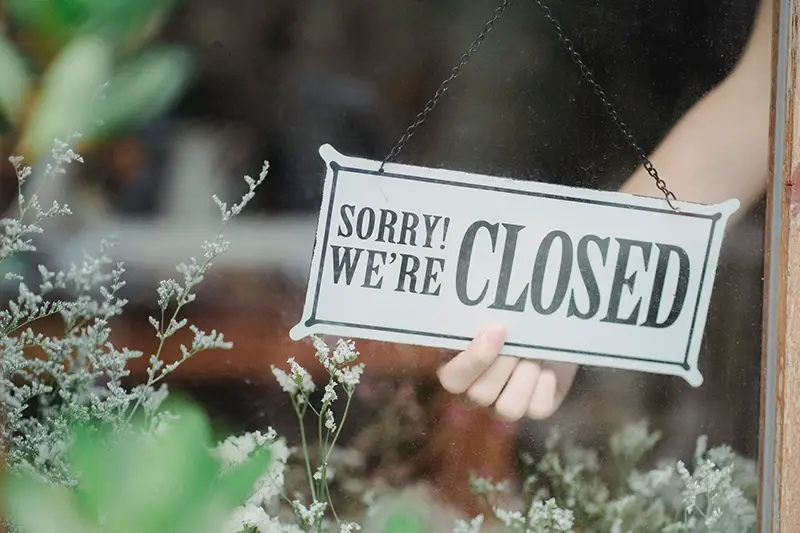 As the coronavirus pandemic has caused ruptures across the country, and despite government aid, many companies are still struggling. There's no denying it has been a torrid time, and although it looks as though we're out the other end, it could all be too little too late. So, if debts are piling up, or you think it's simply not worth the hassle anymore, what's the best way of closing down your company?
The solvent position of your company is what will determine the best route for closing down our company. But, unfortunately, sometimes it forces your hand and decides for you how you're going to close down.
My company is in a bad way financially
If your company is facing financial difficulties, it could be insolvent or could quickly be facing insolvency. There are a few ways of quickly deciphering if your company is insolvent or not, though. First, if your company finds itself in a position where your liabilities outweigh your company assets, it is pure and simple that the company is insolvent. This is because the company's debts are greater than its worth.
The best process to use here would be a creditors voluntary liquidation (CVL). This is a process that formally closes down a company. A CVL has to be carried out by a licensed insolvency practitioner and will see all the assets within the company sold to repay the business's creditors.
My company is in a good position but I want to close it down
It may seem an odd thought to close a successful company. But perhaps, you want to retire or withdraw the money that you have within the company. In a case like this, there are a couple of procedures available. If it's a large company that needs closing down, with lots of assets and cash at the bank, then a members voluntary liquidation (MVL) would be the best way forward. On the other hand, if it's a company that doesn't have many assets or cash and simply needs to be closed down, then a dissolution can just as easily close the company down.
Closing down a big company
As mentioned above, when it comes to closing down a big company, that has plenty of assets and cash within the company, the best process is an MVL. An MVL, just like a CVL has to be performed by a licensed insolvency practitioner and will see the company formally closed down, with any outstanding liabilities paid and the shareholders receiving their cash. However, there are certain criteria that have to be met for a company to go through an MVL:
A company must have enough assets, which are sufficient enough to settle all liabilities in full.
The company's liabilities must cover the liabilities plus statutory interest within a given period of less than 12 months.
At least 75% of the company's shareholders must agree to the process.
The director of the company must sign a sworn Declaration of Solvency relating to the conditions of the above.
Dissolution
A dissolution is a process that ends a company legal existence, as it's struck off from Companies House. It's a voluntary procedure and typically happens when the company has reached the end of its lifespan and has basically stopped trading. The procedure should only really be used for solvent companies, but on occasion, an insolvent company may be able to use it; however, it shouldn't be used an alternative to a CVL. For a company to qualify for an MVL, it needs to hit the criteria below:
All employee liabilities should be dealt with, including PAYE, any outstanding wages or holiday pay.
The company can't have changed its name within the last three months.
The company cannot have traded or disposed of stock, aside from any assets which have previously been used as a means of trading, such as machinery.
In summary 
Closing your own company is never an easy thing to do; there will always be some level of emotional attachment. The better that you understand your company's financial position, the best means you'll have of understanding how to best close the company.
You may also like: Top 5 Reasons Businesses Fail
Image source: Pexels.com