Click here to get this post in PDF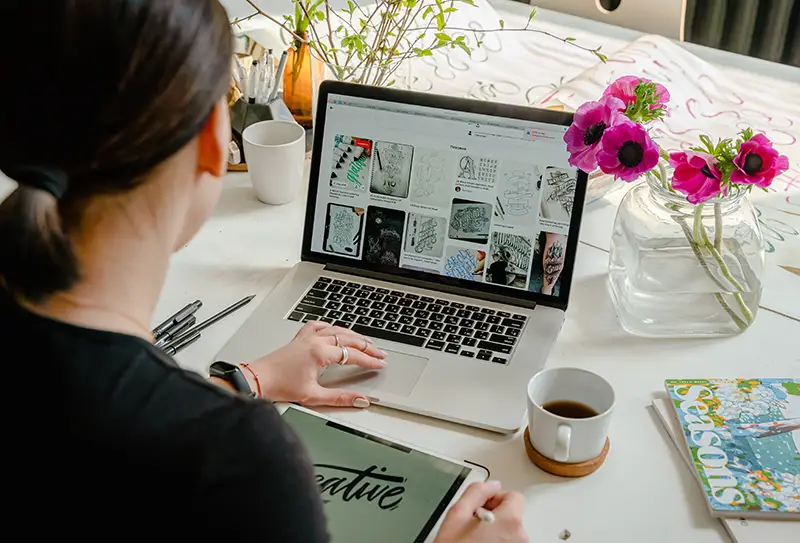 A solid online presence brought by well-made business websites is one of the essential assets that a business can possess in this day and age. It's akin to having a placed physical store in a bustling downtown area with several smartly placed ads. Despite having competition, it stands out every time. 
Chromatix CEO Irwin Hau stressed that websites strengthen business credibility, build customer trust, and elevate business value. Having none is often understood that your business is no longer operational, especially in this post-pandemic era. 
Web design is an artistic process, and art takes time. However, no one said nobody can use hacks for rushing art. Here are the top web design hacks that every web designer should know! 
Hack #1: Less Clutter
A website with less clutter means a lot of things. We'll break them down for you. 
Less clutter means smarter use of negative or white space. An expanse of negative space helps draw attention to the essential details. Want users to focus on the headline? Surround it with negative space. Want them to focus on reading the text? Format the block of text with white space beside it. 
Irwin from Chromatix aptly stresses the importance of designing the site to fit the user experience. "The importance of understanding the psychology of the target audiences when designing the site". As such, it is understood that creating a sleek and neat design fosters better user experience and satisfaction. 
A person's working memory is very limited. Too many visual elements in one space will defeat the purpose of your site, which is supposed to introduce your brand more. The takeaway of the user after visiting your site will be all the clutter without remembering your brand's value and significance. 
Hack #2: Smart and Easy Navigation
Sometimes, clutter is also in the form of drop-down menus and scrolling sidebars.
We all know of sites where the drop-down menus take up almost half of the space. And with the number of items, not every page has published content. Imagine the hassle that users go through with that experience alone. 
A smart rule of thumb when it comes to menus is to limit the number of options to seven. Listing seven options in a drop-down menu does not take up half the page. It does not even cover the focal elements of the site. 
Limiting the listed items also helps with navigation.
Users prefer traditional web designs. The familiarity of this design makes them more willing to explore the site because it gives them an idea that they know what they're doing. Despite that, smart navigation still makes the site stand out. 
The best way to configure the site's navigation tools is to base it on user behavior. Say, for example, you are designing an online retail shop. Think about what will be the users' top searches and commands. Knowing their top picks and choosing those as part of the menu tabs will streamline their experience with the site. 
Imagine them in a physical store where everything is labeled neatly and correctly. They can go straight to what they want right away. Plus, exploring the area more because of the pleasant experience is highly likely. 
Hack #3: Limit the Choices
Here's another hack that also supports the first one. As much as you want to showcase every option of product that the brand offers, it can negatively affect user consumption. 
Humans, when faced with many options, often find it hard to make a final decision. Let's say the brand offers over 20 variations of the same product. Presenting the same product over and over again will affect the user's behavior against it. It will also lessen the likelihood of them purchasing it because they can't choose which one they want. 
So, once you do the listing for the products, do it so it won't overwhelm the users. 
Hack #4: Wise Use of Visuals
Your in-depth understanding of the visual hierarchy will step up the game. Videos and animated graphics are sure to elevate the current aesthetic and utility value of a business website. 
In the visual hierarchy, blocks of text come last. People will not be interested in a web page full of blocks of text. What will draw people's attention right away is movement. That's why videos and graphics are on top of the visual triangle. These visual elements are eye-catching right off the bat. 
However, there is still a fine line between too much movement and just right. The use of too many videos and animatics will also overwhelm the users, making them leave the page. 
Be smart with what you animate. It's highly attractive nowadays to have an animated call to action. Call to action signs are often seen as predictable, and people just gloss over them. As such, having animated CTAs are more appealing to the users. They are something new and exciting for them. 
When talking about visuals, one must not forget about typography. Apart from designers, people think that brand kits do not include font styling. However, font styles are as important as the other visual elements, such as color schemes and logos. 
For typography, it's safe to say that web-safe fonts exist for a reason. These are the types that go well with everything, especially with longer blocks of text. If you want to get a bit experimental, choose font styles that go well with the brand. Align the design with the vision of the brand. 
Hack #5: Social Proof
One of the best visual elements to include in a business site are pieces of social proof. Despite not adding any significant aesthetic value to the overall design, it appeals to the emotions of the users. 
Liking something that is so well-liked by other people is a total ego-booster. Reading feedback from people, strangers even, confirms that you have good taste and intuition when judging specific products. As much as you want to design the page for the client, letting their customers feel good also positively affects their business. It's a win-win situation. 
Final Words 
Web designing isn't a job that can be done hastily. It requires careful planning and consideration of what elements are worth including. Web designers take on the responsibility to bring in more positive results for the business, such as credibility and a robust online presence. 
A smart and effective web designer must know these basic designing hacks to provide the best possible outcome to each and every client they encounter. Best of luck!
You may also like: 4 Best Practices for Web Design Success
Image source: Pexels.com