Click here to get this post in PDF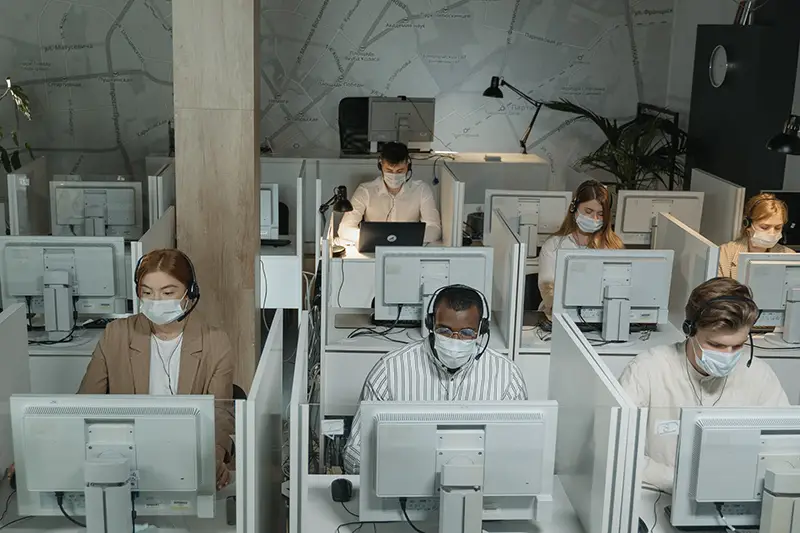 The coronavirus pandemic was a rather unexpected crisis for the European population. Its disastrous consequences influenced multitudes of people. Many lost their livelihoods while a significant number of employees had to work from home as a precautionary measure. These quick changes in people's daily routines created a sense of uncertainty among the masses. Uncertainty often leads to anxiety and depression. That is why each employer must consider methods to handle the mental and physical well-being of his/her staff. The employer should provide a sense of vision and stability to the employees. Here are some points to help employers create a healthy work environment during the pandemic.
1. Make employees' healthcare your priority
There can be absolutely no compromise with your workers' health – both mental and physical – amid an ongoing epidemic. In this case, negligence may lead to an eventual decline in the employees' morale and productivity. Ensure your staff's easy access to telemedicine and mental healthcare services. Explore the availability of sick leaves and ascertain daily health checks to mitigate the spread of this virus.
The proper implementation of social distancing and wearing masks is necessary. Employers must carefully update their healthcare arrangements according to the latest CDC-approved guidelines. Overlooking mental health would be a fateful decision to make as COVID-19 has harmed more than 40% of British people psychologically. Motivate staff members to be physically active and suggest ways for them to boost their immune systems.
2. Modify your company policies
Update your policies and modify your practices for the sake of your employees' convenience. Strict performance reviews during the pandemic can demotivate the staff. Companies have many points to consider for a COVID-19 secure working environment and risk mitigation. Staff training is necessary to spread awareness regarding the importance of containing this virus. Besides social distancing, a functional ventilation system provides fresh airflow. Physical activities boost people's immunity system and reduce stress. Good hygiene posters and forbidding-essential visitors also contribute to the creation of a healthy atmosphere inside the workplace.
3. Be flexible with deadlines and workload
The coronavirus pandemic has changed the way we used to conduct business. People are more worried about their health and the well-being of immediate relatives. That is why organizations should consider relaxing deadlines and be mindful of their employees' medical concerns. Not just deadlines, but work hours also require flexibility. Realize that this pandemic has rendered many of your workers handicapped, and you should be generous with them professionally.
Your employees might have children who need online classes. You cannot expect a complete commitment from your workers while this pandemic lasts. Hence, allowing workers to create flexible schedules is the kind of generosity organizations are supposed to demonstrate. Being flexible does not mean you have lowered your standards; it shows you are aware of your duties as a leader. Being patient and understanding also diminishes turnover in the company.
4. Checking on your employees' well-being
Effective communication is not possible without personally checking on your workers' health and behavior. It is critical nowadays to pay direct and intentional visits to your staff members regularly. More than one-third of employees believe that their organizations have failed to connect with them. Also, these respondents are more prone to mental health issues. As employees are telecommuting, detecting the signs of struggle has become more difficult. Forming a deeper connection beyond "What's up?" and "Are you okay?" is necessary for today's environment. Even if employees do not open up to you, they must know that the management is always there to listen.
5. Take the first step in the communication process
Communication is a two-way alley, but it is the leader/manager's responsibility to initiate the dialogue. Your employees need a sense of human touch while they talk to you. A text or email is good, although a phone call or face-to-face meeting can be more effective. Be honest and transparent with the workers. Do not let them writhe in ignorance and confusion about their future at your company. If you are contemplating layoffs, be sincere about it.
A lack of communication can be dangerous for the mental health of your employees. Workers who have found their managers negligent toward effective communication are more vulnerable to stress and depression. Make mental health resources available to your staff members and share these resources with them proactively. Do not let stigma and embarrassment stop your employees from sharing their concerns with you in any way.
6. Utilize technology to alleviate some stress
We have talked about how many employees have begun to telecommute. The Guardian reported in October that nearly 25% of the English workforce was working from home. Technology has ceased to remain a mere luxury; instead, it has become one of the strengths of successful business organizations. Companies can alleviate their workers' stress by allowing them to be productive from domestic comfort. With the required software and cybersecurity arrangements, they can be more effective than before. With the advent of Zoom, Slack, and Google Meet, working from home can provide a secure mode of employment.
Conclusion
The coronavirus pandemic is arguably one of the essential episodes of human history we are witnessing right now. It has changed our lifestyle and introduced certain norms into our everyday behavior. However, it has now negatively affected the mental health of many employees. Therefore, leaders of an organization are responsible for providing hope, compassion, and stability to their followers. As per one Gallup survey, these sentiments are what employees expect their employers to exhibit during the COVID-19 crisis. Companies cannot be productive if their workers are insecure, confused, or depressed. Taking care of employees guarantees a healthy workflow in this pandemic-ridden world.
You may also like: How to Look After Employees' Mental Health During COVID-19
Image Source: Pexels.com