Click here to get this post in PDF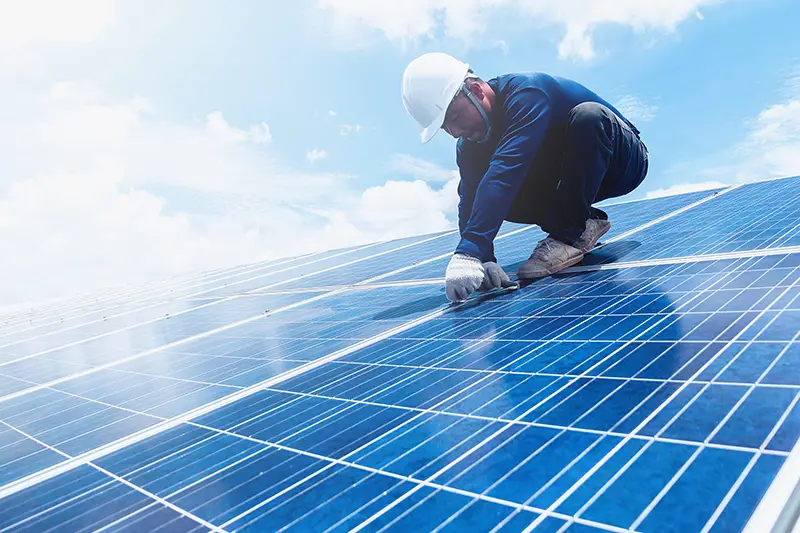 Advancement in efficiency and technology has brought us further and further from the genesis, and now we are at a stage of civilization where there's a new invention every day. As advancement increments, so do we and our discoveries. New sources of renewable energy lead us here.
Solar panels have several advantages over other sources of energy generation:
Renewable and sustainable: Solar energy is a renewable resource, meaning it can be generated indefinitely without depleting the earth's resources. It does not produce greenhouse gases, making it a cleaner and more sustainable option than fossil fuels.
Low maintenance: Once installed, solar panels require minimal maintenance, making them a cost-effective option in the long run.
High efficiency: With technological advancements, solar panels have become more efficient, converting more sunlight into electricity.
Versatile: Solar panels can be used in many applications, from powering homes and businesses to providing energy to remote or off-grid locations.
Cost-effective: The cost of solar panels has decreased significantly in recent years, making them more cost-effective than traditional energy sources.
Net metering: It can also be used in combination with net metering, where excess energy generated by solar panels can be sent back to the grid and credited to the user.
Reduce dependence on fossil fuels: Solar energy is a domestic energy source; therefore, it reduces dependence on fossil fuels, making it a strategic energy source.
Decentralized: Solar energy can be generated at a local level, providing power closer to where it is consumed. This decentralization of power generation can help to improve energy security and reduce transmission losses.
Increasing Solar Panel Efficiency: A Guide 
Introduction 
Solar energy is a clean, renewable source of power that is becoming increasingly popular. However, solar panel efficiency can vary greatly depending on a number of factors.
This article will discuss 10 tips for increasing solar panel efficiency.
Choosing the Right Solar Panels
Not all solar panels are created equal.
Look for panels with high-efficiency ratings, typically above 15%.
Consider using monocrystalline or polycrystalline panels, as they are more efficient than thin-film panels. A much-needed enhancement for Chint Distributed PV Solutions. 
Proper Installation
Proper installation is crucial for maximizing solar panel efficiency.
Make sure the panels are installed at the correct angle to capture the most sunlight.
Keep the panels free of debris and clean to ensure optimal performance.
Trackers and Concentrators 
Adding tracking systems to your solar panels can increase efficiency by following the sun's movement throughout the day.
Concentrators, such as lenses and mirrors, can also increase the amount of sunlight hitting the panels.
Optimize for Local Conditions
Consider the local climate and weather patterns when optimizing for solar panel efficiency.
For example, cooling systems can be installed to prevent overheating and maintain efficiency if you live in a hot and sunny climate.
Combining Technologies
Combining different technologies, such as solar and wind power, can increase overall energy efficiency.
Also, using batteries to store excess energy generated by solar panels can be an efficient way to meet energy needs during times when the sun is not shining.
Regular Maintenance
Regular maintenance is crucial for keeping solar panels running at their best.
Check and clean the panels, ensure the wiring is secure, and look for any damage or wear and tear.
Regular maintenance can help prolong the life of your solar panels and ensure they continue to operate at maximum efficiency.
Advanced Materials
New materials are constantly being developed that can increase solar panel efficiency.
For example, using perovskite solar cells in combination with silicon solar cells can significantly increase efficiency.
Other materials, such as graphene and carbon nanotubes, are also being researched for their potential to improve solar panel efficiency.
Grid-tie Inverters
Grid-tie inverters are devices that convert the direct current (DC) electricity produced by solar panels into alternating current (AC) electricity, which can be used in your home or sent back to the grid.
High-quality grid-tie inverters can increase the efficiency of your solar panel system by minimizing energy loss.
Microinverters
Microinverters are similar to grid-tie inverters, but they are installed on each individual solar panel rather than in a central location.
This allows for more precise monitoring and control of each panel, leading to increased efficiency.
A massively important factor when thinking about increasing solar panel efficiency 
Advanced Software
Advanced software can be used to monitor and optimize solar panel performance.
For example, using software that can predict weather patterns can help you schedule cleaning and maintenance for the most optimal times.
Additionally, software monitoring energy usage in your home can help you make adjustments to reduce energy waste and improve and increase overall solar panel energy efficiency.
There are many ways to increase solar panel efficiency, from choosing the right panels to using advanced software.
By implementing these methods and staying on top of regular maintenance, you can ensure that your solar panel system is always on top and performance remains steady throughout the course of its lifespan.
You may also like: Sustainable Home Building: How It Works and Why You Should Consider it
Image source: Shutterstock.com