Click here to get this post in PDF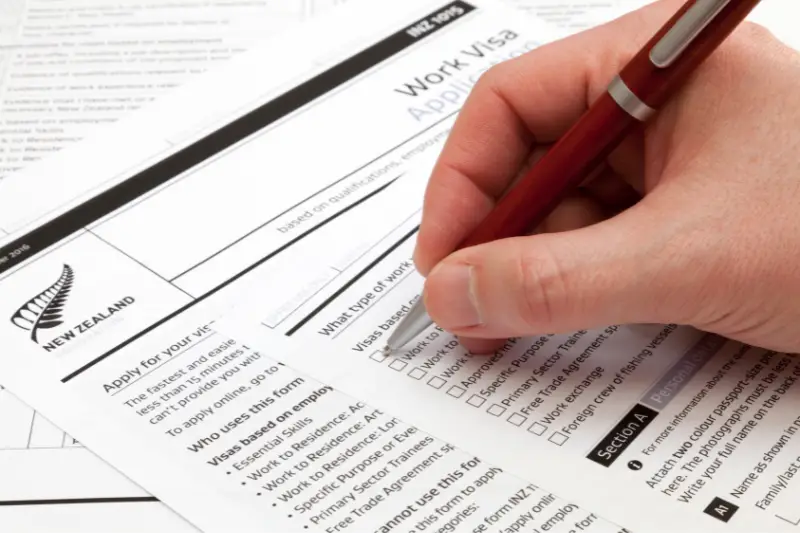 Temporary work visas in New Zealand play a pivotal role in facilitating international mobility and fostering a dynamic workforce. New Zealand, known for its vibrant economy, stunning landscapes, and welcoming culture, attracts a diverse range of skilled professionals, seasonal workers, and individuals on working holidays from around the globe. These work visas are not just permits; they are gateways to opportunities for personal and professional growth. This guide aims to shed light on the significance of temporary work visas in New Zealand, providing a comprehensive overview of the various visa categories available to those who seek to contribute their skills, talents, and energy to this thriving nation. Whether you are a skilled worker, a seasonal laborer, a partner of a worker, or an international graduate, understanding these work visa options is essential to making the most of your experience in the Land of the Long White Cloud.
A. Essential Skills Work Visa
The Essential Skills Work Visa is a cornerstone of New Zealand's temporary work visa system, designed to attract skilled individuals who can contribute to the country's labor market. Eligibility criteria are tied to the specific job offer and include factors such as relevant qualifications, experience, and the labor market's demand for the role. Skill level requirements are assessed using a points-based system that takes into account factors like salary and qualifications. The duration of the visa is typically linked to the employment contract, with potential limitations based on the skill level of the job. To apply, individuals need an offer of employment from a New Zealand employer, who may need to demonstrate their commitment to employing local talent. Work rights are granted as per the employment contract, and visa holders are expected to comply with the conditions outlined in the visa. Renewal and extension options are available, often contingent on ongoing employment and meeting skill level requirements.
B. Specific Purpose Work Visa
The Specific Purpose Work Visa caters to individuals coming to New Zealand for unique, non-standard purposes such as entertainment, sports, or religious work. Eligible purposes are defined by Immigration New Zealand and may require specific documentation or endorsements from relevant authorities. The visa's duration is closely tied to the specific purpose and is often limited to the period necessary to complete the designated task. The application process involves submitting evidence of the specific purpose, such as contracts, invitations, or agreements. Work rights are granted in alignment with the defined purpose and may come with limitations. Visa holders are expected to adhere to the conditions of their specific purpose while in New Zealand.
C. Working Holiday Visa
The Working Holiday Visa is a sought-after opportunity for young adults to explore New Zealand while engaging in short-term employment. Eligibility criteria typically include age and nationality requirements, varying based on bilateral agreements between New Zealand and specific countries. The duration of the visa is typically 12 months, with certain limitations on the type and duration of work permitted during the stay. The application process includes applying within specified quotas and during designated application periods. While extensions may be possible under certain circumstances, it's important to be aware of the limitations and plan accordingly. Working Holiday Visa holders often cherish the chance to immerse themselves in New Zealand's culture and lifestyle while gaining valuable work experience.
Other Temporary Work Visa Categories
A. Partner of a Worker Visa
The Partner of a Worker Visa enables partners of temporary work visa holders to join them in New Zealand. Eligibility criteria often depend on the relationship status and the primary visa holder's work status. The application process entails providing evidence of the relationship and financial capacity. Work and study rights for partners are typically granted, allowing them to explore educational and employment opportunities during their stay.
B. Post-Study Work Visa
Post-Study Work Visas provide international students who have completed their studies in New Zealand with the opportunity to gain work experience in their field of study. Eligibility criteria are based on the course completed and the institution attended. The application process involves demonstrating the completion of a qualifying course and the provision of supporting documents. Work rights and conditions align with the specific post-study work visa category, which varies based on the course and level of qualification.
C. Silver Fern Job Search Visa
The Silver Fern Job Search Visa is designed to attract young, skilled individuals to New Zealand with the intention of finding skilled employment. Eligibility criteria include age restrictions and minimum qualifications. Applicants must demonstrate their intention to seek employment in New Zealand. The visa provides a limited period for job search and comes with specific work and job search conditions, offering a pathway to securing long-term employment in the country.
Special Visa Considerations
A. COVID-19 Pandemic Updates
Given the global impact of the COVID-19 pandemic, temporary work visa regulations in New Zealand have seen adjustments. Information regarding temporary work visas during the pandemic, travel restrictions, and quarantine requirements is crucial for individuals planning to work in New Zealand.
B. Employer Sponsorship and Obligations
Employers who sponsor temporary work visa holders have specific responsibilities, including compliance with employment and immigration regulations. Understanding these obligations is essential for both employers and visa holders to ensure a smooth and lawful employment arrangement.
You may also like: 5 Essential Tips to Apply for a New Zealand Resident Visa
Image source: AdobeStock