Click here to get this post in PDF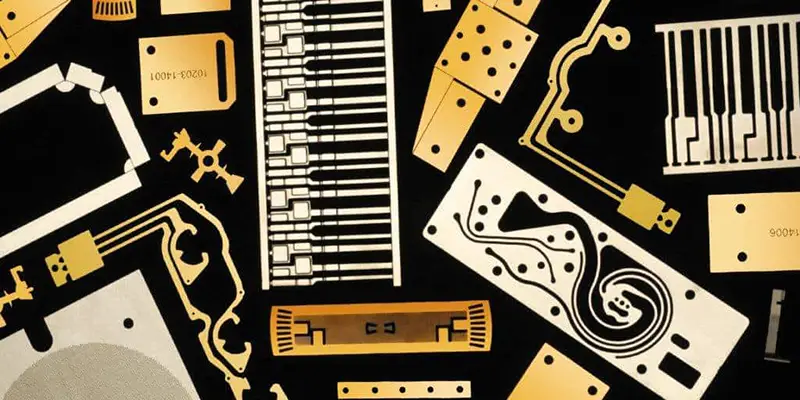 Photochemical etching is a process that uses photo-reactive resistance for fabricating metal parts. This process helps in manufacturing metal parts based on desired dimensions. 
Now that you're wondering if it's like other printing processes, then you're right. The images help in placing dimensions onto the photoresist-coated metals. The photos then develop and etch, giving out the desired part. This process produces intricate details along with tolerances, which can be as low as ± .01 mm. 
Know that photo-etching holds great significance. The process of coating metals would be impossible with other processing methods. These may be water-jet cutting, laser cutting, stamping, die-cutting, and punching. 
What are the Advantages of the Photo-Etching Process?
Photochemical machining or chemical etching processes offer many advantages over other techniques. It is because these are cheap and accurate. 
Manufacturing experts are all pro for this process because:
1. It doesn't generate mechanical stress sources: 
Each part maintains the mechanical properties of materials selected by the customer.
2. Dissolves unwanted metals through chemical reaction:
You can end shearing deformation, burning, and ablative deformation associated with machining processes.
3. Improves Precision:
Chemical etching helps with materials that are as thin as .0003 inches. However, the holds are as small as .004 inches. 
4. Allows for high part quantities: 
Photo-etching puts large volumes of parts into production at short notice. Know that these parts allow for increased flexibility. 
5. Supports more significant part complexities:
The photochemical processes yield metal components using multi-dimensional characteristics. The procedure even creates score lines for folding parts. 
6. Lowers Cost of Production:
Manufacturers can make tooling adaptations. The design change costs only a hundred dollars. Thus, it reduces overhead costs for metal part prototyping and production. 
What are Photo-Etching Cost Benefits?
The metal etching process is more cost-effective than other types of machining processes. Using Chemical etching services, businesses can eye the production of more complex designs. All they need is the use of intricate features. Also, with an increase in design complexity, the production costs don't increase. Yes, you heard that right! It is the faster processing time that reduces costs. 
You can complete many parts in a single day. The etch rate of 0.0005 to 0.001 inches is possible per minute. The need for rework also reduces. Thereby, the project costs center only on the initial process. 
Also, the speed and ease of designing tools reduce costs. For instance, the stamping tools take weeks, costing businesses thousands of dollars. Likewise, building but the maintenance process and wear and tear addresses can be costly. And, that's the reason for people's eye production with photochemical etching. It's more cost-effective, you see. 
With metal etching, part quality also improves, making your products valuable. Also, the cutout steps like deburring prove to be costly and time-consuming. Chemical etching, too, supports affordable mass production. As a result, producing millions of pieces is cheap. In addition, considering the accuracy and speed of the process, customers can complete prototypes. As a result, the products get to the market faster, which increases profits. 
What are the Steps Involved in the Photochemical Etching Process?
Now that you're well aware of what photo-etching is and what advantages it offers, it's time to learn about the process. Know that photo-etching allows the production of metal parts to close tolerance using computer-aided design software. Some other technologies that come into the light are photography, metallurgy, and chemistry. Using this process, the production of thin metal parts becomes quick for different applications. 
Are you excited to know how the design comes into being? Well, stick on to see the photo etching process steps. Let's get going:
Step 1: CAD Design/ Photo tool Design:
Customers submit their design expectations to manufacturers. These can be a.DXF file or.DWF file, or a drawing. The design further helps in the creation of a protocol. 
Manufacturers then convert the file into a working protocol. Finally, the technicians use this protocol for creating the final product. The best part about the photo-etching process is its flexibility. Manufacturers can make adjustments and redesign the photo, both in a cost-effective manner. 
Step 2: Selection of Metal and Preparation:
Next, the manufacturers select the materials they'll be using in the project. These can be copper alloys, nickel alloys, or stainless steel. Then, before the chemical etching process, the metal cuts into sheets. 
After this, the cleaning process comes into play. Finally, removing grease, oxidation, and oil from the metal sheet takes place for processing. 
Step 3: Photoresist Coating:
Manufacturers then apply a photosensitive material to the sheet. Finally, they use a specialized coating machine for applying photoresist. Know that this photoresist is sensitive to light and resistant to acids. 
This photosensitive coating shields the material, which then becomes a part. This photosensitive etching process is popular as photochemical etching. It finds its use on stainless steel for ensuring precision-cut metal every time. 
After coating, the sheet is then put into an exposure unit. Manufacturers place the sheet between two film pieces. They later expose the sheet to UV light on both sides. When light touches the resistor, it gets hard and polymerized. However, the shaded areas remain soft. 
During the development process, the soft resist washes away, and the hard resist remains. The exposed material then dissolves away by the heated etchant. Finally, the hardened resist finds protection from the etchant. 
Step 6: Chemical Etching:
The etching process uses many etchants, which depend on the base material used. Therefore, matching appropriate chemicals ensures the effectiveness of the chemical machining process. 
By doing so, etching metal processes becomes fast and effective. Know that the chemical etching process does not create metal burrs. 
Step 7: Photoresist Stripping:
After etching, you can remove the resist altogether. This step gives out the metal components the client has ordered. 
Step 8: The Final Inspection:
Manufacturers inspect these parts to ensure if they meet clients' dimensional specifications. In addition, they have to check if these components are burr-free and have no defects or imperfections. They also look if parts meet high-quality standards during value-added processes or not. These processes relate to laser welding, plating, or soldering. 
Wrapping Up
Photo-etching is a manufacturing process that calculates costs differently. Know that these depend on many variables. These can be material, temper, tolerances, labour, and lead times. The best thing about the photo-etching process is its cost-effectiveness and time savings. 
Can't wait to unleash the benefits of this process? Well, all you've to do is find manufacturers experienced in etching various metals. 
You may also like: Features of Superior Quality Flex Printing Machine