Click here to get this post in PDF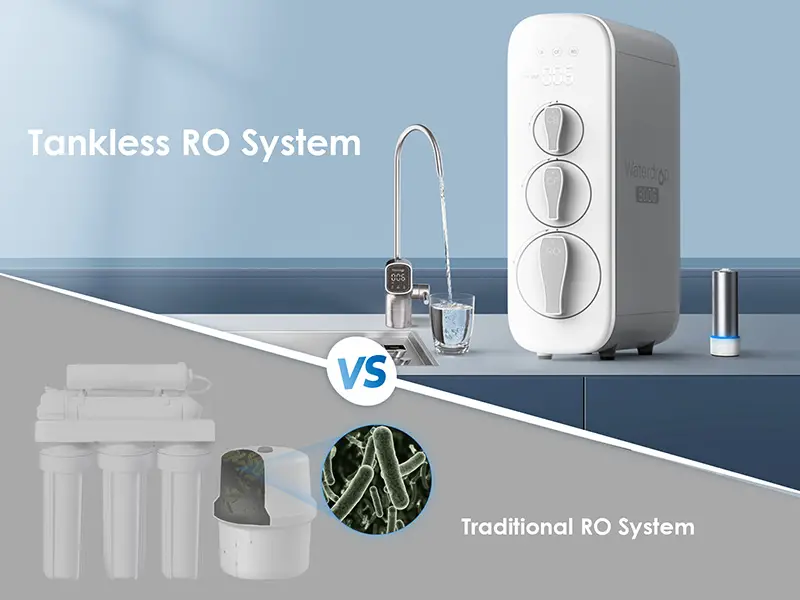 Studies have shown that people are switching to new ways of accessing clean water. Aside from bottled water, most people now use water filters to filter their drinking water. A 2022 survey revealed that over 77% of Americans filter their drinking water, far higher than 73% in 2020 and 74% in 2021. 
If you wonder why more Americans are choosing to filter their tap water at home or in the office, here are the main reasons:
The water contaminants of interest. Lead, chlorine, chloramine, bacteria, cysts, and viruses all concern Americans the most, especially lead.  
The environment is top of mind for people who filter their drinking water. People now prefer environmentally-friendly products due to the growing global warming concerns.  
Water quality matters. American people are turning to water filters for sufficient amounts of trusted water.
When it comes to efficient water filters, the reverse osmosis (RO) water filter system, also called an "RO system," is the top choice among all water filters on the market.
What is an RO water filter system? 
The RO water filter system is one of the most effective water filtration devices. The most important feature of the RO system is its RO membrane. The system squeezes feed water through multiple filter layers, including the RO membrane. This removes most impurities like lead, chlorine, bacteria, viruses, and more, leaving only clean drinking water.
There are two types of RO systems: the traditional RO system VS the tankless RO system. The traditional RO system has a tank, while the tankless RO system doesn't have one.
What is a traditional RO system?
The traditional RO system is the older reverse osmosis water filter. Therefore, it is available in different makes and models. In conventional reverse osmosis systems, water passes through all the filter layers, including the water-permeable membrane, and is then stored in the storage tank. That is its most significant benefit. You can always get clean and healthy water, even during emergencies.
Of course, the traditional RO system is not perfect. We have outlined its pros and cons below:  
Advantages:
The storage tank ensures a consistent water supply, even during emergencies.  
Budget-friendly compared to tankless RO system.
Less noisy.
Disadvantages:
Takes up more under-sink space.
More prone to secondary contamination due to the storage tank.  
Slower water flow, which means longer waiting time.  
No filter replacement reminder, causing delayed filter replacement.
What is a tankless RO system?
The tankless RO system is the newer and better version of the RO water filter. Unlike the traditional RO system, the tankless model has no tank. Therefore, it frees up more under-sink space due to its compactness. It is also easier to operate and comes with a smart filter replacement reminder.
In addition, the newer tankless RO systems technology does not have the same downsides as the traditional ones, including low water flow rate, absence of filter replacement reminder, secondary contamination risk, and others. 
Here are the advantages and disadvantages of the tankless system:
Advantages:
Requires less storage space.
No secondary contamination.
Easy to maintain.
Saves water and reduces water bills, thanks to its high pure-to-drain ratio.
Smart filter replacement reminder.
Higher flow rate: you can get a cup of filtered water in seconds.  
Disadvantages:
More expensive than the tanked RO systems. 
No water for use during emergencies.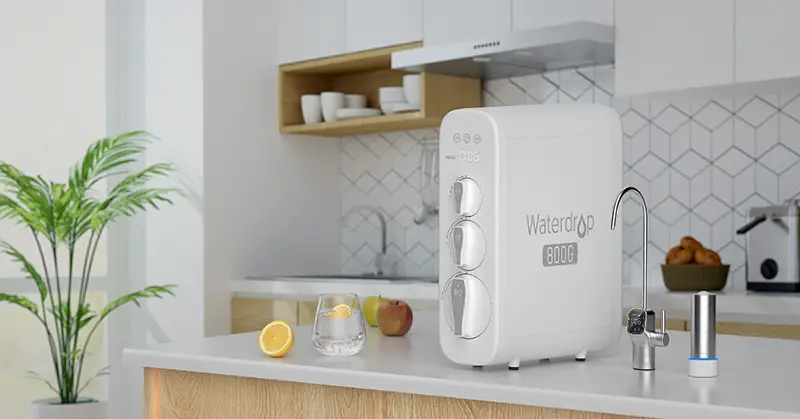 How To Choose Between the Traditional RO System and The Tankless RO System?
Both the traditional and tankless RO systems have their advantages and disadvantages. They are excellent choices for household use. However, the tankless RO system is better if you plan long-term. The tankless RO water filter costs more, but the improved user experience and filtration capacity make up for the cost in the long run.  
Why should you choose the tankless RO system?
The tankless RO system may be the best bet for families that don't have space to spare. While you miss out on the possibility of storing purified water for future use, you are assured of always getting purified water on demand from a tankless RO system. Furthermore, buying a top-quality tankless RO system means you do not have to worry about water quality for a long time. The absence of a pressure tank eliminates the possibility of secondary contamination and bacterial growth in tankless RO systems, ensuring you get clean, healthy water at all times. 
The smart filter replacement reminder enables you to replace the filter promptly. For example, Waterdrop tankless RO system not only reminds you when replacement is due but also allows you to see your water quality at a glance. As a result, it has a higher pure-to-drain ratio, saving more water and reducing your water bills. Yes, you are paying more for the tankless RO water filter unit, but it is definitely a worthy investment.   
Waterdrop is one of the world's leading water purification brands with strong global design, R&D, manufacturing and procurement resources support. With the corporate vision to improve global household drinking water safety, we are dedicated to providing advanced water purification solutions and high-quality products.
Our Honors 
Waterdrop is the first brand to launch tankless RO water filter system on the Amazon USA store, and the sales of RO water filter and other under sink water filters were stable in the top three. For G3P800, it avoids secondary contamination, high performance filter material is certified by NSF58 and NSF372, hassle-free installation and filter replacement makes health easier.
Water is life; treat it right. Waterdrop is your best expert in water purification.

Instagram | Facebook | YouTube
Also read: 4 Major Causes of Water Contamination and Ways to Fix Them