Click here to get this post in PDF
When we think about using technology to improve profits, increase efficiencies, reduce stress, and provide better customer service, we tend to think about popular tools we use daily in an office or tech-based equipment and machines. 
However, technology permeates pretty much every area of life and business, so there are more uses for it than we often consider. One option you might like to investigate further is radio frequency identification (RFID) technology. 
RFID uses tags and readers to communicate data through a radio waves-based wireless system. Tags contain information that gets signaled wirelessly to the reader. Devices don't require line of sight to "talk", and neither is physical contact necessary. The information contained within the tag can be a serial number or even pages of data. If you haven't started using the tech yet, here are some ways other businesses use it today. 
Track and Locate Goods
A common use of RFID technology is tracking goods. Logistics operators can track the movement of products throughout the supply chain more easily and quickly than manually counting and acknowledging each piece. There's less chance of parcels ending up in the wrong spots and having to be re-sent to final locations, too. 
Efficiencies are gained from RFID tracking because hundreds of items can be identified and monitored at a time, which reduces backlog and the human errors that typically come from manual handling. Workers don't have to tick off every single good against an order when it leaves or arrives since RFID automatically transmits data about the associated items.
RFID tags are used on production lines, too, when assembling goods. This enables managers to see how long each section of a process takes and identify areas where things can be sped up. Businesses that used RFID tech on their materials, goods, and assets also have less to worry about when it comes to theft and loss, as items can be tracked right away if they go missing. Many casinos embed RFID tech into their poker chips these days, as one example. 
Plus, consumers can enjoy the benefit of RFID tracking when they fly with Lufthansa. The airline has an innovative HomeTag application whereby passengers can print out a tag with all their contact information at home and attach it to their luggage. Once at the airport, Lufthansa employees add an RFID chip-containing device to the HomeTag so if the suitcase gets lost at any point, it will be located quickly. 
Manage Inventory More Effectively
Inventory management is a big job for any venture that keeps many parts or products on hand. RFID helps with this. Apart from tracking and locating goods and making processing orders a cinch, as mentioned above, it also assists managers to understand exactly what they have in stock and where to find each piece at any given time. 
There are no delays while employees search through mountains of goods to locate items or waiting until an annual stocktake to see which products haven't sold well, are old, and need to be moved on. You can run reports whenever you need to with accurate data flowing into them from RFID applications. You'll see right away when you need to stock up on popular goods you're getting low on. In turn, you can monitor and plan production processes and sales strategies and utilize a lean inventory management system to free up cash flow. 
RFID also helps with audits and when you must keep an eye on stock with use-by dates. Many hospitals utilize RFID technology to monitor medications, for instance. Also, some Japanese restaurants put RFID tags on revolving dishes on sushi trains to monitor how long plates have been on the conveyer. 
Boost Customer Service and Engagement
RFID technology helps boost client service and engagement, too. For example, if you're a retailer, wholesaler, or manufacturer, you can provide customers with timely updates about when goods will arrive. This ability is crucial now that consumers expect to receive parcels quickly and often want things the same day. Customers can log into accounts to get expected delivery data whenever they want, rather than having to bother contacting customer service lines and waiting for a response. 
Today, amusement parks such as Disney integrate RFID technology into tickets to eliminate scanning and swiping needs in lines, thus reducing wait times. Many retailers are introducing intelligent fitting rooms that allow shoppers to access more data about the products they're trying on or learn about other available sizes, colors, or styles. This assists customers in finding what they need sooner.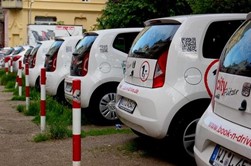 Also, some car rental companies provide no-waiting vehicle returns for their busy clients. Thanks to RFID tracking, people can park in any open spot and leave again without waiting for staff. This situation satisfies busy customers, especially those dropping a vehicle off at the airport. 
Other uses of RFID tracking include accumulating data, better decision making, improved productivity, lowered operating costs, and easier access control management (e.g., keycards). Start thinking today about how you might also take advantage of this tech in your business. 
You may also like: The Growing World of Technology for Business Management