Click here to get this post in PDF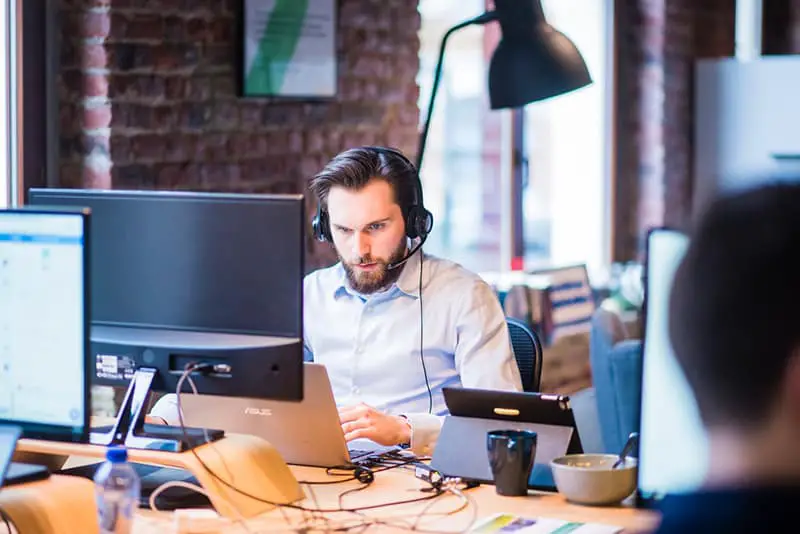 Software is needed in almost every industry, in every business, and for every function. IT outsourcing is quickly gaining popularity as it helps to reduce software development costs, provides access to a global talent pool, allows using cutting-edge technology, and a lot more. According to Statista, the IT application outsourcing services market will continue to grow and is expected to amount to $96.7 billion by 2021.
If you need to choose an IT outsourcing partner, it's important to make sure that they'll provide the best services and deliver exceptional results. In this article, we reveal the latest IT outsourcing trends that will help you to find the right IT outsourcing company that can meet your business needs.
#1 Customer Centricity and Flexibility
Both software development service providers and clients agree that if they can find out how to set up an outcome-based sourcing strategy everyone will be satisfied at the end. Businesses want a more profound and detailed analysis of their inner processes and business models so that they could get solutions that fully fit their business needs and give them a competitive edge.
Besides that, businesses expect outsourcing companies to become more flexible. Vendors should be ready to:
clearly understand their customers' needs and values to develop effective custom solutions;
scale their teams in line with the needs of each development project;
quickly build a minimum viable product and constantly report on improvements made;
move from output-based to outcome-based contracts, focusing more on the quality of their results;
collaborate more closely and discuss development processes with their clients;
educate and upskill their staff;
provide business process outsourcing when a customer goes beyond transferring specific tasks to a contractor but wants them to manage entire projects on a daily basis.
#2 Eastern Europe – a Spot of Outsourcing Boom
India and China have always been the leaders of the IT outsourcing industry. However, Eastern European countries are ready to respond to the challenge. According to a recent report "Software Development in Ukraine, Poland, Belarus, and Romania" IT service and Software R&D markets in these countries are growing 4-5 times faster than in other parts of the world with over 700k professionals in Eastern Europe providing their services mostly to the US and EU customers. And this trend is set to continue.
The advantages of the Eastern European IT outsourcing  market over the Asian market are clear:
closer outsourcing destinations to the EU and the US and as a result smaller time difference between a vendor and a customer;
minimum cultural differences and shared European values;
high level of technical education due to a great number of universities;
proficiency in the English language;
access to the latest technologies and first-hand knowledge;
special conditions and legal support for the IT-sphere from the majority of Eastern European governments.
#3 Outsourcing for Everyone
A little while ago mostly medium-sized and large companies could afford to outsource. But with the technological advances in the IT industry and a significant reduction of IT outsourcing costs, more and more small level businesses (SBEs) can afford outsourcing software development to other companies. According to the latest study performed by TechBehemoths, 78.5% of small/medium IT companies provide outsourcing services. This trend is expected to grow in the following years.
Outsourcing can offer SBEs the following advantages:
adjustment to the specific business needs – scalability of teams, tools, and resources in accordance with the business requirements;
full-cycle development – no need to hire extra employees or plan app development; companies can save costs and resources by transferring development procedures to a third-party;
focusing only on the key tasks, thus avoiding the necessity to monitor and handle IT-related operations.
Outsourcing helps small companies to reduce IT service costs, improve their workflows, expand their businesses by attracting new customers and retain old clients, and considerably improve customer experience.
As for the big companies, they will keep outsourcing their IT projects that involve big data, internet of things (IoT), artificial intelligence (AI) and machine learning (ML), and others to stay among the leaders on the global market.
# 4 Tech Trends
Access to the latest technologies creates new opportunities for business development. Therefore, a lot of companies invest large resources into the development of IoT, AI, ML, blockchain, cloud computing, and other initiatives.
According to Statista, it is expected that by 2023 the IoT market revenue will amount to $1.1 billion, while in 2018 it was only $646 billion. MarketstanMarkets forecasts the rise of the AI global market from $21.46 billion in 2018 to $190.61 billion by 2025. The IDC company expects blockchain technology to reach $12.4 billion in 2022. As for cloud computing, Gartner expects public cloud revenue to increase to $331 billion in 2022.
While some technologies are underutilized, such as experimenting with blockchain and implementing it to secure data transmission, others are already widely used by outsourcing companies. For example, robotic process automation (RPA) and AI are used for automatic document management and chatbots development, while cloud computing helps companies effectively streamline communication and collaboration across their overseas offices.
Moreover, software developers widely use cloud computing for building serverless architecture applications. By using the cloud as FaaS, function as a service, developers don't need to configure their software and hardware development tools, which helps to speed up product delivery and ensure its high quality.
#5 Mobile Development
Mobile devices have become the most popular way to access the internet. By 2021, people are expected to spend most of their time online using their phones – 155 minutes a day on a mobile phone versus 37 minutes on a computer. Moreover, Statista says that from 2015 to 2018 the data consumption on mobile gadgets has grown from 7.29 million gigabytes to 211 million gigabytes. And with the spread of the 5G technology, experts expect that there'll be 155 million 5G subscribers by 2024 in Western Europe.
All this data signifies that the world is gradually turning mobile which will result in businesses significantly reducing desktop software development and investing in the development of mobile apps.
The trend of switching to mobile apps is already visible. For example, when developing websites, companies also invest in responsive design to be mobile-friendly, so that users feel no difference when accessing websites from mobile phones.
Conclusion
Outsourcing is a quickly growing and developing realm in the IT sphere. Every year there appear more and more competitive outsourcing companies that are ready to offer top-notch software development services. Besides that, these companies stay on top of the last tech trends which help them to develop innovative and high-quality products that can easily satisfy almost any market demand.
Meanwhile, along with the adoption of new technologies, IT outsourcing companies should take a customer-centric approach. It means building transparent and trustful relationships  with their customers, encouraging them to actively participate in building the solutions that really meet their business needs.
You may also like: Things to Consider Before Outsourcing any Business Activity
Image source: Pexels.com