Click here to get this post in PDF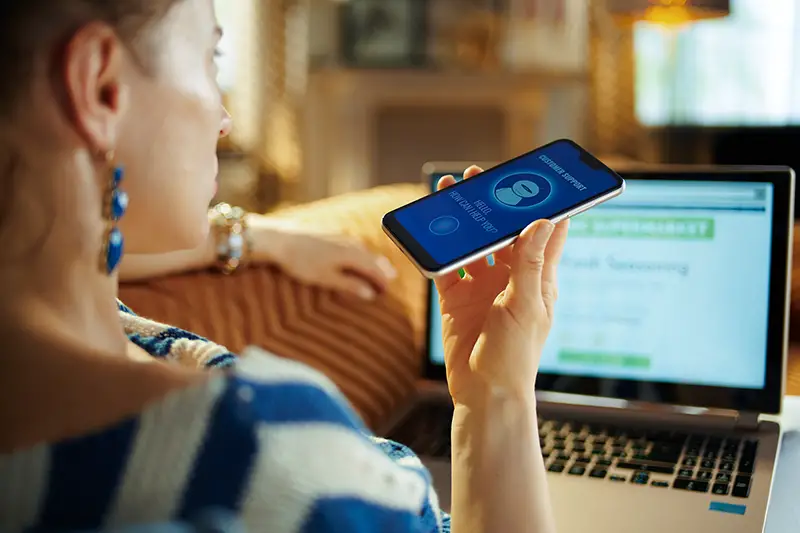 The e-commerce industry is growing rapidly. The increasing number of customers and competitors has forced companies to look for innovative technology solutions to meet customers' demands and improve user experience. The eCommerce industry creates tons of digital data that need to be analysed accurately to understand trends and customer preferences. 
Artificial intelligence and its implementation is a hot topic in every industry as it enhances the precision, speed, and effectiveness of human efforts. Voice eCommerce powered by AI is the latest technology trend, and many eCommerce platforms have deployed ecommerce voice ai solutions. 
Here are the top benefits of choosing AI solutions for your eCommerce business. 
Ease of Use
As per recent data, around 230 million people own smartphones in the US, and around 79% of smartphone users use their mobile for shopping. Imagine trying to hold your phone and type on one hand while travelling. 
Even looking for products on eCommerce apps, especially via typing, is no easy task. A voice search can make things easier for the customer. All he needs to do is hold the phone and speak in the microphone to search for products. 
Ecommerce AI solutions can take the voice search further by checking the interests of the customer and giving him the right options in the search panel. All this can save time and also enhance the overall shopping experience. Since search has become more customer-centric on e-commerce platforms, voice AI solutions can be magical for customers. 
Customers' Experience Is More Personalised 
With thousands of eCommerce platforms to choose from, the customer has lots of choices when it comes to choosing the online places to buy from. Personalisation has become crucial for businesses to connect with customers and retain them. 
Voice AI solutions can analyse comprehensive customer data like browsing history, past purchases, wish lists and recommend products accordingly. It will save customers time as the products will be listed right in front of customers' eyes, and they can make the buying decision. 
Streamlined Catalog
Ecommerce platforms have a very large product inventory. However, bombarding customers with unwanted products on the screen can hamper the user experience. 
The Visual AI solution does the best streamlining of the catalogue. It enables eCommerce companies to place the right products in front of customers at the right time. 
The same formula can be applied to the extendibility of the products. The Voice AI solution can introduce new products to the customers based on their interests or past purchases. For example, if the customer has bought an iPhone, AI solutions can recommend wireless chargers or other useful accessories that can enhance the productivity of the iPhone. 
Quick Sales
Ecommerce platforms need to introduce functionalities that can help in quick sales. The voice AI solution makes the whole purchase process fast-paced with zero quality compromise. 
It allows eCommerce businesses to convert potential customers into buyers. If the eCommerce platform focuses on maintaining high security for the customer, they can increase sales by many folds. 
Time-Saving
Digital transformation is good for any business, but voice commerce is superior. Ecommerce companies can shortlist command results that are generally used by customers for various actions performed by customers when shopping on the website. 
These are a few benefits of choosing AI solutions in eCommerce. If you are an eCommerce retailer, you should consider employing a voice AI solution to give your business that competitive edge. 
You may also like: Get eCommerce Done Right With A Shopify Development Partner
Image source: Shutterstock.com