Click here to get this post in PDF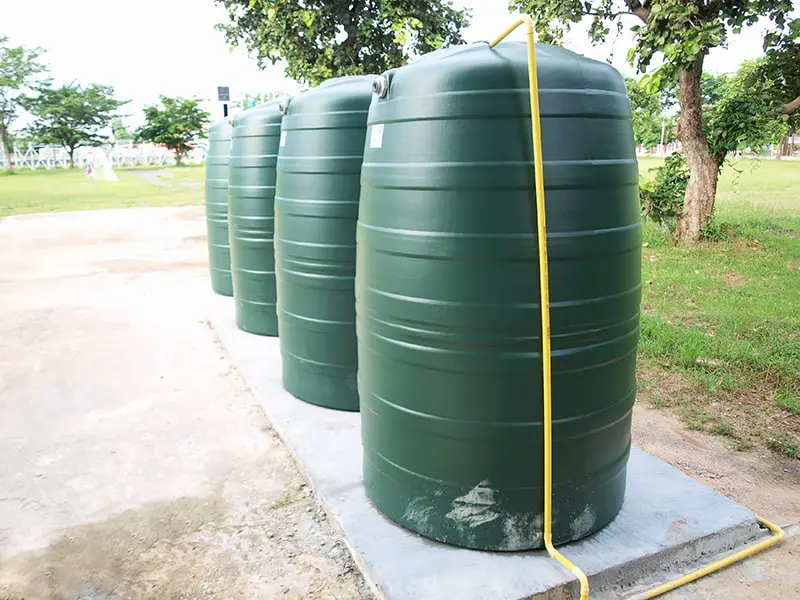 The base is the first section of the water storage tank that actually touches the ground. It is, therefore, very important that you prepare a ground that's directly proportional to the actual size. Remember, once you've filled the tank with water, it becomes very delicate, such that it can easily break due to the pressure exerted by the water.
When choosing a base for your water tank, there are several factors to consider, such as size, stability, and whether you want a concrete or sand base. Although the two are designed for the same task, they vary in terms of price and durability. If you're not sure how to go about preparing your water tank's base, this article is designed to help you through the project.
Choosing The Right Material
There have been several cases of water tanks splitting after being filled with water. One reason why this happens is because the owner didn't choose the right design or material to go with the larger tank at this site or due to poor construction plans. Of course, you have a lot of options to choose from, but that doesn't mean all of them are ideal for the size and type of tank you bought. Here are some of the materials and their features:
Concrete is the most common type of base used by many storage water tank owners. One reason why people prefer it to other materials is the fact that it's quite durable when installed correctly. Such bases are designed to handle any water spillages that may result from overflow. Nonetheless, it's still advisable that you install drainage channels to drain this water as it could be somewhat damaging in the long run.
If you're looking for a cheaper option, then, you might want to consider using sand. Another advantage is that it's very easy to set up, and you could do it without the help of a professional. However, sand has its challenges when it comes to weather changes. It's regarded as a seasonal structure because it can only last during dry and calm seasons. You might want to construct a stronger base if the rains and storms are on their way because sand can easily be swept away, and that will be a huge loss.
Another reasonably affordable option is pea gravel, and it's a lot more compact than sand. As such, it can easily survive the storm seasons, which makes it a solid alternative to what you might already have. What makes it even better than sand is its ability to filter out water very quickly, hence, preventing dampness. However, you need to support it to get the best out of it.
Factors To Consider
Having a stable storage tank will ensure that you don't experience water damage whether in your business or at home. Therefore, even after choosing the best option for your base, there are a few things that you still need to keep in mind. These are:
Before you place your tank on the base, make sure that the surface is clear and that there are no rough or sharp edges that could cause problems. This is always an issue with concrete bases, where rocks are left scattered on the surface. You'll not notice at first, but after placing the tank and filling it with water, it can easily crack. Therefore, it's always best to sweep the base once the preparation is complete.
Don't Use Two Bases At Once
This might seem like an obvious point, but many people still ignore the importance of using a uniform base for their storage tanks. You might be tempted to use concrete on one side and sand for the other half. Of course, this will work for the first few days, but, once it rains, the sand will be swept away. The repercussions speak for themselves, therefore, make sure that you choose one type of base at a time.
Use Mesh For Your Concrete Base
Reinforcing your concrete with mesh means that it will be stronger and can support even the heaviest of tanks. Also, it prevents the concrete from breaking down with time. As such, you'll get a lot of years out of your newly designed base.
Sand and gravel might appeal to you due to their inexpensiveness. Well, you already know the main disadvantage that comes with a sand-based water tank base. The best way to counter this drawback is by supporting the sand to prevent it from spreading away during rainy seasons. Also, make sure there's an effective drainage system around the tank.
Conclusion
Preparing a base for your water storage tank might be an intimidating task for beginners. However, once you know how to choose the right type for your particular needs, you'll not face any significant problems in the future. Whether you decide to use concrete, sand, or gravel, it's important that you understand their features and be ready for the demands that might arise in the future.
You may also like: Helping Your Business Recover from Water Damage