Click here to get this post in PDF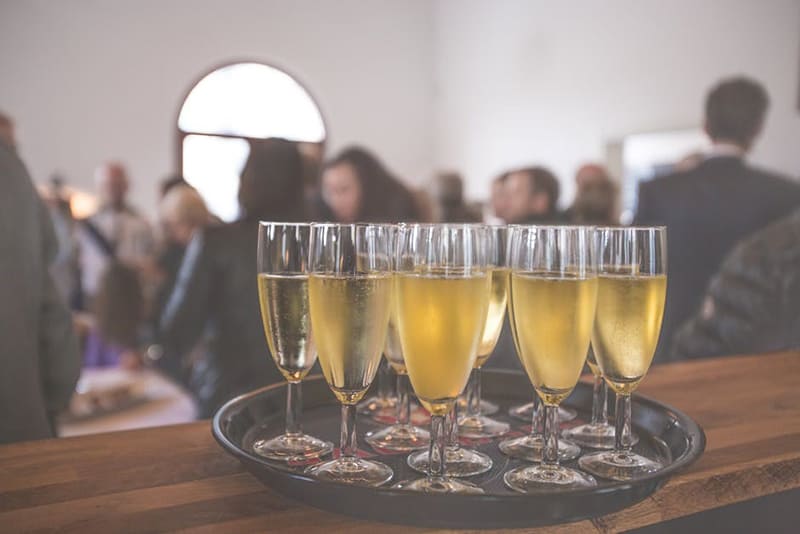 The office's party's coming up next week and you're already spending sleepless nights.
But it's not all the fun you're having that's keeping you awake.
You can already see it in your mind's eye. Everyone standing around, a drink in hand, having awkward work-related conversations that quickly die out.
A couple of brave people try to hit the dance floor and quickly give up. The passive crowd somehow seems to suck out any and all dynamic energy from the room.
Can this vision of horror be averted? Not with that attitude!
Having a fun office party is a surefire way of breaking the ice created by the everyday professional requirements.
The party environment is ideal for people to loosen up, have fun together, and get to know each other better.
As a result, your coworkers' moods will improve and they'll become more tight-knit. A team that likes working together is a more productive team.
Whoever said office parties can't be fun hadn't read this article.
We'll review 10 essential tips to make your office party a success and have people ask you for more.
Read on before you party on!
1. Include Everyone
As you start preparing the party, make everyone feel involved in it.
If people feel they have a say, they'll be more committed. And more commitment means more fuel for your party.
Ask around for people's preferences. What venue would they like? What type of food and music do they want?
Create a space to gather their input. Make a Facebook group or create a poll. Put a suggestion box in place to share ideas.
2. Create a Buzz
You want to draw people's attention to the party that's going to take place. You're raising awareness and building up anticipation, just like a movie trailer.
If you manage to make people think this party's going to be awesome before even going there, then they'll be enthusiastic about it.
And if they're stoked about it, they'll make it awesome by showing up with a great attitude.
Belief is a powerful tool. You're engineering a memorable party just by convincing people it's going to be exceptional!
Create a buzz by having people talk about it. Build a fire and feed it until it sustains itself.
Then, deliver a great party.
3. Pick a Special Venue
You want to have a suitable venue for your awesome office party. You've built up expectations, now it's time to meet them!
If you've done your homework and asked around for people's opinions, they've probably already given you a handful of good suggestions.
You want the place to be dynamic and foster interactions. It should be elegant enough to give people the sense that they're being treated with consideration.
It should have something for everyone: a relaxed space for those who just want to relax and have a conversation, and more open areas for those who are feeling livelier.
And of course, you can't have a proper party without a dance floor!
Get a portable dance floor for when the temperature rises and everyone has the uncontrollable urge to dance.
4. Have Delicious Food
Food and drink are essential components of your exceptional party.
Depending on your crowd, make sure to offer vegetarian and vegan options. A buffet can be ideal to offer a large variety of foods. It's also very congenial as people can just eat at their own pace and keep the conversation going.
Although you don't want to overextend yourself. It's better to have fewer choices and better quality than an overabundance of mediocre food.
So, keep it simple but use excellent ingredients.
5. Have an Award Ceremony
People like to feel acknowledged and appreciated.
An award ceremony is a great way of keeping people engaged as well as giving them something to talk about.
It's a perfect event to mix seriousness and humor. You can use it as an opportunity to recognize the merit of each employees in front of the whole firm.
But it can also be an occasion for great comedic value. Don't make it overly serious and work-like. After all, it's a party!
So, make sure to acknowledge your coworkers' outstanding work, but make it personable and light-hearted.
You can be sure that everyone will still be talking about it long after the party. This is how great memories are formed.
6. Create an Ambiance
Make your party feel like a party!
Lighting is very important in creating an atmosphere that'll make people want to have fun.
Use spotlights of different colors and place them in strategic places to make the room look cool.
Change the settings to influence or match the mood as the evening goes on.
7. Play Great Music
Naturally, music is a vital part of a successful party.
Hire a DJ if you can afford it. Their whole job is to keep the party going and engage everyone.
If not, make sure to play music that people can dance to. Read the room and be ready to switch genres if you don't sense a great response.
Prepare several playlists in advance so that you don't get caught off guard.
8. Karaoke
Karaoke is fun.
Whether it allows Stacy to show off her amazing singing skills or Kevin to sing terribly off-key, karaoke is a very entertaining activity.
It'll keep people focused and give them a sense of anticipation as they're waiting for their turn to sing.
9. Team Building
The office party's an excellent opportunity for team building.
Team building has become quite popular, and not without reason. It allows everyone to feel integrated in the company and build closer bonds between employees.
Make your coworkers happier and more productive by giving them a sense of belonging.
10. Support a Charity
Consider helping a local charity.
Ask everyone to bring donations or canned food to help the needy. Don't forget to set up suitable means of collecting the donations.
Make it a theme for the party. It'll give it a deeper meaning and expand its scope.
Now, it's not just an office party, but an event that's meant to give something back to the world.
Fun Office Parties Aren't Just a Myth
Now you have 10 essential tips to make a fun office party that everyone will remember.
Make sure to grab people's attention and keep them engaged in the event you're organizing. Then arrange thrilling activities and provide them with quality food and drink. Make people feel emotions and they'll talk about your party long after it's done.
Also read: Life of the Party – 4 Tips for Nailing Your Next Staff Event