Click here to get this post in PDF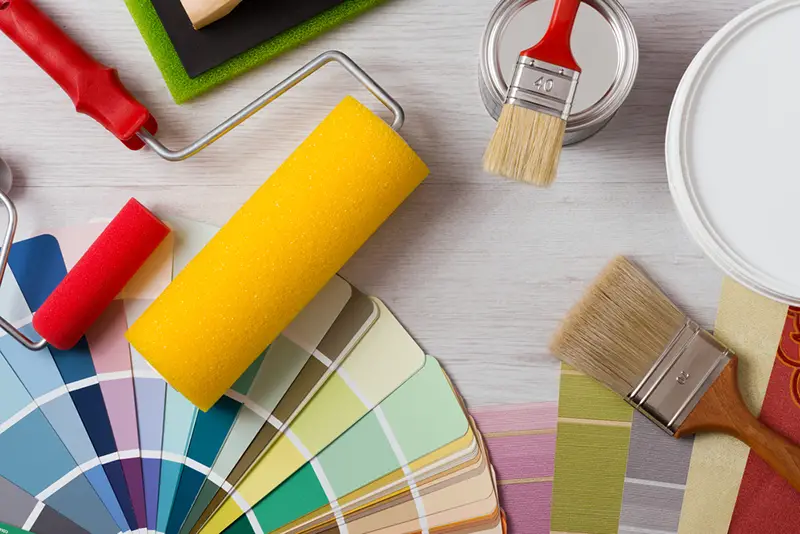 Finding the exact paint colors for the working spaces and home will always make a big difference. After all, this is the very backdrop for all the interiors and furniture present. With the right process of interior house painting, people will be able to express themselves and enjoy their spaces.
So, to skip the do-overs, listed below are some of the finest paint colors to match every interior. This helps people looking for certain shades for specific spaces, colors to blend with the aesthetic, and recommendations to make every room more organized and better than ever.  For room make-overs, you could hire a professional house painter near you, especially if you don't have any experience in wall painting. In addition, having the perfect interior paint color brings out the vibe a certain room must provide; for example, a bedroom must be comfy, and the living room must be welcoming. 
Neon Pink
Commonly used by a famous designer, Jonathan Berger, Neon Pink gives out eye-catching, intense, and adventurous vibes; a great choice in creating an awestruck-like first impression. A perfect color to make a warm welcome, this can be used within the foyer or the hallway to embolden it. Although this seems a little feminine, this can also be used as an accent for darker colors like wooden brown and dark gray to profound masculinity.  
Ultra-Light Mint Green
Since pastel color and vintage vibes have been in the trend lately, this color is the best one to partner with any hippie. A perfect choice to brighten up some old Boston Rowhouse, ultra-light mint green gives off a warm and rusty vibe. Popularized by Jae Joo, a well-known designer, a fresh coat of this paint comforts the exposed brick-accented walls, artwork, and railing. With the right dresser, space will surely be filled with history and character of a smooth balance. 
Gray Brown
Another trendy color, gray-brown is the perfect interior for rooms with minimalistic themes. Being a neutral color, this gives off a "go for impact" vibes and is a great partner for any unusual seating or colorful artworks. For example, people can play with this gray-brown background and accent the room with pink and lavender accessories and pieces of furniture – this set-up creates a less vapid aura that most people find relaxing. In addition, this color is commonly used in any space like the hallways and bedrooms.
Dutch Blue
Fans and individuals who have enjoyed Mamamia will surely enjoy this color. Dutch blue is a great color to make any room fun and vibrating. In fact, popular designers like Fitz Pullins have opted to use this bold blue color to establish a fun daytime and a dressier evening. To perfectly touch up the image, people can also add accents like neon or rusty blues around each corner.
Violet
Although this isn't usually used to paint the whole walls, violet is a great color for patterns and accents. As such, with the right swirls and shapes, this can mimic the effect of any wallpaper; in particular, people can use violet to complement backdrops like butter-cream colors to elaborate wooden furniture and bright-color chandeliers. Furthermore, this is advised to be used in kitchens, where the usage of wallpapers is out of the option, to neutralize cabinets and the space for island ground.
Flat Black
For urban houses or structures built with scenery, Flat black is a great color to help accentuate large windows and foreground views. Commonly used by some Architects for their projects, this helps dress up and contemporize every family's kitchen spaces, giving off modern yet aged vibes. To accent it, experts recommend using dark red ensembles and brown furniture with the addition of hanging or bushy plants to create a comforting vibe.
Dusty Pink
For people who wish to get a retro or vintage vibe, dusty pink is the best partner for interior house painting. This nice pastel rose color vibrates a very sweet and romantic aura that's great for bedrooms and living rooms. With its mysterious smokiness that was softened by the whimsical accents, dusty pink revitalizes chic and exuberant femininity. To create renditions, designers like Jonathan Berger have recommended using floral patterned sheets, dark gold-accented furniture, and some creamy or clean white accessories. For sure, women of all ages will long for this.
You may also like: Improve Your Interior Space with Biophilic Design
Image source: Shutterstock.com