Click here to get this post in PDF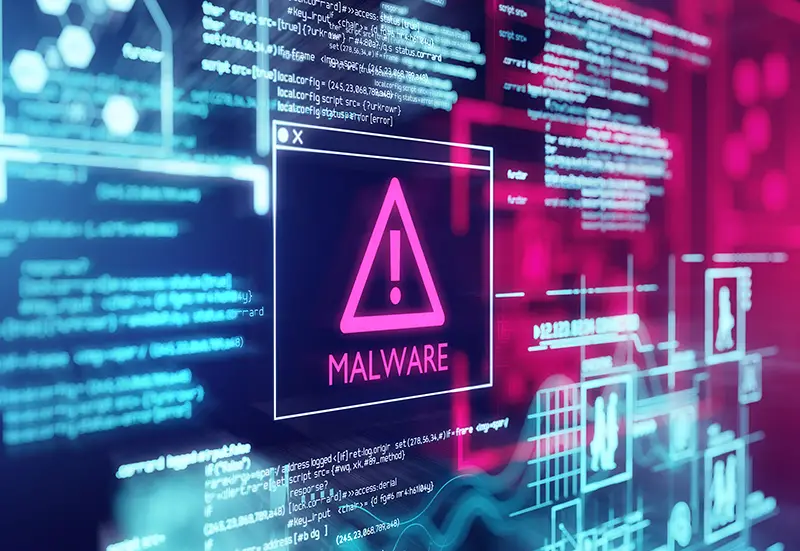 Businesses have a lot to worry about these days. Keeping your head above water can be challenging, from competition to economic fluctuations. But one thing some firms may have not considered is the risk of cyberattacks, specifically malware infections. 
Unfortunately, malware is a very real danger for businesses of all sizes and can cause serious damage in a short amount of time. In this blog post, we will discuss the types of malware that can affect businesses and what you can do to protect your company.
What is malware?
Malware, short for malicious software, is a program designed to damage or disable computers, networks, and other IT infrastructure. 
In most cases, malware is spread through email attachments or over the internet via malicious websites. It can also be spread through USB drives or other removable media. Once a system is infected, the malware can spread quickly to other systems on the same network.
What are the different types of malware your business has to look out for?
There are many different types of malware, but some are more dangerous than others. Here are four of the most dangerous types that can affect businesses:
1. Ransomware
Ransomware is a type of malware that encrypts files or data on your system and demands a ransom, usually in Bitcoins, to decrypt it. This type of malware can be especially dangerous for businesses because it can prevent companies from accessing important data or files. Ransomware can also spread quickly to other systems on the same network, making it difficult to contain. Some cybercriminals also threaten to leak sensitive data if the ransom is not paid.
2. Viruses
A virus is a type of malware that can replicate itself and spread to other systems. Viruses can corrupt data, delete files, or slow down your system. In some cases, viruses can also give cybercriminals access to your system to steal sensitive data or install other malicious software.
3. Worms
Worms are a type of malware that is able to spread itself and replicate without the need for a host file or program. This makes them especially dangerous, as they can quickly infect an entire network of computers. Worms can also be used to launch distributed denial-of-service attacks, which can take down websites or IT systems.
4. Adware
Adware is a type of malware that displays unwanted advertisements on your system. This can be annoying and intrusive, but it can also lead to more serious problems like identity theft or data leakage. In some cases, adware can redirect you to malicious websites that will infect your system with other types of malware.
5. Spyware
Spyware is a type of malware that collects sensitive data from your system, such as passwords, financial information, or browsing history. This data can then be used for identity theft or fraud. In some cases, spyware can also be used to monitor your activity or track your location.
How can you protect your business from malware?
There are many things you can do to defend your organization from malware attacks, including:
1. Educating your employees about cybersecurity risks and best practices
One of the best ways to protect your business from malware is to educate your employees about cybersecurity risks and best practices. Employees should know how to identify phishing emails, spot malicious websites, and avoid downloading untrustworthy software. You should also have a policy in place for reporting suspicious activity.
2. Installing and updating security software
Deploy antivirus, antispyware, and firewall software in your IT infrastructure. Be sure to keep them up to date with the latest definitions and patches so they can effectively protect your systems from new threats.
3. Backing up data regularly
Backing up your data regularly can help you recover from a malware attack quickly. Be sure to store backups on multiple external devices (e.g., flash drives, external hard drives) or on the cloud so they can't be corrupted or encrypted by ransomware. 
4. Partner with Fidelis
If you're looking for reliable IT support services in Portland, Fidelis can help. At Fidelis, we will monitor your IT infrastructure 24/7/365 and handle all cyberattacks before they can cause downtime to your business.
You may also like: Why Cybersecurity Is Everyone's Responsibility
Image source: Shutterstock.com