Click here to get this post in PDF
Curious about the many benefits of outsourcing IT services? Luckily for you, we've got a tech 101 refresher course just for you!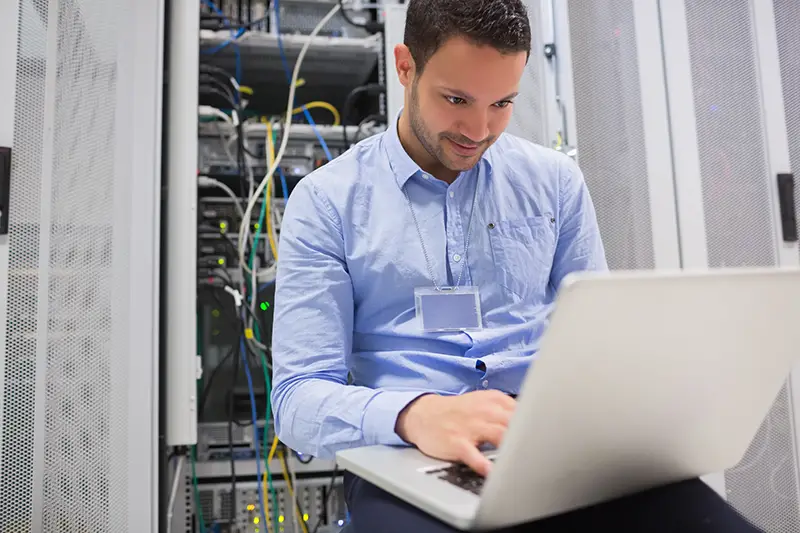 Did you know that there are over 30 million small businesses in the US? Many have taken advantage of the strong economy of the last few years to start their own business. 
However, we live in competitive times. In order for a business to continue its growth, it needs to have a solid IT infrastructure to support it. How can a business develop this? Many are outsourcing their IT needs to IT management companies. 
Do you want to know what an IT management company can offer you? Why not take a few minutes and read our tech 101 article about IT management outsourcing.
1. Personnel Availability
Outsourcing IT Services can give you access to skill sets and talent that you would not normally have in an office environment. You do not have to spend time with HR companies or arrange for the training of current IT personnel. IT management companies come with reliable and experienced personnel that can immediately have an impact on your teams. 
Further, these skills will always be available. An IT professional in your company will need vacation time, sick time, and time away for other unforeseen circumstances. An IT management company will provide a 365 day per year service that does not go on vacation.
2. Increased Skill-Base
Depending on your field, your company will need to take on any number of skillsets to maintain progress. For marketing businesses, this would include SEO strategy experts and project management. 
When outsourcing your IT needs you can literally choose a company that specializes in your field. They can immediately provide guidance regarding best practices and tools for increasing efficiency. The IT company may not be part of your business, but it is their goal to progress and add value to your business.
3. Scalability
The business world of 2020 is volatile, to say the least. This should not deter businesses. However, they should build resilience into their business plan. A key factor in this is the ability to quickly scale-up, and back, their resources. 
Hiring staff means that you are bound to a contract regardless of the speed or the success of your business.
For example, taking on permanent staff to manage network infrastructure and security could turn into a burden if your business contracts or changes directions and does not need a large network. Likewise, if a company expands quickly a company may find themselves hiring new staff constantly to meet this need. 
This is not the case with an IT management company. You simply contract for the staff you need at a given time. If you need more you increase your contract. If less you simply reduce your support level.
4. Controlling Costs
External IT management companies can reduce costs in a number of ways. First, they bring efficient and up-to-date tools and work practices to the company. As they are applied, workflows are often simplified and savings accrued. 
However, companies that manage all IT functions in-house, have to payroll highly skilled professionals to join their IT department. These costs are then passed on to the customers of the company thus affecting its competitiveness. 
5. Focus on Core Operations
A company's IT needs, including the hot topic of security, are a large responsibility. Delegating them to an outside service provider means that the anxiety of caring for these areas is also removed. 
It is often easy to focus lots of time and energy on supporting the company rather than identifying its goals and progressing towards them. Removing unnecessary work allows managers to drive the business towards their core objectives.
6. Access to Resources Large Businesses Use
Small businesses can grow very quickly. However, it is difficult for even competent managers of small businesses to know how a mid or larger sized company is run. They may lack experience in knowing what personnel levels they should aim for, what project management software they can employ, and similar subjects. 
External IT companies work with a number of clients and can give guidance regarding what working practices are being employed by similar businesses.
7. Security
The world is more connected than ever before. However, there are also greater threats to businesses than before. Cyberthreats such as hackers, ransomware and even accidental data breaches can cost a business millions. 
Understand current threats and employing an infrastructure that is effective in countering them is a huge undertaking. Outsourced IT solutions allow you to maintain peace of mind as trained specialists protect your business.
8. Versatility
As businesses grow and adapt to their markets, they will need to quickly adapt their services to match. This could include the use of freelancers to increase the company skill base. in other cases, it could require the company to extend its IT services across the world as the company moves into international territories.
In any case, an IT management company can employ their experience and skillset to ensure that your business can move at the pace it needs to.
Tech 101 and Much More
Ensuring that your business is applying the latest security and organizational developments is a full-time job. Rather than constantly training in house staff, many businesses in 2020 are turning to IT management companies. They bring skills and expertise that can boost your team's productivity and creativity. 
Whether you are interested in tech 101 or the latest lifestyle trends we are here to help. We research and provide the latest in world developments and bring them to you via our feed. Why not follow us and see how we can help you to stay ahead of the curve. 
you may also like: Why Outsourcing Your Software Development Could Give Your Business an Edge?