Click here to get this post in PDF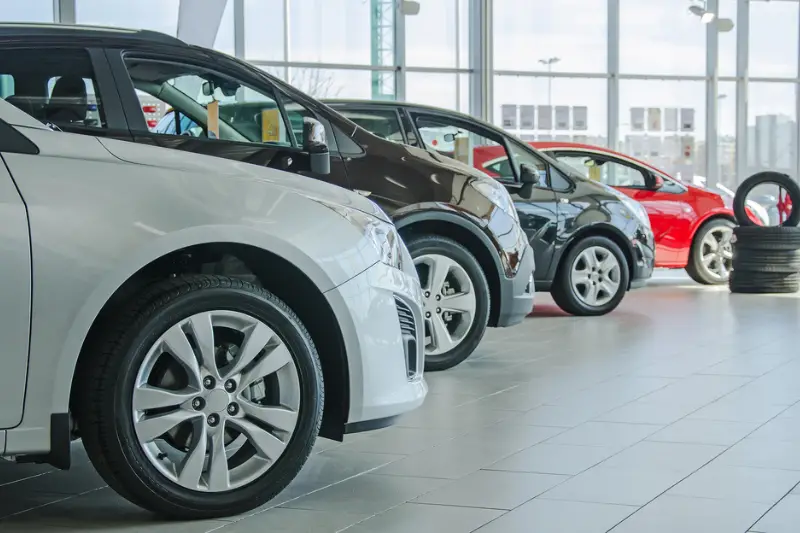 In today's fiercely competitive automotive market, standing out and growing your business requires more than just offering quality products and services. To stay ahead of the pack, automotive businesses need to adopt strategic approaches that not only attract new customers but also retain existing ones. In this article, we will explore five proven strategies that can help you grow your automotive business amidst intense competition. From creating a strong online presence to implementing targeted marketing campaigns, these strategies are designed to maximize your reach, enhance customer engagement, and ultimately drive sales. So whether you're a car dealership, an auto repair shop, or any other automotive business, read on to discover how you can gain a competitive edge and thrive in today's challenging market.
Understanding your target audience and market
One of the most critical aspects of growing your automotive business in a competitive market is understanding your target audience and market. By gaining a deep understanding of who your ideal customers are and what they want, you can tailor your products, services, and marketing strategies to meet their needs effectively.
To start, conduct thorough market research to identify your target audience's demographics, preferences, and buying behavior. This data will help you develop buyer personas, which are fictional representations of your ideal customers. With buyer personas in hand, you can create targeted marketing campaigns that resonate with your audience and drive engagement. Businesses like ECD Auto Design often time present their Range Rover Classic Inventory in ideal locations like lakes, off road, and even luxury housing. 
Additionally, keep a close eye on your competitors. Analyze their marketing strategies, pricing models, and customer reviews to identify gaps and opportunities in the market. By staying informed about your competitors' activities, you can adjust your own strategies accordingly and position your business as a unique and desirable option for customers.
Developing a strong brand identity and unique selling proposition
In a competitive automotive market, having a strong brand identity and unique selling proposition (USP) is crucial for attracting and retaining customers. Your brand identity is what sets you apart from your competitors and shapes how customers perceive your business.
Start by defining your brand's mission, vision, and values. What do you stand for? What promises do you make to your customers? Once you have a clear understanding of your brand's essence, incorporate it into every aspect of your business, from your logo and website design to your customer service interactions.
Your unique selling proposition is what makes your business stand out in a crowded market. It could be your exceptional customer service, high-quality products, or innovative solutions. Identify your USP and communicate it effectively through your marketing materials, website, and other touchpoints with customers.
Remember, consistency is key. Every interaction a customer has with your business should reinforce your brand identity and USP. By building a strong brand, you'll create a loyal customer base that will choose you over your competitors.
Implementing effective online marketing strategies
In today's digital age, having a strong online presence is non-negotiable for any business, including automotive ones. To grow your automotive business in a competitive market, you must implement effective online marketing strategies that help you reach a wider audience and build brand awareness.
First and foremost, create a user-friendly and visually appealing website. Optimize it for search engines by incorporating relevant keywords, meta tags, and high-quality content. Ensure that your website is mobile-responsive, as an increasing number of customers are searching for automotive services on their smartphones.
Invest in search engine optimization (SEO) to improve your website's visibility in search engine results pages. This involves optimizing your website's structure, content, and backlinks to rank higher in search engine rankings. Higher visibility means more organic traffic and potential customers for your business.
In addition to SEO, consider implementing pay-per-click (PPC) advertising campaigns to drive targeted traffic to your website. Platforms like Google Ads allow you to display ads to users searching for specific keywords related to your automotive business. This targeted approach can significantly increase your chances of converting leads into customers.
Lastly, leverage the power of social media. Create engaging and shareable content that showcases your products, offers helpful tips, and encourages audience interaction. Engage with your followers, respond to comments and messages promptly, and build a community around your brand. Social media platforms like Facebook, Instagram, and YouTube can be powerful tools for expanding your reach and attracting new customers.
Leveraging customer reviews and testimonials
In a competitive automotive market, positive customer reviews and testimonials can be the deciding factor for potential customers choosing your business over your competitors'. People trust the opinions of other customers, and they often look for social proof before making a purchasing decision.
Encourage your satisfied customers to leave reviews and testimonials on platforms like Google My Business, Yelp, and Facebook. Offer incentives for leaving feedback, such as discounts on future services or exclusive offers. Monitor and respond to all reviews, both positive and negative, to show that you value your customers' feedback and are committed to providing excellent service.
To further leverage customer reviews, consider featuring them prominently on your website and other marketing materials. Highlight positive testimonials that speak to the quality of your products, professionalism of your team, and overall customer satisfaction. This social proof will instill confidence in potential customers and differentiate your business from competitors who may not have such a strong reputation.
Building partnerships and collaborations within the industry
Collaborating with other businesses within the automotive industry can be mutually beneficial and help you grow your customer base. Look for opportunities to partner with complementary businesses that offer products or services that align with yours.
For example, if you run an auto repair shop, consider partnering with a local car dealership. Offer exclusive discounts or promotions for customers referred by the dealership, and reciprocate by referring customers in need of repairs to the dealership. This symbiotic relationship can help both businesses attract new customers and increase revenue.
You can also explore collaborations with local car clubs, car enthusiasts, and influencers within the automotive industry. Sponsor events, offer discounts for club members, or collaborate on content creation. By aligning yourself with reputable and influential individuals or groups, you'll not only gain exposure to their audience but also enhance your credibility and reputation.
Remember to approach partnerships and collaborations with a win-win mindset. Identify how you can add value to the other party's business, and be open to creative and mutually beneficial arrangements.
Providing exceptional customer service and experiences
In a competitive market, exceptional customer service can be a powerful differentiator for your automotive business. People remember how they were treated, and word-of-mouth referrals can significantly impact your business.
Focus on providing a personalized and memorable customer experience at every touchpoint. Train your staff to be knowledgeable, friendly, and attentive. Empower them to go above and beyond for customers, whether it's answering questions, offering personalized recommendations, or resolving issues promptly.
Consider implementing loyalty programs to reward repeat customers and encourage brand loyalty. Offer special discounts, exclusive access to events, or personalized perks that make customers feel valued and appreciated. Creating a sense of belonging and exclusivity can foster long-term relationships with your customers.
Additionally, invest in technology that enhances the customer experience. For example, implement online appointment scheduling, provide regular updates on service progress, or offer a digital platform for customers to track their vehicle's maintenance history. These conveniences not only improve customer satisfaction but also streamline your operations.
Analyzing and adapting your strategies for continuous growth
In a dynamic and competitive market, it's essential to regularly analyze and adapt your strategies to stay ahead of the curve. Monitor key performance indicators (KPIs) such as website traffic, conversion rates, customer retention, and revenue growth to gauge the effectiveness of your strategies.
Leverage analytics tools to gain insights into customer behavior, campaign performance, and trends in the automotive industry. Use this data to identify areas of improvement, optimize your marketing efforts, and make informed decisions about future investments.
Stay abreast of industry trends, technological advancements, and changes in customer preferences. Attend trade shows, conferences, and workshops to network with industry experts and gain valuable knowledge. By staying informed and adaptable, you can position your automotive business as an innovative and forward-thinking brand.
Case studies of successful automotive businesses in competitive markets
To illustrate the effectiveness of these strategies, let's take a look at a few case studies of successful automotive businesses that have thrived in competitive markets.
Case Study 1: CarMax
CarMax is a well-known used car retailer that has successfully differentiated itself in the highly competitive automotive market. They have built a strong online presence, allowing customers to browse their extensive inventory and even complete the purchase process entirely online. CarMax also offers a no-haggle pricing model, providing transparency and simplifying the buying experience for customers. These strategies have enabled CarMax to attract a large customer base and become a trusted name in the used car industry.
Case Study 2: Tesla
Tesla has disrupted the automotive industry by offering innovative electric vehicles and positioning itself as a leader in sustainable transportation. By leveraging its strong brand identity and unique selling proposition, Tesla has gained a loyal following of environmentally conscious customers. Their online marketing strategies, such as using social media to engage with their audience and hosting live events to unveil new products, have further contributed to their success. Tesla's commitment to exceptional customer service and continuous improvement has solidified their position as a market leader.
Case Study 3: Midas
Midas, a renowned auto repair and maintenance franchise, has successfully grown its business by focusing on exceptional customer service and building trust. They offer a comprehensive range of services, from routine maintenance to complex repairs, and prioritize transparency and honesty in their interactions with customers. Midas has also established partnerships with other businesses in the automotive industry, such as tire manufacturers, to provide customers with a one-stop-shop experience. These strategies have allowed Midas to stand out in a competitive market and become a trusted name in auto repair.
Conclusion and key takeaways for growing your automotive business
Growing your automotive business in a competitive market requires a strategic approach that combines a deep understanding of your target audience, a strong brand identity, effective online marketing strategies, leveraging customer reviews, building industry partnerships, providing exceptional customer service, and continuously analyzing and adapting your strategies.
By implementing these strategies, you can gain a competitive edge, attract new customers, and foster long-term relationships. Remember, success in the automotive industry is not just about selling cars or providing services; it's about creating exceptional experiences that leave a lasting impression on your customers.
So, whether you run a car dealership, an auto repair shop, or any other automotive business, embrace these strategies, stay ahead of the competition, and position your business for long-term growth and success.
You may also like: How sensors are the future of the automotive industry
Image source: Depositphotos.com