Click here to get this post in PDF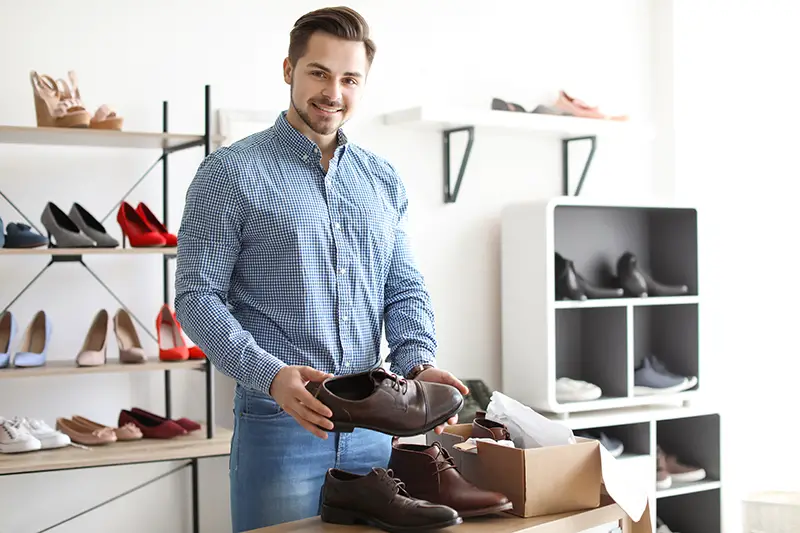 We are here with a new wholesale business idea. It is said that a journey of thousands of miles starts with a fabulous pair of shoes. 
Did you get the idea? Don't you?
Yes, I am talking about the shoe business. Shoes are considered both a necessity and a fashion. Regardless of gender, age, status everyone needs shoes. Most people have more than one pair of shoes for multiple purposes such as jogging, playing, formal wear, casual wear, kids wear, fancy wear the shoe, and many others. It is a versatile business and currently has a share of $100.479 billion globally (2020) and expected to increase by 7.1 % every year. 
Well, the value of the shoe industry must have impressed you. But you are thinking, is it easy to be a part of this empire?
Why not? We are here with a complete business set up guide in simple steps that help you to start the wholesale footwear business. 
Step#1 Business plan for the wholesale footwear business
A business plan is a rudimentary thing in any type of business. In fact, it contains all the necessary information and a list of activities that are necessary and should be followed step by step. Here is a list of some important features of a good business plan.
Set a vision and mission statement for business
The initial cost of business
Decide your target market
Business name 
Business location
Marketing strategy 
Information about management and their roles
Product line 
Profits margins.
Step#2 Select your target market 
An important step in starting a wholesale business to select your target market. Footwear is a vast industry. At first, you cannot play in all fields. Choose your playground before choosing any product. You can choose your category on different bases. You can choose a single market class and then can add up to it to increase your product line. Whatever your target market is, provide them with quality items.  There is some footwear option for different classes
Women footwear
Men footwear
Kids footwear
Casual footwear
Formal footwear
Athlete footwear
Step#3 Find reliable manufacturers
Now we are at the 3rd step. We need reliable manufacturers or wholesalers for our wholesale footwear business. In this modern world with advanced technology, it is not difficult to find reliable wholesalers. But one thing is very important, you need to check out their returning policies clearly.  There are some important ways to find reliable footwear
Trade shows
 Trade directories
 Social media
 Business relationships
Online wholesalers 
Step#4 Fulfill the legal requirements
The next step in finding the wholesale footwear business is to fulfill all the legal requirements. Legal requirements mean you need to register your business with your state.  This way you can easily achieve the support of the government in every aspect of the business. That gives you mental satisfaction and many other advantages. 
Step#5 Setup physical location
The location of your business helps in achieving your target profits. Your accessibility to suppliers, management of warehouse and office working these all are directly affecting your income. Select a location that is easily accessible. 
Step# 6 Digital presence
In this digital world do you really think, one can get success without the digital presence? No matter what business they are doing or what product they need people to tend to explore the internet. So, if you are interested in running your business with the profit you must go online to present business. Give your customers a chance to explore products online and you will see an increase in traffic. 
For this purpose, many online platforms are available like Alibaba, Amazon, and Seebiz. How you will decide which place is right for your wholesale business? We recommend you to use SeeBiz omnichannel platform as they offering you free registration. Here you can confirm your digital appearance with less effort. They allow you to contact with thousands of suppliers and wholesalers directly. With the help of this platform, you can operate your business on your screen.
Step#7 Promotion of your brand
Another important step in the promotion of your brand. Before discussing this step, why don't you answer me one question: how you can contact someone even if you don't know about him/ her? The answer is simple: it is not possible. Same without branding your business, never expect to achieve the target. In this technologically advanced world, you have hundreds of options to promote your business. Keep your budget in mind and choose the most appropriate promotional technique. 
Step# 8 Setup accounting system
Money and investments are the most important thing in any business.  As the main objective behind the footwear business is to earn a profit. So, for maintaining a complete check on your incomes and expenses a good accounting is necessary. Maintain your books for each and every transaction.  So that can conclude the final results. Is your business making a profit or not?

Step# 9 Get insurance plane
Life is unexpected and the same goes for business. Accidents may happen at any time.  That is necessary for you to get an insurance plan for your footwear business. That will help you in any accidental situations. It can be optional for you but it is considered necessary. Because in business profits and risks are always directly proportional. High profit-generating businesses have higher chances of risk. The insurance plane cannot eliminate the chance of risk but compensate you to some extent.
Ending Lines
The starting of any business is a slow and tolerating process. We provide you with all the basic steps to start a footwear wholesale business. Your determination is necessary.  As slow but steady always win the race so develop a consistent behavior. Your effort's outcomes will be in the establishment of business with high profitability.
You may also like: Small Leather Goods Wholesale Process