Click here to get this post in PDF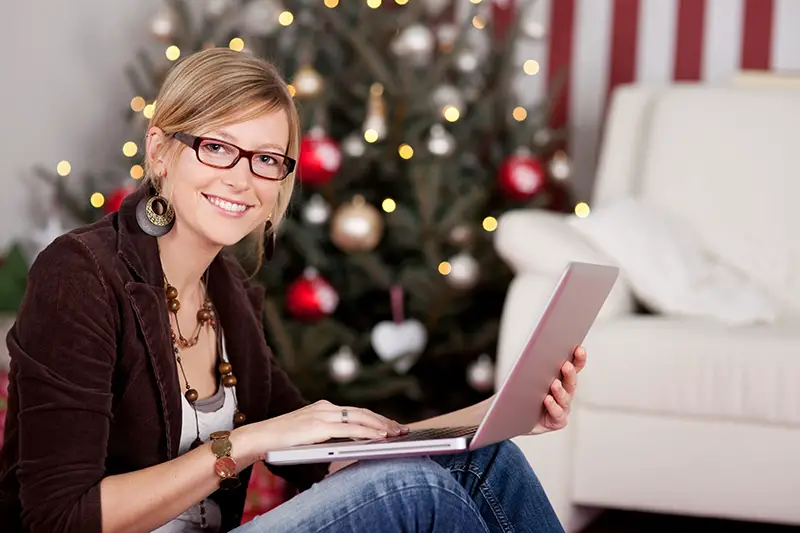 Even people who are now well-accustomed to working from home know that additional challenges can arise during the holiday season. For example, maybe you've been a remote employee in a relatively quiet house while your kids were at school, but are now concerned about keeping your mind on your duties while they're enjoying their holiday breaks. 
Here are eight tips to help you stay productive during the holidays — no matter what distractions arise.
1. Create a Dedicated, Inviting Workspace
Many people struggle, at least occasionally, with the solitary nature of working from home. Other people find it difficult to focus when trying to separate work from the other things that happen in their homes. If you sit in your living room near your TV, smart speaker and children's toys scattered everywhere, you'll undoubtedly have trouble concentrating.
Consider how you can set aside a dedicated workspace that provides some privacy. If having a whole room to yourself is not a feasible solution, room divider panels could create visual barriers that help you buckle down and remind others you're working. 
Next, figure out the best ways to turn your workspace into an area where you genuinely like spending time. Maybe that means buying a Christmas tree-scented reed diffuser to get in the holiday spirit or investing in a floor lamp that brightens up the area. Adding these accessories won't replace face-to-face interactions, but they could put you in a better state of mind to get everything done despite working alone. 
2. Use Noise-Management Solutions
Your home may become a louder place during the holiday season. Maybe you can hear your son trying to coax the family pet to wear a Santa costume while the dog barks and whines in protest. At the same time, your daughter and her two friends are in the kitchen making gingerbread cookies and singing holiday classics energetically and off-key.
Such situations can become miserable when you're trying to work. It's even worse if people in your household become unintentionally disruptive, and you don't want to spoil their fun. 
Check out noise-management solutions to see if they could help. For example, white noise machines can mask background noise. If your job requires spending lots of time on phone or video calls, noise-canceling headphones could become a wise investment. 
3. Set Ground Rules for the Household
Having honest discussions with your family about your work-related needs can help immensely in ensuring everyone feels heard and understands their role in helping things go smoothly. When several people use your internet connection simultaneously, performance could decline across the board — and your productivity could plummet. 
Sit down with everyone in your home and try to reach an agreement about internet usage, noise levels and other specifics. Distractions and conflicts are inevitable in multiperson households. However, you can reduce them with relatively simple strategies that all residents or visitors follow as applicable.
For example, you might make a bicolored sign to hang on your home office door. Ask people not to interrupt when you have it flipped to the red side, but encourage them to come in to ask quick questions when it's green. Or, imagine you have a Zoom meeting every Friday at 2 p.m. with a client. In that case, you may ask your family to avoid online entertainment such as gaming and movie streaming for the hour between 2 and 3 p.m., because those things could slow the connection as you work. 
4. Check on Kids and Pets During Your Breaks
You probably use breaks to stretch your legs, get some fresh air or refill your coffee cup. Those are worthwhile activities, but you should also consider taking the time to check on children and pets in the household during those periods. 
Devoting your attention to them accomplishes a couple of crucial things. Firstly, it provides peace of mind that can help you stay committed to your responsibilities. Regular check-ins allow verifying that everything is OK — preventing you from thinking the worst. 
Moreover, spending even a minute or two of a break to congratulate your 12-year-old for finishing his book and thanking him for choosing a quiet activity helps both of you feel good. The same goes for pets that become delighted when you pet or play with them in passing before heading back to your office for a virtual team meeting. 
5. Maintain the Proper Position
Many of today's workplaces have ergonomic chairs, under-desk footrests and standing desks to help people keep their bodies in the best alignment during the workday. However, you likely don't have such an extensive setup at home. Lacking these amenities could cause a decline in productivity due to stiffness and pain.
Fortunately, it's easier than you may think to prevent issues such as back pain. Sitting in the right position can make a substantial difference in how you feel. Experts recommend adjusting the height of your desk chair as a start. Set it up to have your elbows bent at 90-degree angles while typing and your feet flat on the floor. 
Next, assess your monitor's height. Many people have theirs too low, which requires them to bend their heads down while looking at the screen. If that's an issue for you, try raising it with a stack of books or a box. 
6. Explore How Technology Could Help
There is an ever-increasing assortment of smart home products for today's consumers to consider. Some of them could make you more productive. 
Home mesh Wi-Fi systems can eliminate the connectivity dropout zones that may occur in your house if you move too far away from the router. Many of those solutions also let you prioritize devices on the network to get the best performance when it matters most. 
Perhaps you hired someone to drive your child to a sports practice or walk your dog. A smart lock can allow authorized people to enter your house, so you don't have to interrupt your workflow to let them inside. Similarly, a smart doorbell allows you to see who's at the door from your home office. Many doorbell apps let you speak to visitors through your phone, too. 
7. Talk to Your Boss About Flexible Schedule Options
Companies often have flexible scheduling policies that could prove especially beneficial during the holiday season. Maybe you can start your workday at any time between 7 a.m. and 11 a.m. as long as you stay available and online for the expected duration. 
That arrangement could help you get some holiday shopping done before work. For example, you could select merchandise online, then choose a slot to pick up the products as soon as the retailer opens. Drive to grab the goods, then return home in time to start your day. 
Such flexibility can also assist with child care needs. Maybe you're working at home alongside your spouse, and the facility where you usually drop off your 8-month-old daughter has closed for a month-long holiday break. Could you do some or all your work outside regular business hours during that period to take care of her without requesting time off? Have detailed discussions with your boss to see what's possible. 
8. Learn Effective Ways to Manage Stress
The holiday season often causes typically easygoing people to feel more pressure. Maybe you're working hard to meet sales goals and become eligible for a year-end bonus. Perhaps you're worried about balancing the need to connect and celebrate with loved ones while staying safe during a global pandemic. 
Well-managed stress can sometimes have positive effects, such as increasing your motivation. However, prolonged stretches of anxiety can leave you feeling drained and frustrated. First, put things into perspective and realize what's within your control. Your 15-year-old may think the world will end if you can't get the PlayStation 5 on their wishlist, but that's an overreaction. You can register to preorder it, but you can't help it if the consoles sell out before you get one. 
Figure out what helps you keep stress at bay and think about what you could do to apply those techniques while working. For example, repeating a short phrase in your head, like "I'm doing my best," could stop you from going into a spiral of self-blame when circumstances beyond your control derail your day. Similarly, deep, conscious breaths can settle you down in seconds. 
Personalize Your Efforts for Maximum Results
Besides giving these eight tips a try, remember to tweak them to tackle your significant productivity challenges. Keeping your output high is a different battle when working in a home with four kids and a spouse versus being a single parent unlucky enough to have neighbors who love playing loud music during the day.
---
Productivity Tips for Remote Workers
---
You will almost certainly have extremely productive days, as well as some when it's much more challenging to keep your mind on your work. Embrace that reality and practice self-kindness. As long as you're giving your best effort — and your boss recognizes that — you're on the right track. Expect success during the holiday season and beyond. 
About the Author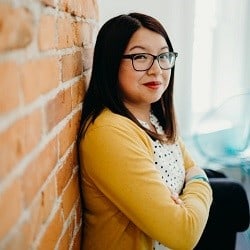 Lexie is a UX designer and IoT enthusiast. She enjoys hiking her Goldendoodle and creating new fudge recipes. Visit her design blog, Design Roast, and connect with her on Twitter @lexieludesigner.