Click here to get this post in PDF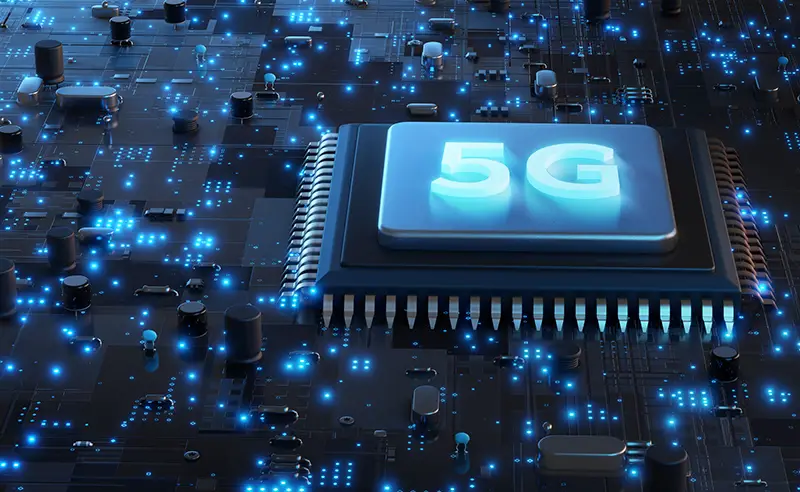 Have you ever heard anybody saying, "My internet is too fast"? We haven't, either. For some reason, people always want to speed up their connection rather than slow it down. And this reason has a name – 5G. Nowadays, this technology is in the shade of other news (not very surprisingly), but 5G continues to evolve. It's the future transforming into the present – before our eyes. Obvious beneficiaries of 5G development – besides mobile operators – might be semiconductor manufacturing companies that could have fared better throughout 2022. Let's see what performance they are showing in the 5G race and whether it's a good time to invest in them.
In 2022, stock markets were all in the red. Therefore, it doesn't come as a surprise that the share prices of semiconductor manufacturers went south along with the others. But semiconductors stand out from the crowd. Just take a look at the chart with Marvell Technology, AMD, Qualcomm, and Skyworks Solutions – this is their performance in the last 12 months.

Looks like a ski slope created by the crisis, a general decline in purchasing power, and sagging demand for chips. In addition, the Covid-19 pandemic managed to set an uptrend for the above-mentioned brands, that's why such a dramatic drop seems even more dramatic.

What a scenic landscape! Don't you just feel like you're on a trip to the mountains? You might be more inclined to enjoy this view if your portfolio doesn't contain any of these stocks. In any case, all the companies on this chart are 5G stocks, and this technology may become one of the growth drivers for them in the future.
Marvell Technology is engaged in the development of data infrastructure for carrier networks and is using its expertise in the construction of infrastructures at the intersection of 5G and cloud technology. 5G development could use some help; this is why Marvell is also teaming up with Nokia and Samsung. Analysts believe 2023 will be a great year for the company's stock. The average forecast is up to 70% in the next 12 months.
AMD also belongs to semiconductor companies – we're all familiar with its CPUs. But you might not be aware of the fact that the CPUs the company produces are the converging point between AMD and 5G technology. The company develops EPYC processors powering the most energy-efficient x86 servers. The idea behind this is to deliver exceptional performance while reducing energy costs. Such development may be of interest to mobile operators seeking to speed up 5G connections without going over budget. It remains to be seen whether EPYC processors can be that epic. 
In any case, let's check back in with them later this year – as experts predict that AMD will have a great 2023. The average forecast for its stock is an increase of 37% in the next 12 months.
Qualcomm is a legendary chipmaker. This semiconductor company designs and manufactures chips for Apple and other globally recognized brands. Qualcomm helped Apple to kickstart the line of iPhones supporting 5G. It's an open secret that iPhones are sold like hotcakes, which gives Qualcomm an opportunity to succeed alongside it. According to analysts, 2023 should be prosperous for the company and may bring the company's stock a 26% hike.
Another semiconductor company we mentioned above is Skyworks Solutions, which mostly produces chips used in cellular networks. The consensus forecast is more than 14% growth in the next 12 months.
Of course, average forecasts aren't a guarantee that all these stocks will show good results. That's why you should do your own analysis before you make any deal.
You may also like: Weird Connections Through The Market