Click here to get this post in PDF
At the university level, students can study several courses. Some of them are purely theoretical in nature, while others involve a lot of calculations. In order to solve problems related to different topics and disciplines, students need high-quality online calculators. Why do students need these software in the first place? How do they make things easier? The ultimate goal of solving any mathematical problem is to get the correct answer. If the output is incorrect, no one will look at the steps performed or the time spent on solving the problem. A good calculator will not make mistakes like people do. It provides users with accurate answers and does not require much effort.
The best calculator websites students should look at
When you are looking for online sources, make sure that complete attention is paid to quality. For instance, when you are searching for calculator websites, make sure about considering legitimate ones with a good reputation.
Here are some of the most reputed ones that prove to be helpful for students in particular
1.     Mera Calculator
https://www.meracalculator.com/
This is a credible website offering calculators for different academic disciplines. It is preferred by students studying at college as well the ones acquiring professional degrees.
This website has a systematic layout and calculators are classified according to the academic discipline. For instance, if you are looking for a physics calculator, there is an icon for it. Once you click it, all the tools that have been developed for related topics will be shown to you. It is a good option for individuals acquiring professional degrees in mathematics, finance and other disciplines.
People have concerns about reliability when they are checking calculator websites. At times, a tool seems dependable but when the user starts using it, accuracy problems are witnessed. Hence, things should be checked beforehand. The tools on this website are reliable and powered by strong programming techniques.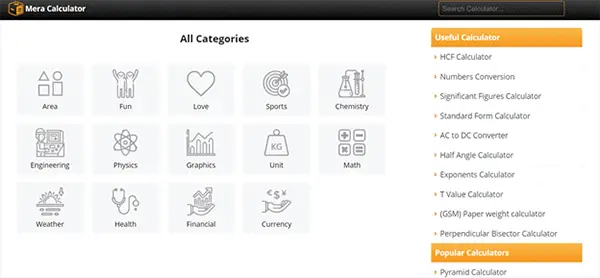 It can be a problem for users when they have to pay for online calculators. Certain websites offer paid applications but this one does not. All the tools available are completely free and no charges are applied. In addition to that, users can use them as many times as needed since no usage limitation exists. If you are looking for a credible website that offers online calculators on different disciplines, this is one of them.
It is hard for users to use a website with a difficult interface. At times, the site layout is complicated and users have to search for everything. This website has proper classification of calculators according to the purpose they are meant for. For instance, if you are looking for a fraction calculator, there is no need to search for it. You would be able to view it when the "mathematics" icon is clicked.
2.     Calculatoredge.com
http://www.calculatoredge.com/
College and university students need calculators for different academic disciplines including physics, mechanics and mathematics. It is always good to get hold of a website that covers all these areas. This website is one of them.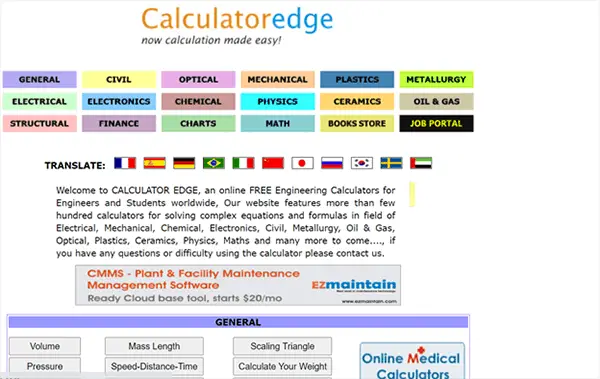 You can find calculators related to several disciplines on this link. Suppose that you have to solve 10 numerical problems on Ohm's law. This task can prove to be very tough if a calculator is not being used. While using this one, click the icon titled "physics". After that, you would be able to check all calculators that fall in that category. There is no need to click several icons and perform searches. Students mostly do not have a lot of time available on their hands particularly while solving assignments. They have deadlines to meet so websites with a simple way to use calculators work well for them.
3.     Aclula Calculators
This website is suitable for students who are seeking online calculators for Mathematics and Statistics. For instance, to solve percentage problems, this is a good website to consider. It has a dedicated tool for percentage calculation.
This website can easily be used by all types of users since the tools are free. Students search for such websites since paid tools don't work well for them. As a user, you do not have to worry about a sudden cost being applied as that does not happen.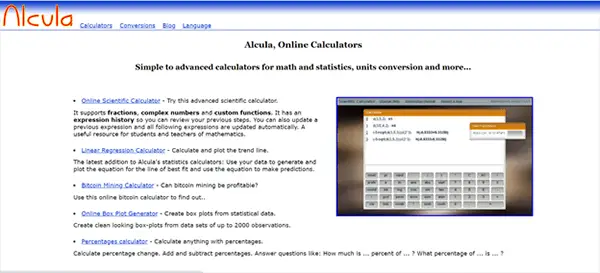 There are certain factors used to judge the standard of a calculator website and one of them is the technical performance. At times, tools get stuck while the users are using them. This is a sign that the standard of the calculator is not up to the mark. With this website, you can be rest assured about not facing any performance problems. You can perform as many calculations as you want without worrying that the tool would stop responding.
Mathematics and statistics are core subjects taught at the college and undergraduate levels. Students are advised on learn concepts and then go through extensive practice sessions to strengthen knowledge. The tools present on this website can help in solving problems quickly and confirming answers.
---
5 Benefits of Using a Pension Calculator
---
4.     eMathHelp
https://www.emathhelp.net/calculators/calculus-1/derivative-calculator/
This site gives step by step instructions on how to solve calculus problems using derivatives. The derivative calculator uses the rules of differentiation.  There are up to four places to input information which are function, number of times to differentiate, variable, and point. This calculator works with polynomial, rational/irrational, trigonometric/inverse trigonometric, hyperbolic/inverse hyperbolic functions, and exponential, logarithmic.
Summing it up
If you are studying at a reputed college or university, expect several challenges to come your way. One of them is studying subjects involving tiring calculations. There would be times when you will be required to work on multiple assignments. It is expected that there would be deadlines for each one of them. Therefore, it is important to manage time frames and not waste time unnecessarily. For additional support, you can order essay by essayservice. If you are dealing with calculations, getting hold of a good calculator website is very important. It is impossible to write steps for each numerical problem when you have to complete several ones.