Click here to get this post in PDF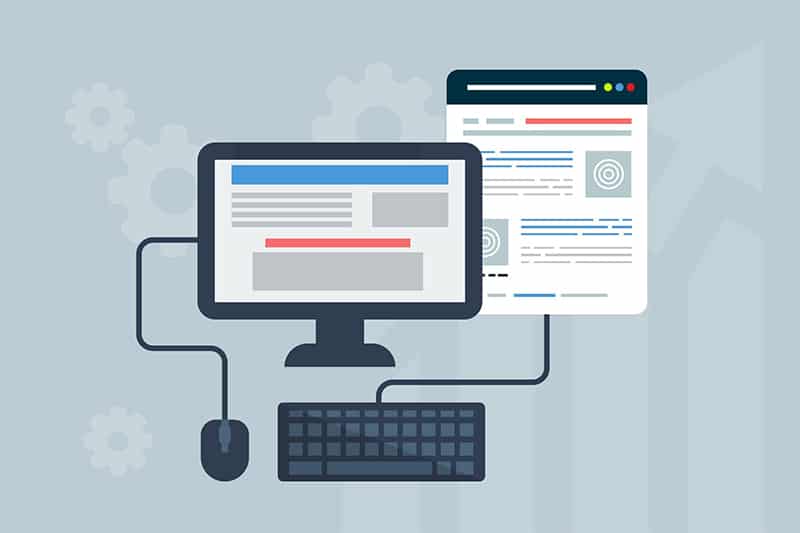 Right now, over 51% of all website traffic is coming from mobile devices. Poor mobile website design can have a negative impact on your ROI, so you want to make sure you get it right. 
To help you out, we have pointed out some of the most crucial mobile website mistakes that may be chasing customers away and how to avoid them. 
1. Not Optimizing the Website for Mobile
Ah, the responsive website design!
A majority of people know and understand the importance of having a responsive website that caters to all devices. Many have converted, but you'd be surprised at the number of businesses that have modernized and mobile-friendly websites. The purpose of responsive design is to ensure that the website fits on different screen sizes without any hitches at all. 
With a responsive website, users don't have to pinch their screens to zoom in and read your content. Users will instead scroll to navigate your website as they would on a desktop, improving the user experience and positively affecting your conversion rate and your digital marketing strategy. 
2. Slow Page Loading Times
Internet users are very impatient, and a slow-loading website can be the bane of your existence. 
Over 53% of mobile users will abandon your site if it takes more than 3 seconds to load. If your mobile website does not instantly respond to touch, they will get frustrated and do either one of two things.
First, they may try to rapidly push buttons to make the website work, or they will abandon it entirely and go for a competitor. Even a few seconds of delay will be termed a bad customer experience, so you must consider site performance and value your visitor's time. Consider hiring skilled professionals from San Francisco web design firms to avoid these negative impressions on your potential leads.
3. Ignoring Mobile User Intent
Once you have a responsive website design, one of the most crucial mobile website mistakes you could be making is assuming it will fix all your problems. A responsive design will take care of several user experience problems, but user intent is not one of them, and you need to consider it too. 
The thing is, there is so much more to the mobile website experience than just the design. 
It's advisable to consider the set of expectations and behavior of mobile users. So rethink your entire mobile website design instead of just reformatting it. Using Zapier to automate some tasks can make things easier. 
Mobile users browse on the go, in between meetings, or at home in front of the TV and can easily be distracted. 
You must ensure they can get in and out as fast as possible and get the information they need within that time frame. Mobile users also tend to have different needs compared to desktop users. For instance, they are more likely to quickly search for maps and phone numbers, so you need to design your website depending on what they need and not just bring your desktop website to mobile users. 
4. Including Long Forms
Truth be told, no one likes filling out long forms on desktop websites, and absolutely no one wants to do it on mobile devices. Placing all your information on a small screen using your thumbs is just not appealing, and some users will consider it obnoxious. Avoid anything that will make your users type a lot on their mobile devices.
Great user experience is about a lot more than just a great experience because it's also about growing your business and increasing revenue. 
If you include long, frustrating forms on your website for any transaction, it will seriously hurt your conversion rate because users won't like it. If you must include a form, make it as short as possible and auto-fill/auto-suggest whenever possible.
5. Using Tiny Links and Touch Targets
It's annoying when you try to tap a link on a mobile device only to end up tapping the one next to it, trying to stop it and not succeeding. You have to go back to the previous screen and try to tap on the correct link, or just exit the website and find a different one. 
Giving your customers these kinds of frustrations is among the worst mobile website mistakes you could be making. You need to put enough space between your links and that touch targets are far apart. The trick here is to make them readable, tappable, and legitimate.
6. Too Much Text Content
Mobile screens are small, meaning mobile users have to scroll a lot more than desktop users. 
If you include lengthy texts and users need to scroll, even more, they will feel frustrated with your website. If you need all that information on your content, it's better to convert it into a video instead of text. 
A picture may be worth a thousand words, but believe it or not, a one-minute video is worth 1.8 million words. Users love videos, so you'll increase your conversion rates while you're at it. 
7. Hiding Important Content
Almost every website developer is guilty of hiding important content to accommodate a mobile website design if there is limited space. Excluding important content from a mobile website but having it on the desktop version is one of the worst mobile website mistakes you could make. For instance, you could include your contact information on your desktop version footer but exclude the information on your mobile website. 
Some customers could miss this crucial information, and you could lose potential valuable customers. You must have a consistent look on both versions, so ensure you include all your mobile website details. 
Top Mobile Website Mistakes to Avoid
These are the worst mobile website mistakes you could be making. It's vital for you to be involved with the decision-making process if you've hired a professional web designer. You need to understand what they're doing to ensure these mistakes are avoided at all costs. 
If you've enjoyed this post, we'd like to invite you to our blog section, where we have so much more valuable content lined up just for you!
You may also like: How to Create a Beautiful Website Without Knowing a Bit of Code