Click here to get this post in PDF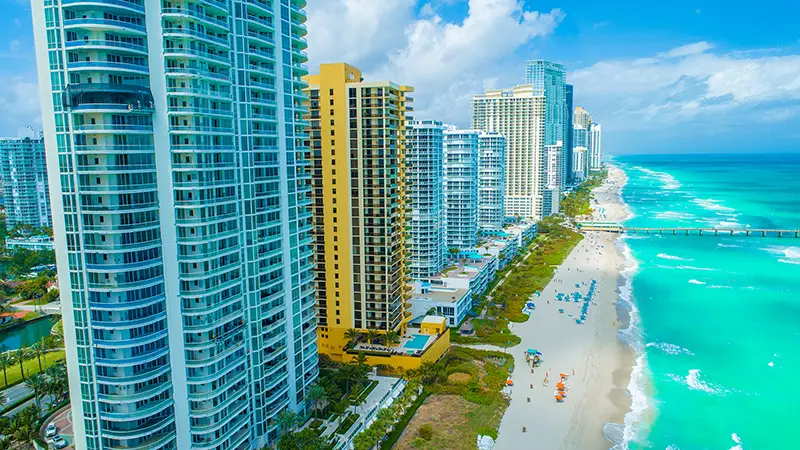 Miami is the dream city of millions of people around the world. Its incredible location, with vast beaches and white sand, wins everyone's heart. In addition to this, great weather, delicious food, rich cultural life, and leisure. No wonder thousands of people dream of moving to Miami. 
Pursuant to the Miami board of realtors, the real estate market in the region is really in high demand. Not only for buying a home but also for commercial investment. It is due to the fact that the Florida economy is constantly growing, as well as growing confidence in both buyers and potential sellers.
Under such conditions, a logical question may arise: "Is it worth investing? Is it a good time for such decisions? Is Miami the right choice?". 
The answer is quite obvious. You can actually make a fortune by investing in Florida. There is one "but". In order to really earn, not lose your own money, you need to develop a careful plan, as well as equip yourself with knowledge, statistics , and the help of realtors in Florida.
It is important to hear what the real estate market is saying and learn how to feel its underground flows. This article will help you figure out how to do it. 
Take a look at the key figures 
·        The average cost of a house in Miami reaches $ 463,405. 
·        Over the year, the midpoint real estate sale price in Miami increased by 20.1%, which is impressive. 
·        The number of new offers on the market fell by -13.1%, and active offers fell by -37.3%. 
·        620.5 homes were sold in Miami in 2021, up 9.8% from the previous year. 
·        The average length of stay on the market is 59 days. 
·        Miami-Dade County has a population of 2,716,940 and an unemployment rate of 2.6%. 
·        The average earnings are around $ 51,347 per household. 
What to expect? 
Undoubtedly, one of the main levers of change in the real estate market will be the COVID-19 pandemic and its consequences. Thus, predictions of the real estate future can be interpreted as follows. 
The purchase price of real estate in Miami will increase.  
As already mentioned, the price of real estate has increased by 20% over the past year. This change was due to many factors: greater competition in the market, lower supply, lower interest rates and greater savings in banks. It is ambiguous whether something can change this state of affairs, as these factors remain relevant in the market. Demand for real estate will increase even before interest rates jump. In turn, it would lead to an increase in prices for the sale of local homes by an impressive 16.2% 
The practice of renting will be one of the most promising.
Although rising house prices have reduced overall profits, this has in turn opened the door to the world of rent. This is a really profitable strategy for potential investors considering the next step.  Rents have doubled compared to the cost of housing in Miami. Extra, rents are projected to rise as long as housing prices rise, which is quite an understandable and natural process. 
We must remind ourselves of the impact of the pandemic, which is meaningless and even dangerous to ignore. The COVID-19 pandemic has significantly affected the rise in prices. Now real estate prices in Miami are not just expensive, but very expensive. Not to say it would cost you an arm and a leg, but one of them for sure. 
As reported by the Housing Affordability Index, as of October 2021, Miami was the second most expensive city in the United States in the context of the real estate market, surpassing even Los Angeles. 
The high demand for real estate is also due to the fact that most businesses have switched online. The person is no longer chained to the place of work but can choose the city of residence for the soul and heart. And most Americans choose Miami. 
The foreclosure market is also undergoing significant changes. Unfortunately, the trends are not very comforting.  As stated in ATTOM Data Solutions U.S. Foreclosure Market Report, in the third quarter of 2021, the foreclosure process had been started on 25,209 U.S. properties. The number has grown by a massive 67% compared to last year. The number of timely repayments of loans has decreased, which in turn leads to a crisis. Illinois, Florida, Delaware, Indiana and Ohio are the states with the greatest foreclosure rates in the United States. Investors had better take this situation into account, as it is an essential indicator of the state of the market. 
Housing prices, as noted above, are rising significantly in Miami as well. A clear example is that in 2012 the average value of the real estate in Miami was $ 201,000, and now it reaches $ 463,405. At the same time, such a difference has led to significant increases in profits. Competition among buyers in the market is relentless. Despite rising prices, supply is growing rapidly. It is projected that the lack of proposals will lead to even greater price increases by approximately 16.2% next year. 
Miami's real estate market seems to be at a turning point. Prices are rising at a rate that eats up profit margins. Investors also should not leave this aspect out of sight. And while rising prices are once again making buyers and investors wonder if it's worth investing, the answer is probably yes.
After all, the creation of a rental site is a thorough and valuable investment. Current trends suggest that the real estate market in Miami is really promising in both the short and long term. 
You may also like: Why You Should Get Into The Real Estate Business
Image source: Shutterstock.com