Click here to get this post in PDF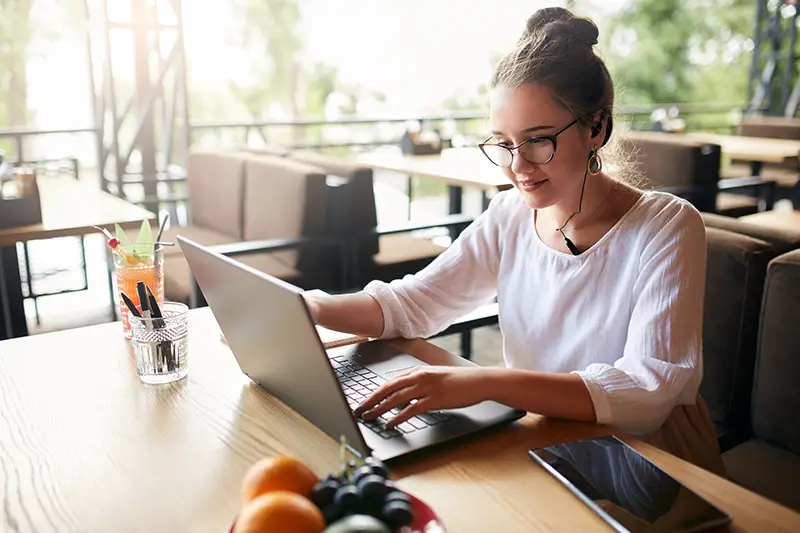 In today's digital age, there is an increasing demand for skilled professionals who can efficiently transcribe audio and video content into written form. Transcriptionists are crucial in various industries, including journalism, legal, medical, and entertainment. In this blog post, we will explore the critical skills required to become a transcriptionist and how you can embark on this path to achieve financial success.
Understanding the Transcription Industry
Transcription services are widely spread across various industries, including healthcare, legal, media, and business. As a transcriptionist, you can specialize in a particular field or work as a general transcriptionist. Research the industry to understand the different types of transcription work available and identify your niche.
Developing Excellent Listening Skills
One of the fundamental skills for a transcriptionist is exceptional listening ability. Train your ears to decipher various accents, dialects, and speech patterns. Practice active listening techniques such as note-taking, context clues, and identifying essential information. Continuous practice will help you become more efficient and accurate in transcribing audio files.
Mastering Typing Speed and Accuracy
As a transcriptionist, you must be proficient typists to keep up with the fast-paced nature of the job. Improve your typing speed and accuracy through regular practice. Familiarize yourself with keyboard shortcuts and transcription-specific tools that can streamline your workflow. Speed and accuracy will increase productivity and allow you to take on more transcription projects.
Master Grammar and Punctuation
Maintaining impeccable grammar and punctuation is crucial for transcriptionists. A well-transcribed document should reflect proper sentence structure, punctuation marks, and clarity. Strengthen your grasp of grammar rules and stay updated with any changes in language usage. Utilize grammar and spell-check tools to ensure your transcriptions are error-free and of the highest quality.
Develop Research Skills
Transcription often involves dealing with unfamiliar topics or subject matter. Strong research skills will help you fill in knowledge gaps and accurately transcribe specialized content. Use search engines, reliable reference materials, and reputable sources to ensure accurate and contextually relevant transcriptions.
Familiarize Yourself with Industry Terminology
Different industries have their jargon and terminology. To become a successful transcriptionist, it is essential to familiarize yourself with industry-specific terms and vocabulary. Develop a comprehensive glossary that you can refer to during transcription projects. Understanding the terminology will help you produce accurate and high-quality transcripts.
Stay Updated with Technology and Tools
Advancements in technology have revolutionized the transcription industry. Familiarize yourself with transcription software, speech recognition tools, and productivity apps that can enhance your efficiency. Stay updated with the latest trends and developments to remain competitive and deliver superior results.
Time Management and Organization
Efficient time management is crucial for transcriptionists to meet deadlines and handle multiple projects simultaneously. Create a schedule and allocate dedicated time slots for different tasks. Utilize productivity tools and techniques to stay organized, such as creating templates for standard document formats and developing a system for file management.
Accuracy and Quality Control
Maintaining accuracy and quality is of utmost importance in transcription work. Develop a proofreading and editing process to review your transcripts thoroughly before submitting them to clients. Pay attention to grammar, punctuation, and formatting to consistently ensure professionalism and deliver error-free transcripts.
Obtain Transcription Certification
A transcription certification can significantly enhance your credibility and marketability as a transcriptionist. Transcription certification programs provide comprehensive training, assessment, and validation of your transcription skills. These programs cover industry best practices, ethical guidelines, and specialized knowledge required for various transcription fields. Certification can open doors to higher-paying job opportunities and increase your chances of securing clients.
Building a Solid Client Base
Building a solid client base is vital to financial success as a transcriptionist. Leverage online platforms, freelancing websites, and social media to showcase your skills and attract potential clients. Provide excellent customer service, meet deadlines, and consistently deliver high-quality transcripts to foster long-term client relationships.
Setting Competitive Rates
Determining appropriate rates for your transcription services can be challenging. Research industry standards and consider factors such as your experience, expertise, and project complexity. Find a balance between pricing your services competitively and ensuring fair compensation for your time and effort.
Key Takeaways 
Becoming a skilled transcriptionist offers a pathway to financial success, providing opportunities for flexible work arrangements and a potentially lucrative career. By mastering the essential skills mentioned above and continuously improving your transcription abilities, you can position yourself as a highly sought-after professional in the transcription industry. Remember, consistent practice, ongoing professional development, and a commitment to quality will set you on the path to financial success as a transcriptionist.
You may also like: Should E-Learning Videos Include Transcriptions?
Image source: Depositphotos.com